Global Biochips Market- Market Overview:
The Global Biochips market is expected to grow from USD 8 billion in 2021 to USD 22.82 billion by 2029, at a CAGR of 14% during the Projection period 2022-2029. The growth of this market is mainly driven owing to increasing development in the end-use sector around the world.
Proteomic, functional, and extensive genomic analysis are made possible by the use of biochips, which are microarray devices. The biochip functions as a miniature reactor for the detection of a specific protein, DNA, antibody, or biological module analysis. A biochip's primary purpose is to quickly assess hundreds of biological processes. A biochip can also be used to track a person or an animal, and it works very well to store demographic and medical information. Biochips are increasingly being used in a variety of applications as a result of advancements in nanotechnology, which boost their functionality and lower their size while making them valuable for diagnostics, research, medication development, and toxicological studies. These chips are currently widely employed in fields such as genomics, proteomics, personalized medicine, and others, which encourages both established companies and young entrepreneurs to research, develop, and commercialize new technologies. Qurin Diagnostics, a Dutch start-up, for instance, provides cutting-edge biomedical diagnostics using biochips. Their platform, based on nanotechnology, is used to track, identify, and treat cancer and other illnesses. Nutcracker Therapeutics, an American firm, raises USD 167 million on March 14, 2022, for the development of their mRNA biochip-based manufacturing technology. A significant institution in Austria, TU Wien, created a biochip in May 2021 that could create tissue beads in the right size and feed them with medications or nutrition.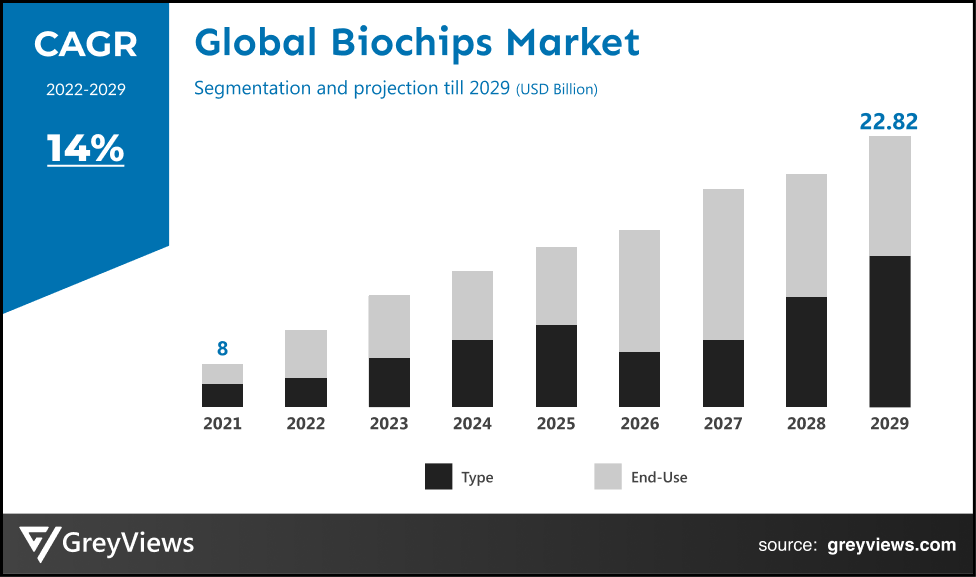 Sample Request: - Global Biochips Market
Market Dynamics:
Drivers:
Expanding the use of biochips to identify allergies
Food, pollen, and other allergies have caused many people to develop fevers, skin rashes, vomiting, asthma attacks, and diarrhea. Biochips for assessing allergies are a brand-new technology that is now expanding considerably. It has a variety of allergen components that have been identified by microarray. As a result, many studies of patient-specific sensitization patterns can be conducted using a single measurement. The enormous potential for allergy research with biochips spurs the development of novel technologies. For instance, Toray Industries stated in April 2021 that it had created an allergy-testing biochip that could identify numerous immunoglobin E (IgE) antibodies specific to allergens from minute volumes of blood. During the Projection period, rising adoption of biochips for allergy testing and detection is anticipated to propel market revenue growth.
Restraints:
Lack of knowledge and high costs associated with biochips
Due to the substantial R&D and professional developers required for bio-chip technology development, the final product is expensive. Because biochip technology uses microscale probes printed on glass surfaces, handling and scanning micro-scale samples requires the use of automated robotic tools. Due to the necessity for specialized implementation approaches and equipment, this technology is very expensive. Due to the expensive cost, the commercial usage of biochips has been delayed. Additionally, the need for knowledge about biochips, particularly in developing nations, is preventing the market from growing in terms of revenue during the Projection period.
Opportunities:
Biochip use in personalized medicine is expanding
The use of biochips in molecular diagnostics and point-of-care diagnosis is likely to lead to a large demand for these chips in the advancement of customized medicine. It is highly helpful for distinguishing between the proteins of healthy cells and malignant cells. For protein-based treatments, the biochips offer the opportunity for a quick study of the complete proteome. These chips are in high demand in personalized medicine because they are reliable tools for detecting a variety of biomarkers with a constrained number of samples and have the potential to diagnose and treat the condition.
Challenges:
Biohacking potential and privacy issues
Biochips are currently inserted into people's hands to speed up their regular routines. These are helpful for storing emergency contacts, information from social media profiles, and e-tickets while providing entry to homes, gyms, and offices. Thousands of people in Sweden had microchips implanted in their hands. However, experts are expressing issues around the theft of personal information from biochips. These chips are susceptible to hacking since they may track whereabouts, purchase histories, driving patterns, and other information. Additionally, chips inside the body increase the danger of infection and restrict personal freedom. In the United States, a new regulation prohibits the use of biochips under duress. The likelihood of biohacking and privacy issues are two variables that are anticipated to impede market revenue growth.
Segmentation Analysis:
The global biochips market has been segmented based on type, end-use, and region.
Global Biochips - By Type
The type segment is lab-on-chip, cell arrays, and DNA chips. The lab-on-chip segment led the Biochips market with a market share of around 39% in 2021. The segment is growing due to the rising demand for biochips across a variety of applications, including proteomics, cell biology, molecular biology, chemistry, and others. The lab-on-chip market is anticipated to increase as a result of the many advantages lab-on-chip devices offer, including cost-effectiveness, high parallelization, low-volume reagents, high expandability, and high sensitivity. These chips are very beneficial for analytical chemistry and biological diagnostics. Additionally, lab-on-chips' bimolecular operations offer extremely quick virus and bacteria detection technologies, which is particularly helpful for molecular biology.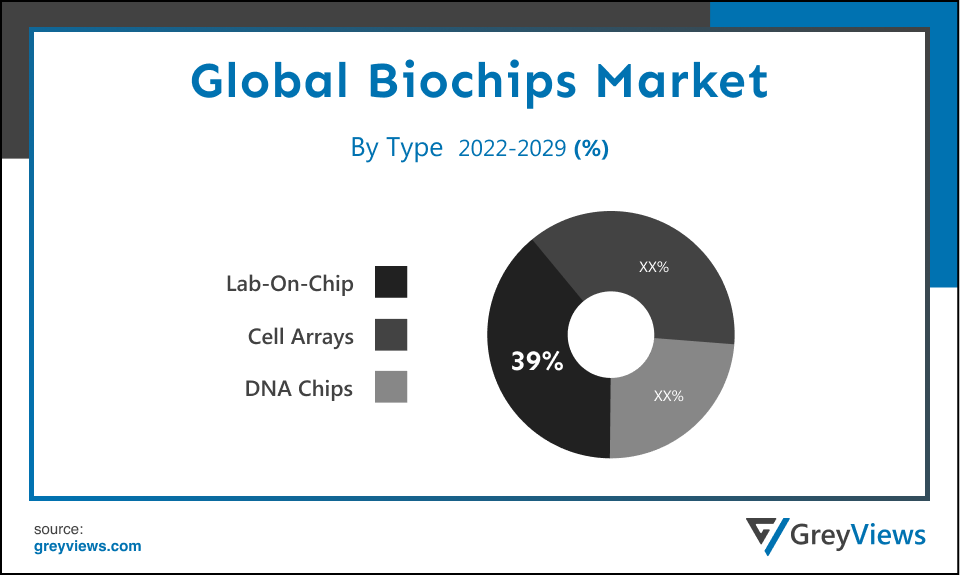 Global Biochips - By End-use
The end-use includes hospitals & diagnostics centers, biotechnology and pharmaceutical companies, and academic & research institutes. The hospitals & diagnostics centres segment led the Biochips market with a market share of around 30% in 2021. This is because hospitals and diagnostic institutes are using biochips more frequently. Hospitals and diagnostic facilities are quickly implementing biochips to track and diagnose patients. Biochips are popular in this market because of their ability to provide high throughput without the use of bulky, expensive devices as well as their potential to save money and time.
Global Biochips Market- By Regional Analysis:
The regions analyzed for the Biochips market include North America, Europe, South America, Asia Pacific, the Middle East, and Africa. The North America region dominated the Biochips market and held a 40% share of the market revenue in 2021.
North America region witnessed a major share. This is likely due to an increase in the prevalence of cardiac and chronic diseases, as well as the availability of cutting-edge healthcare systems in the region, particularly in the United States. The necessity for clinical and research diagnostics is fueled by the high occurrence of diseases like cancer and diabetes in this region. Governments are initiating a number of programs to promote precision medicine, together with increasing funding for cancer genomics research and development, which is anticipated to fuel revenue growth in North America. For instance, U.S. President Biden announced the Cancer Moonshot in February 2022, with the goal of lowering the death rate from cancer by at least 50% over the following 25 years.
Asia Pacific is anticipated to experience significant growth during the predicted period. China and India will be the key drivers of this region's rapid expansion. The region's primary drivers of industry expansion are expanding access to technologies, a sizable patient base, and advancements in the healthcare system. Another important aspect influencing the expansion of the region is the growing use of biochip technology, which mature businesses are outsourcing to emerging economies in order to reduce overall production costs.
Global Biochips Market- Country Analysis:
Germany's Biochips market size was valued at USD 0.62 billion in 2021 and is expected to reach USD 1.32 billion by 2029, at a CAGR of 10% from 2022 to 2029. The region's biochips market is growing as a result of the rising burden of chronic disease-related morbidity and mortality as well as the emergence of cutting-edge technologies. Additionally, the market demand in the region is fueled by growing applications of proteomics and genomics as well as growing demand for point-of-care diagnostics.
China Biochips' market size was valued at USD 0.96 billion in 2021 and is expected to reach USD 2.37 billion by 2029, at a CAGR of 12% from 2022 to 2029. Biochip startups in China initiated academic research, to bring in investment and transform the drug discovery industry in the region which fuels the market growth. Moreover, developments in the healthcare industry in the region boost the growth of the biochips market.
India's Biochips market size was valued at USD 0.85 billion in 2021 and is expected to reach USD 2.03 billion by 2029, at a CAGR of 11.5% from 2022 to 2029. Chinese biochip firms started academic research in order to get funding and improve the region's drug development business, which drives market expansion. Additionally, the region's improvements in the healthcare sector contribute to the market for biochips growing.
Key Industry Players Analysis:
To increase their market position in the global Biochips business, top companies focus on tactics such as adopting new technology, mergers & acquisitions, product developments, collaborations, partnerships, joint ventures, etc.
Abbott Laboratories
Fluidigm Corporation
Illumina, Inc.
Agilent Technologies, Inc.
LI-COR, Inc.
Randox Laboratories Ltd
Cepheid
GE Healthcare
PerkinElmer, Inc.
Bio-Rad Laboratories, Inc.
Thermo Fisher Scientific, Inc.
Molecular Devices, LLC.
Latest Development:
In March 2020, Agilent Technologies Inc. has created three brand-new GenetiSure Cyto microarrays for use in prenatal and postnatal studies.
In April 2020, Celsee, Inc., which sells supplies and tools for the separation, analysis, and detection of single cells, was bought by Bio-Rad Laboratories, Inc.
In September 2020, A Series B fundraising round headed by Arch Venture Partners secured USD 60 million for Nutcracker Therapeutics, Inc., an early-stage biotech disruptor creating mRNA-based therapeutic medication products that include a proprietary, microfluidic, biochip-based platform.
Report Metrics
Report Attribute

Details

Study Period

2021-2029

Base year

2021

CAGR (%)

14%

Market Size

8 billion in 2021

Projection period

2022-2029

Projection unit

Value (USD)

Segments covered

By Type, By End-Use, and Region.

Report Scope

Revenue Projection, competitive landscape, company ranking, growth factors, and trends

Companies covered

Abbott Laboratories, Fluidigm Corporation, Illumina, Inc., Agilent Technologies, Inc., LI-COR, Inc., Randox Laboratories Ltd, Cepheid, GE Healthcare, PerkinElmer, Inc., Bio-Rad Laboratories, Inc., Thermo Fisher Scientific, Inc., Molecular Devices, LLC., among others

By Type

Lab-on-chip
Cell Arrays
DNA Chips

By End-Use

Hospitals & Diagnostics Centers
Biotechnology And Pharmaceutical Companies
Academic & Research Institutes

Regional scope

North America
Europe
Asia-Pacific
South America
Middle East and Africa
Scope of the Report
Global Biochips Market by Type:
Lab-on-chip
Cell Arrays
DNA Chips
Global Biochips Market by End-use:
Hospitals & Diagnostics Centers
Biotechnology And Pharmaceutical Companies
Academic & Research Institutes
Global Biochips Market by Region:
North America
Europe

Germany
France
UK
Italy
Spain
Russia

Asia-Pacific

Japan
China
India
Korea
Southeast Asia

South America
Middle East and Africa

UAE
South Africa
Saudi Arabia
Frequently Asked Questions
What is the value of the Biochips market in 2021?
Global Biochips market value in 2021 was 8 billion.
What will be the growth rate of Biochips market?
Global Biochips market will grow at a CAGR of 14% during the Projection period 2022-2029.
Which regions have been studied for the regional analysis of the global Biochips market?
The regions analyzed for the Biochips market include North America, Europe, South America, Asia Pacific, and the Middle East and Africa.
Which are the leading market players active in the Biochips market?
Leading market players active in the global Biochips market are Abbott Laboratories, Fluidigm Corporation, Illumina, Inc., Agilent Technologies, Inc., LI-COR, Inc., Randox Laboratories Ltd, Cepheid, GE Healthcare, PerkinElmer, Inc., Bio-Rad Laboratories, Inc., Thermo Fisher Scientific, Inc., Molecular Devices, LLC.
What is the key threats to the Biochips market?
The possibility of data theft is primarily impeding the growth of the Biochips market.
Political Factors- The biochip technology was initially created in 1983 to monitor fisheries; today, it is used by over 300 zoos, over 80 government organisations in at least 20 countries, pets (including lizards and dogs), horses that have been electronically "branded," cars, garment tracking, hazardous trash, and people. Humans are "silently" ingesting biochips. For instance, at least 6 million medical devices, including breast implants, chin implants, and other artificial body parts are inserted in humans each year. Additionally, the majority of these medical gadgets have a biochip as a "surprise" visitor. All artificial bodily implants must have a biochip for "implanted" identification since the Food and Drug Administration passed the Safe Medical Devices Registration Act of 1993.
Economical Factors- The financial assistance is intended to hasten the construction of a factory that will produce pluggable photonic biochips in large quantities. To meet the increasing demand from biotech areas such drug research, vaccine development, and distributed diagnostics, it is anticipated to increase output to around 5,000 biochips per month from about 100 per month. In the upcoming years, such investments are probably going to supplement market expansion. For instance, SkyWater Technology and MGI announced their partnership in March 2020 to supply crucial parts for COVID-19 sequencing, such as microfluidic MEMS devices.
Social Factor- In the upcoming years, the sector is projected to focus heavily on the growing need for individualised medication. The creation of tailored medicines is projected to be facilitated by the use of biochips in point-of-care diagnostics since they are emerging as a crucial component of molecular diagnostics. Additionally, it is anticipated that gene expression profiling using microarrays would advance customised cancer treatment based on molecular classification. The manufacture of biochips is quite expensive, which leads to expensive end-user prices.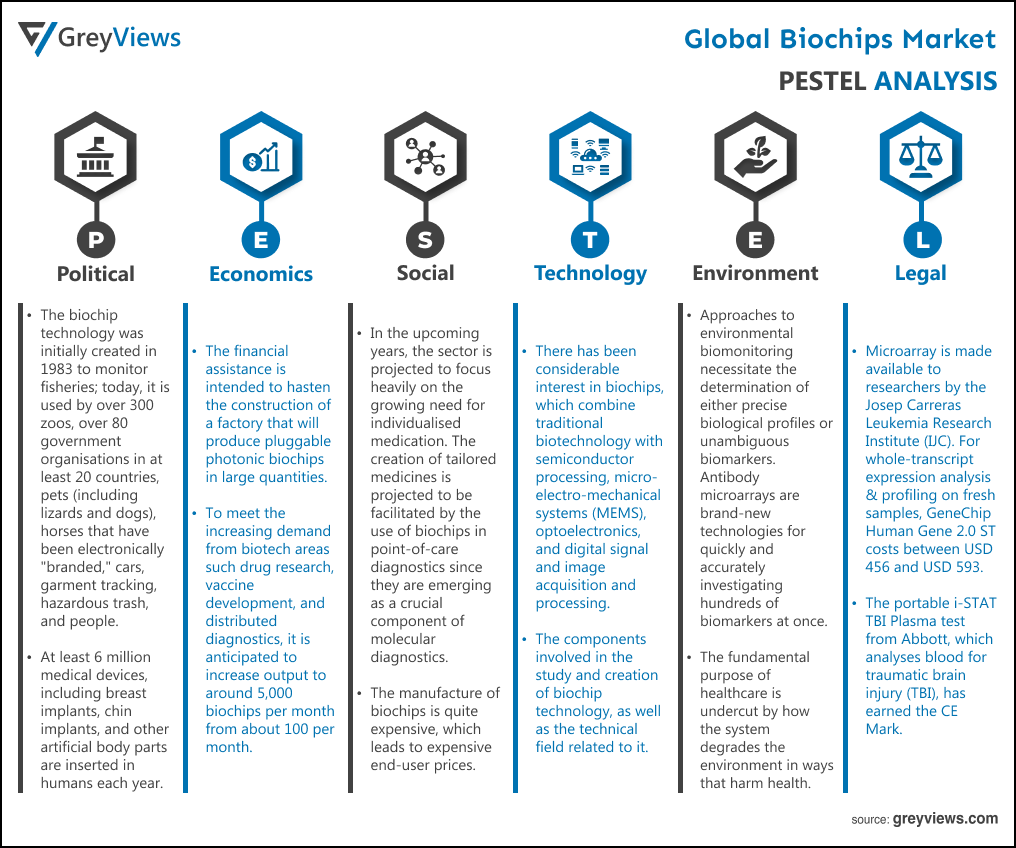 Technological Factors- There has been considerable interest in biochips, which combine traditional biotechnology with semiconductor processing, micro-electro-mechanical systems (MEMS), optoelectronics, and digital signal and image acquisition and processing. The components involved in the study and creation of biochip technology, as well as the technical field related to it. Because biochip technology is inherently interdisciplinary, it requires the synergistic collaboration of scientists and engineers from several fields to advance it from a lab curiosity to useful tools and systems. Numerous recently released gmo's are encountered by new technology in the food sciences which increases the demand for biochips.
Environmental Factors- Approaches to environmental biomonitoring necessitate the determination of either precise biological profiles or unambiguous biomarkers. Antibody microarrays are brand-new technologies for quickly and accurately investigating hundreds of biomarkers at once. Manufacturers of biochips should constantly improve their waste management practices. The objective is to address the environmental concerns of the populace specifically. They should therefore include such initiatives in their strategic planning as a result. The fundamental purpose of healthcare is undercut by how the system degrades the environment in ways that harm health.
Legal Factors- Microarray is made available to researchers by the Josep Carreras Leukemia Research Institute (IJC). For whole-transcript expression analysis & profiling on fresh samples, GeneChip Human Gene 2.0 ST costs between USD 456 and USD 593. The portable i-STAT TBI Plasma test from Abbott, which analyses blood for traumatic brain injury (TBI), has earned the CE Mark. As a result, the business is allowed to increase its presence in the European Union. Researchers have been able to decode DNA molecules up to the level of the entire human genome because to advancements in sequencing techniques.