Global Biodegradable Plastics Market- Market Overview:
The Global Biodegradable Plastics market is expected to grow from USD 4 billion in 2021 to USD 8.57 billion by 2029, at a CAGR of 10% during the Projection period 2022-2029. The growth of this market is mainly driven owing to governments omitting the use of single-use plastic.
Biodegradable plastics can be decomposed by the action of living organisms, usually microbes, into the water, carbon dioxide, and biomass. Biodegradable plastics are commonly produced with renewable raw materials, micro-organisms, petrochemicals, or combinations of all three. While the words "bioplastic" and "biodegradable plastic" are similar, they are not synonymous. Not all bioplastics (plastics derived partly or entirely from biomass) are biodegradable, and some biodegradable plastics are fully petroleum-based. As more companies are keen to be seen as having "Green" credentials, solutions such as using bioplastics are being investigated and implemented more. However, there are many sceptics who believe that bioplastics will not solve problems others expect. Many biodegradable plastics are designed to degrade in industrial composting systems. However, this requires a well-managed waste system to ensure that this actually happens. If products made from these plastics are discarded into conventional waste streams such as landfill or find their way into the open environment such as rivers and oceans, potential environmental benefits are not realized and evidence indicates that this can actually worsen, rather than reduce, the problem of plastic pollution. Plastic items labelled as 'biodegradable', but that only break down into smaller pieces like microplastics, or into smaller units that are not biodegradable, are not an improvement over conventional plastic.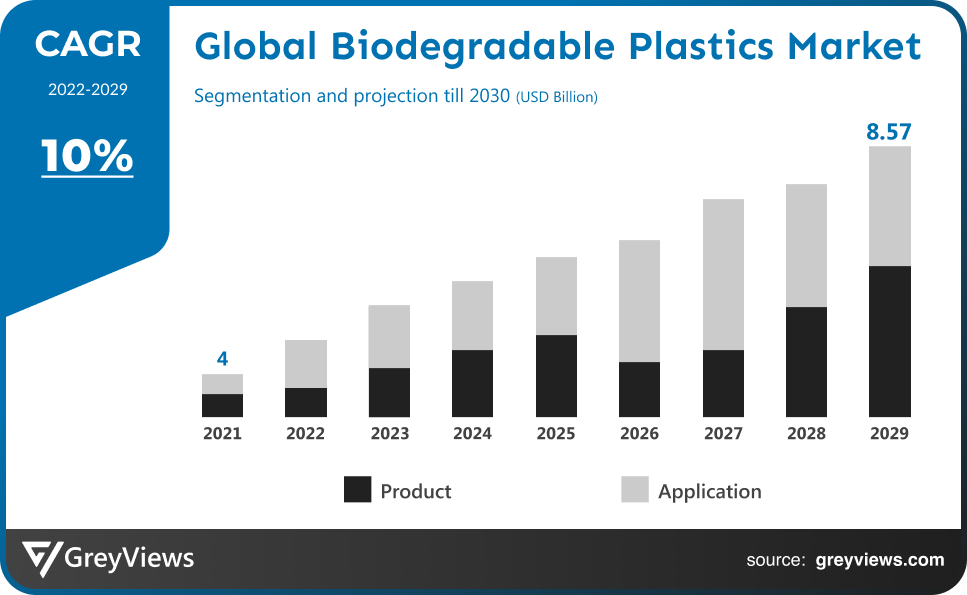 Sample Request: - Global Biodegradable Plastics Market
Market Dynamics:
Drivers:
Restrictive laws apply to the use of plastic and products made of plastic
The need for environmentally friendly products has increased as a result of legal restrictions like plastic bag bans in certain nations. To decrease consumption and enhance trash management, a number of nations, regions, and localities are enacting laws and regulations related to plastics. Plastic packaging and single-use waste have been subject to restrictions and taxes in more than 60 nations. Global waste management is positively impacted by laws and policies pertaining to the disposal stage of the plastic value chain, such as China's prohibition on imported waste. The European Union (EU) banned single-use plastic (SUP) products such as balloon sticks, cotton bud sticks, straws, cutlery, stirrers, plates, and similar ones in 2019 after enacting the Single-Use Plastics Directive. The goal of many European nations is to establish a totally sustainable and circular bioeconomy by 2030, in which all residual single-use plastics will be recyclable or reusable. During the Projection period, such government initiatives are anticipated to promote market growth.
Restraints:
High Price of Biodegradable Plastics
The high cost of biodegradable polymers is anticipated to impede market expansion. The high production costs of biodegradable plastics would be much higher than those of plastics made from fossil fuels. Demand is significantly impacted. The evolution of feedstock price trends has a significant impact on how much biodegradable polymers cost to produce. The cost of biodegradable polymers is increasing due to rising feedstock prices. Because of the intricate process required to transform sugarcane or corn into the building blocks for PLA, Polylactic Acid (PLA) can be 20 to 50% more expensive than other polymers. Additionally, the necessity for expensive industrial composters and processors for biodegradable plastics, particularly those that must be broken down at high temperatures on an industrial scale, is anticipated to limit expansion. Researchers and businesses are working to create more eco-friendly and effective ways to manufacture affordable biodegradable polymers.
Opportunities:
Innovation in applications
Biodegradable plastic producers have tremendous growth potential in the various end-use industries, including electronics, automotive, and medical, thanks to favorable government regulations and an increasing focus on eco-friendly polymers for green procurement strategies. Converters of biodegradable plastics are heavily investing in R&D efforts for environmentally friendly plastics in a variety of biomedical applications, including screws, stitching materials, and implants. Manufacturing of bio-medical devices and equipment uses biodegradable plastics such as PLA, PCL, PGA, and bio-PBS. Tires made of starch-based raw materials and biodegradable polymers are used in the automotive sector to cut down on fuel usage. Additionally, the production of electrical equipment is made more productively and economically using bioplastics. During the projection period, the application for packaging is also anticipated to have a substantial increase.
Challenges:
Few performances difficulties
Some of the major performance difficulties with biodegradable polymers are low heat resistance and poor water, air, and oxygen barrier qualities. This resulted in penetration limitations in a number of industries, including the automotive and electronics sectors. Furthermore, biodegradable plastics are not being used in many applications due to their poor mechanical qualities, including low tensile and impact strength. These biodegradable plastics' drawbacks provide a serious obstacle to the market's expansion.
Segmentation Analysis:
The global surgical robot market has been segmented based on product, application, and region.
By Product
The product segment is PLA, PHA, starch-based, PBAT, and PBS. The PLA segment led the largest share of the biodegradable plastics market with a market share of around 25.3% in 2021. The segment is growing as a result of its increasing use in numerous end-use industries, including consumer goods and packaging. The segment is anticipated to see strong growth rates and increased investments in PLA production in the U.S. and Europe. PLA is marketed as an environmentally friendly material because it is made from bio-based materials. Comparatively speaking to other biodegradable polymers, it has several desirable mechanical qualities and is quite inexpensive. The short time it takes for PLA to degrade without releasing harmful chemicals into the soil and water table is increasing demand for it. Applications for PLA include the creation of fibers and films for various uses, as well as clear and opaque hard plastics for packaging, bottles, and durable items.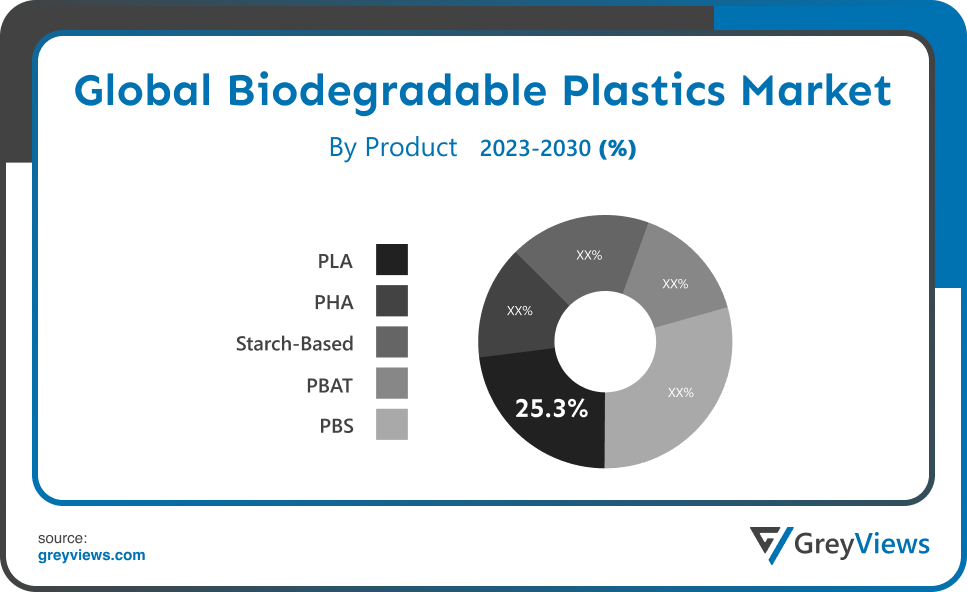 By Application
The application segment includes packaging, agriculture, consumer goods, and others. The packaging segment led the biodegradable plastics market with a market share of around 28.08% in 2021. Applications of biodegradable plastics in the packaging industry for the packaging of water and juice bottles, bakery goods, processed food, dry snacks & sweets, and meat trays are growing as consumer preferences for environmentally friendly products shift. In the packaging industry, the need for biodegradable plastic is rising as a result of strict laws surrounding the use of plastic and plastic products. Both rigid and flexible packaging uses biodegradable polymers. Over 500,000 tonnes of biodegradable polymers are used in flexible packaging. In order to create more sustainable packaging solutions and reduce their carbon footprint, manufacturers in the packaging sector are investing more money in R&D projects.
Global Biodegradable Plastics Market- Sales Analysis.
The sale of biodegradable plastics expanded at a CAGR of 4.9% from 2015 to 2021.
Government restrictions on the use of single-use plastic and growing public awareness of the negative consequences of plastic waste are two major themes driving industry expansion. Additionally, it is projected that the growing use of PLA biodegradable polymers in agriculture and packaging will support market expansion. End-use industries like agriculture, transportation, and packaging are primarily responsible for the increase in product demand. Low carbon emission polylactic acid is rapidly increasing product demand internationally in comparison to conventional plastics. The worldwide packaging business is expanding as a result of the increasing need for flexible packaging. The demand for packaged goods, snacks, and ready-to-eat meals is rising, among other things, and this is significantly boosting the packaging industry's expansion. Therefore, it is further projected that throughout the Projection period, PLA requirements will arise from the expanding packaging industry.
Components utilized in the automobile industry are made using polylactic acid. Polylactic acids are employed in applications like hood under components and interior parts. Due to its high bio content, this product is renowned for lowering its carbon impact. It has many desirable qualities, including high gloss, dimensional stability, UV resistance, impact resistance, and color ability. These characteristics make it an alternative to the majority of conventional plastics, including those favored for vehicle engine compartments and interiors, such as polyethylene terephthalate, polycarbonate, polybutylene terephthalate, acrylonitrile butadiene styrene, and polyamide.
One of the key factors influencing PLA in the food packaging sector is packaging. Bottles made of PLA plastic are strong, single-use, and have qualities like gloss and transparency. The demand for PLA in packaging end-use is also being strongly influenced by tight bans on single-use plastics in various nations, including the UK, Zimbabwe, New Zealand, Taiwan, and numerous U.S. states (such as Hawaii, New York, and California).
Thus, owing to the aforementioned factors, the global Biodegradable Plastics Market is expected to grow at a CAGR of 10% during the Projection period from 2022 to 2029.
By Regional Analysis:
The regions analyzed for the biodegradable plastics market include North America, Europe, South America, Asia Pacific, the Middle East, and Africa. The North American region dominated the biodegradable plastics market and held a 39% share of the market revenue in 2021.
The North American region witnessed a major share. The market in this region is being driven due to the growing market for biodegradable plastics in a variety of end-use sectors, including packaging, agriculture, consumer goods, and textiles. The European Commission acknowledged that bioplastics play a crucial role in the economy and have the potential to hasten the transition to a circular economy. During the Projection period, market expansion in the region is anticipated to be boosted by rising initiatives, policy establishment, and availability of subsidies regarding the use of biodegradable plastics for the creation of a circular bioeconomy. Growing consumer interest in environmentally friendly products is driving up demand in Europe for biodegradable polymers in a variety of end-use sectors. For instance, the EU's establishment of the Single-use Plastics Derivative in 2019 led to the outlawing of single-use plastic goods. This is anticipated to have a favorable impact on the regional market for biodegradable plastics.
Asia Pacific is anticipated to experience significant growth during the predicted period. The region's market is growing as the packaging sector is using more biodegradable polymers. Due to the accessibility of affordable labor, convenient feedstock procurement, and the availability of cost-effective raw materials, businesses with headquarters in Europe and the United States are moving their manufacturing operations to Asia Pacific. Due to the implementation of plastic limitation rules, demand for biodegradable plastics is fast increasing in the Asia Pacific region, particularly in developing nations like China and India. Since many e-commerce behemoths are promoting the use of biodegradable packaging for the packaging of online goods and food items during meal delivery services, the expansion of the e-commerce industry in this region is projected to enhance the market growth.
Global Biodegradable Plastics Market- Country Analysis:
Germany's biodegradable plastics market size was valued at USD 0.43 billion in 2021 and is expected to reach USD 0.85 billion by 2029, at a CAGR of 9% from 2022 to 2029. Regarding the acceptance and invention of technology, Germany is regarded as a leader in several areas. The European Union's prohibition on single-use plastics and the general high awareness of plastic waste are expected to drive Germany's market throughout the Projection period.
China's biodegradable plastics' market size was valued at USD 0.38 billion in 2021 and is expected to reach USD 0.74 billion by 2029, at a CAGR of 8.7% from 2022 to 2029. The region's market is expected to grow as a result of rising disposable income and rising living standards in China. Governments' encouraging environmental policies and the presence of informed consumers with significant purchasing power encourage the use of biodegradable products in the region. During the Projection period, factors such as technological innovation and sizable investments in the research & development of biodegradable plastics are anticipated to present potential possibilities.
India's biodegradable plastics market size was valued at USD 0.31 billion in 2021 and is expected to reach USD 0.57 billion by 2029, at a CAGR of 8% from 2022 to 2029. The market in the region is growing as a result of the ban on single-use plastic by several states in the nation. Moreover, the availability of raw materials in the region used in the manufacturing of biodegradable plastics is easy which fuels regional growth.
Key Industry Players Analysis:
To increase their market position in the global biodegradable plastics business, top companies focus on tactics such as adopting new technology, mergers & acquisitions, product developments, collaborations, partnerships, joint ventures, etc.
Cargill Incorporated
Plantic Technologies Limited
PTT MCC Biochem Co., Ltd.
Biome Technologies plc
Total Corbion PLA
Synbra Technology BV
BASF SE
Danimer Scientific
FKuR Kunststoff GmbH
Futerro
NatureWorks LLC
Novamont SpA
Eastman Chemical Company
Trineso
Latest Development:
In February 2022, Water-soluble PVA was first introduced by Bioplastics International. The substance was created to serve as a plastics substitute. It can be used to create packing films and PVA bags that are water soluble. Due to the material's biodegradability, biocompatibility, and lack of toxicity, it is employed in the healthcare industry for contact lenses, artificial organs, and drug delivery systems.
In January 2022, It was announced by TerraVerdae Bioworks Inc. that PolyFerm Canada had been bought. The goal of the acquisition is to expand the company's PHA technology offerings. The acquisition allowed the business to produce cutting-edge biodegradable bioplastic goods in response to the expanding biodegradable plastics market's desire for environmentally friendly items.
Report Metrics
Report Attribute

Details

Study Period

2021-2029

Base year

2021

CAGR (%)

10%

Market Size

4 billion in 2021

Projection period

2022-2029

Projection unit

Value (USD)

Segments covered

By Product, By Application, and By Region.

Report Scope

Revenue Projection, competitive landscape, company ranking, growth factors, and trends

Companies covered

Cargill Incorporated, Plantic Technologies Limited, PTT MCC Biochem Co., Ltd., Biome Technologies plc, Total Corbion PLA, Synbra Technology BV, BASF SE, Danimer Scientific, FKuR Kunststoff GmbH, Futerro, NatureWorks LLC, Novamont SpA, Eastman Chemical Company, and Trineso.

By Product

PLA
PHA
Starch Based
PBAT
PBS

By Application

Packaging
Agriculture
Consumer Goods
Others

Regional scope

North America
Europe
Asia-Pacific
South America
Middle East and Africa
Scope of the Report
Global Biodegradable Plastics Market by Product:
PLA
PHA
Starch Based
PBAT
PBS
Global Biodegradable Plastics Market by Application:
Packaging
Agriculture
Consumer Goods
Others
Global Biodegradable Plastics Market by Region:
North America
Europe

Germany
France
UK
Italy
Spain
Russia

Asia-Pacific

Japan
China
India
Korea
Southeast Asia

South America
Middle East and Africa

UAE
South Africa
Saudi Arabia
Frequently Asked Questions
What is the market size of biodegradable plastics?
Global biodegradable plastics market's size in 2021 was USD 4 billion.
What are the application segments in the biodegradable plastics market?
The application segment includes packaging, agriculture, consumer goods, and others.
What are the key driving factor for the biodegradable plastics market?
The market is being driven by the increasing ban on single-use plastic, growing government initiatives towards environmental health, and more.
Which region dominates the biodegradable plastic market in 2021?
Europe dominates the global biodegradable plastic market in 2021.
What are the key market players in biodegradable plastics?
Global biodegradable plastics market's few key market players are Cargill Incorporated, Plantic Technologies Limited, PTT MCC Biochem Co., Ltd., Biome Technologies plc, Total Corbion PLA, Synbra Technology BV, BASF SE, Danimer Scientific, and others.
Political Factors- Increasing anti-plastic sentiment has spread swiftly across the globe (Felix & Frat, 2019). Numerous urban cities and towns in Australia have already been impacted by the government's ban on using plastic bags. Since the use of biodegradable plastic is safe and environmentally benign, associations have focused on it as a result of this guideline, which encourages a switch from conventional plastic to biodegradable plastic. Furthermore, the government in several countries is also focusing on developing biodegradable plastics and are coming up with new laws to ban the use of plastic which causes harm to the environment.
Economical Factors- People's purchasing power is frequently increasing as there is a rapid growth in the employment and an increase in number of startups. They develop an interest in trying new things and spending money on environmentally friendly items as more money means more money spent on obtaining more health benefits. As a result, there is a rise in the demand for oolo (an alternative to plastics), which grows market share since personnel who are well-trained and qualified satisfy clients' demands for good taste. This increases the demand for biodegradable pastics among consumers of all class and ethinicity.
Social Factor- Because 88% of buyers think it is essential and a part of buyers incline toward biodegradable packaging, the majority of associations have imposed the biodegradable pattern (Ferreira,Ferguson, & Pitt, 2019). Customers are unaware that biodegradable plastics are not equivalent to what they believe. Although we are aware that bioplastic is superior to all other biodegradable plastics in light of the assurances, Professor Ramani Narayan noted in Des King's meeting at the 2013 European Bioplastics Conference in Berlin that "Bioplastics are the most recyclable plastics and we don't generally discuss it." (Effects of environmental performance, 2015). People should understand what bioplastics are, what they do, and how they benefit since it is crucial that a different recovery framework be implemented if they are to focus on.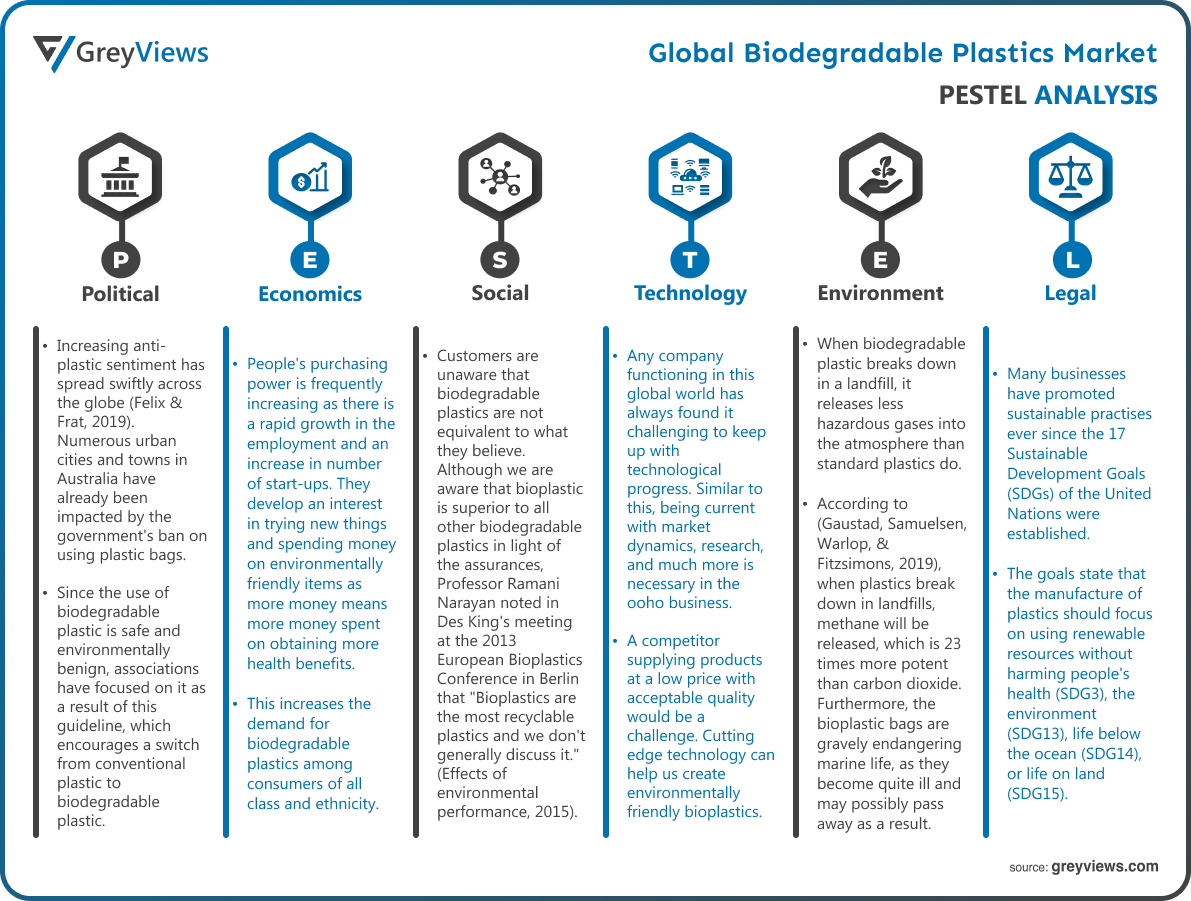 Technological Factors- Any company functioning in this global world has always found it challenging to keep up with technological progress. Similar to this, being current with market dynamics, research, and much more is necessary in the ooho business. A competitor supplying products at a low price with acceptable quality would be a challenge. Cutting edge technology can help us create environmentally friendly bioplastics. Technological features, including R&D effort, automation, technology incentives, and the pace of technological progress, are examples of technological factors. They can establish entry barriers, the minimum effective production level, and impact outsourcing choices. Additionally, changes in technology can have an impact on prices, quality, and innovation.
Environmental Factors- When biodegradable plastic breaks down in a landfill, it releases less hazardous gases into the atmosphere than standard plastics do. According to (Gaustad, Samuelsen, Warlop, & Fitzsimons, 2019), when plastics break down in landfills, methane will be released, which is 23 times more potent than carbon dioxide. Furthermore, the bioplastic bags are gravely endangering marine life, as they become quite ill and may possibly pass away as a result. Environmental considerations include ecological and environmental elements, including weather, climate, and climate change, which may negatively impact some sectors of the economy like tourism, agriculture, and insurance.
Legal Factors- Policies have the ability to change how corporations tackle problems, either locally or as part of global protocols. Many businesses have promoted sustainable practises ever since the 17 Sustainable Development Goals (SDGs) of the United Nations were established. The goals state that the manufacture of plastics should focus on using renewable resources without harming people's health (SDG3), the environment (SDG13), life below the ocean (SDG14), or life on land (SDG15). Additionally, circularity should be considered while addressing SDGs 11 and 12 (sustainable cities and communities) (responsible production and consumption). The transition to ecologically friendly plastics is still gradual, and need for nation-specific legislation even after the SDGs were adopted.