Global Corporate Wellness Market- Market Overview:
The Global Corporate wellness market is expected to grow from USD 51.5 billion in 2021 to USD 74.93 billion by 2029, at a CAGR of 4.8% during the Projection period 2022-2029. The growth of this market is mainly driven owing to rising stress in corporate.
Corporate wellness initiatives aim to support a holistic approach to employee health by cultivating a health-conscious workplace culture. Promoting healthy behaviors and improving health outcomes through the implementation of corporate wellness solutions that go above and beyond traditional wellness programs will increase productivity, maximize the use of human resources, and boost employee engagement. Many businesses realized the impact employee well-being had on performance and, consequently, on business results after the recent COVID-19 pandemic. Companies sought to find ways to address the rising need for empathy from their workers, who were troubled and worried. Managers of human resources can support staff in acquiring flexibility and coping with workplace stress. Giving employees access to an employee assistance program or wellness plan with a strong focus on psychological well-being is one of the most important things the HR department can do. No matter how big or small, simple or complex, a comprehensive wellness program will be helpful. It advances the cause of a more pleasant workplace. Additionally, organizations can set up mental health services including counselors, therapists, suicide prevention hotlines, meditation groups, and yoga sessions. Businesses must be prepared to commit to investigating inequities and other workplace issues and to devote the necessary time, resources, and policies to meaningful employee health initiatives. Given the social, economic, and political atmosphere of the society in which we live, workplace wellness is even more crucial today. Investing in the health of employees is important for businesses since happy, healthy workers tend to use less expensive healthcare services. Employees who are well-cared for experience fewer auto accidents because they are less worried sleep deprived, or burned out.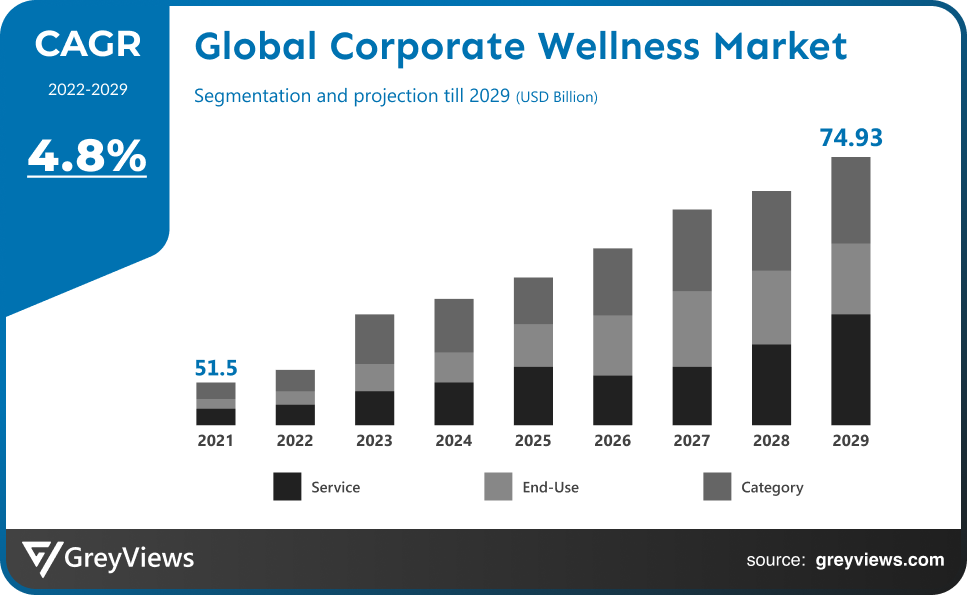 Sample Request: - Global Corporate Wellness Market
Market Dynamics:
Drivers:
Higher life expectancy and longer working hours
There are many important elements that influence the market and propel the corporate wellness industry forward. They are important for a holistic approach, which entails that both employers and employees work together to produce their best work while maintaining the health of the workplace culture. Employees must put in longer hours at work because of the increased competitiveness and need to survive in the corporate sector, which puts a strain on their ability to live healthy, long lives. The company chooses a variety of wellness programs and policies in order to preserve the productivity and well-being of the workforce, which ultimately supports the corporate wellness market.
Restraints:
The numerous health and wellness programs are extremely expensive as a result of the occupational health policies. Sometimes businesses open gyms that demand frequent equipment upkeep and costly salaries for specialists and trainers, raising the organization's operating costs. The result is an increase in the organization's overall costs, namely the high workplace costs that are the main barrier to the market expansion of corporate wellness programs. In medium-sized and small-scale enterprises, this is even more typical. According to a study, the majority of companies think that the biggest obstacles to employee happiness are cost preconceptions about workplace wellness programs.
Opportunities:
Increasing artificial intelligence's power
The emergence of a new era of personalized education and solutions that address each employee's unique well-being using AI will revolutionize the worldwide corporate wellness business. In order to sustain employee contact between human touchpoints, build a more thorough profile of their employees in real-time, and scale out their wellness programs without significantly depending on human resources, many businesses are turning to artificial intelligence. AI-enabled services identify trends, Projection how actual health issues or statistics will develop over time, and come up with a plan to prevent illnesses and other problems with one's health and well-being. As a result, it is a crucial factor in the expansion of the market.
Challenges:
Low awareness of corporate wellness initiatives
Numerous studies indicate that a communication gap is the main cause of many employees' ignorance of the health programs offered by their employers. Even if they are aware that such programs are offered at their place of business, many are uninformed of the advantages or other factors, and as a result, have little interest in taking part in them. While some workers can lack the motivation to make positive changes, others might just be resistant to change. Employers must tell staff members fully about corporate wellness initiatives in order to encourage them to push themselves beyond their comfort zones. Employee participation must be encouraged and they must be made aware of the objectives, goals, and possible rewards.
Segmentation Analysis:
The global corporate wellness market has been segmented based on Service, End-Use, and regions.
By Service
The service segment is health risk assessment, stress management, health screening, and others. The health risk assessment segment led the largest share of the corporate wellness market with a market share of around 28% in 2021. Corporate employee health programs primarily involve screening procedures to detect health hazards and the implementation of suitable interventional techniques to encourage employees to lead healthy lifestyles. A health risk assessment of their employees is chosen by about 80% of firms who offer services for employee well-being. The WCS Analytics+ platform, which comprises of an interactive data dashboard and was introduced by Wellness Corporate Solutions in June 2016, enables clients to plan and carry out healthy activities that promote productive workspaces.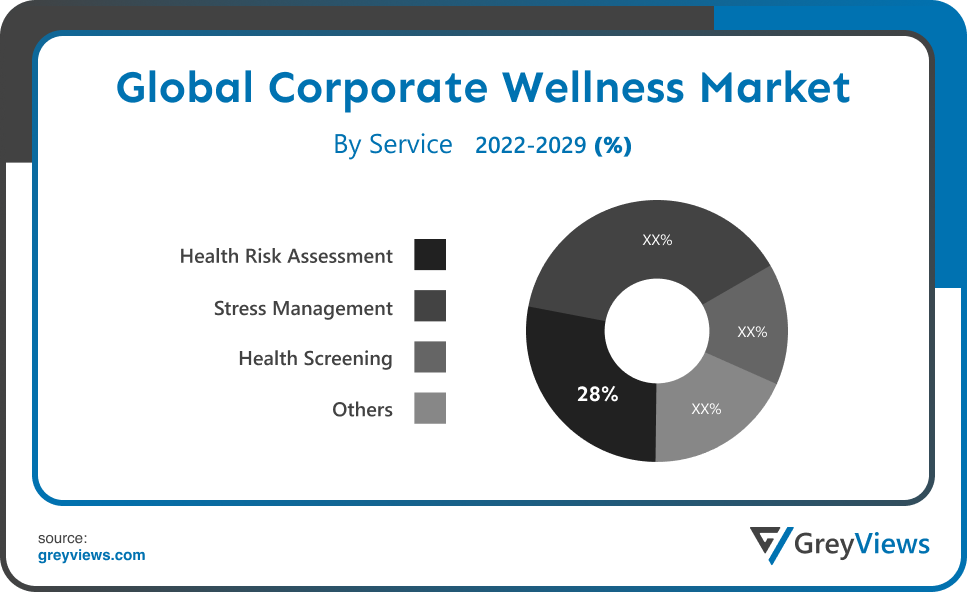 By End-Use
The end-use segment includes small scale organizations, large scale organizations, and medium scale organizations. The large scale organizations segment led the corporate wellness market with a market share of around 38% in 2021. According to well-researched studies, initiatives that are well-executed can generate a 3:1 return on investment. The infrastructure of larger organizations might include programs and services. Corporate affiliations and service outsourcing are advantageous to large-scale enterprises. Corporate wellness program implementation aids in tracking various ailments. Regular health screenings are undertaken to monitor health, encourage preventive care, and lower treatment costs. By concentrating on these issues, it is possible to lower the burden of sickness and the total cost of healthcare premiums that employers pay to insurance companies. Although many workers have switched to work-from-home arrangements as a result of lockout and office closures, it is still critical to make sure that workers can access and use health services.
By Category
The category segment includes fitness & nutrition consultants, psychological therapists, and organizations/employers. The fitness & nutrition consultants segment led the corporate wellness market with a market share of around 38% in 2021. The service providers provide internal and external health management services for big and small businesses alike. By providing healthy food alternatives on campus, employers are spending a lot of money to keep their employees' diets on track. Employee sickness increases the burden of disease, which will cause productivity loss and absenteeism. Employers must also provide an additional health insurance premium for these workers. In other words, businesses work to lessen the financial burden brought on by their ailing employees' health difficulties. This is boosting the market for exercise and nutrition.
Global Corporate wellness Market- Sales Analysis.
The sale of corporate wellness expanded at a CAGR of 7.2% from 2015 to 2021.
Over the Projection years, the global corporate wellness market is expected to significantly expand thanks to a number of variables that are encouraging industry expansion. The rising prevalence of chronic illnesses among workers brought on by intense work pressure, the growing focus on employee health management, the rising adoption of wellness programs at workplaces to boost productivity and cut operational costs, the surging demand for employee wellbeing services like health risk assessment and weight management, and higher availability and accessibility of these programs in companies like Accenture and Microsoft have significantly boosted Fitness professionals and nutritionists are frequently hired by businesses to promote health awareness and offer advice on the best exercises, treatments, and diets for workers.
For instance, businesses like BetterSpace and ZocDoc provide on-site wellness initiatives like yoga classes, nutritious lunches, and gym passes. Additionally, the coronavirus pandemic has benefited this market because more workplace wellness programs are being implemented to lessen stress and anxiety during the COVID-19 lockdown and self-isolation periods. A new regulatory notice for employee well-being programs was put up by the Equal Employment Opportunity Commission (EEOC) in June 2020 during a public meeting.
Thus, owing to the aforementioned factors, the global Corporate Wellness Market is expected to grow at a CAGR of 4.8% during the Projection period from 2022 to 202.
By Regional Analysis:
The regions analyzed for the corporate wellness market include North America, Europe, South America, Asia Pacific, the Middle East, and Africa. The North America region dominated the corporate wellness market and held a 40% share of the market revenue in 2021.
The North America region witnessed a major share. As stress is a major health issue impacting the US population, the US has the greatest market share in the North American area. According to the American Psychological Association (APA), since the coronavirus epidemic began, essential employees were more than twice as likely to have gotten treatment from a mental health professional (34% vs. 12%) and to have been diagnosed with a mental health issue. This thereby amplified the need for workplace wellness programs and fueled the market's expansion. The execution of strategic initiatives by a number of market participants is fostering market expansion.
Asia Pacific is anticipated to experience significant growth during the predicted period. A burgeoning working population and more awareness of employee health management in the Asia Pacific region necessitate corporate employee health efforts. Additionally, the market will profit from the ageing working-class population as corporations spend extensively in healthcare infrastructure, creating a significant opportunity to meet unmet needs in the area.
Global Corporate wellness Market- Country Analysis:
Germany's corporate wellness market size was valued at USD 4 billion in 2021 and is expected to reach USD 5.06 billion by 2029, at a CAGR of 3% from 2022 to 2029. New opportunities are being opened by a contemporary sense of belonging associated with fitness, which is highly valued in modern culture. Customers are looking for strategies to detach from their digital frenzy and recapture their time for personal progress, harmony, and fitness as a result of digitalization, which is driving Germany market expansion.
China's corporate wellness' market size was valued at USD 6.4 billion in 2021 and is expected to reach USD 8.75 billion by 2029, at a CAGR of 4% from 2022 to 2029. Working-class people have developed a workaholic work ethic, which keeps them so busy and stressed out that they fail to manage their lives and negatively impacts both their physical and mental health. The rise in stress and sadness has made it necessary to manage employees' behavioral and mental health, which has led to a demand for wellness programs from organizations for their staff. As a result, this fuels market expansion in China.
India's corporate wellness market size was valued at USD 5.5 billion in 2021 and is expected to reach USD 7.29 billion by 2029, at a CAGR of 3.6% from 2022 to 2029. The target audience engages in a variety of activities, such as meditation, yoga, stress-relieving courses, and detoxification challenges to strengthen their immune systems. The market is therefore being driven by the rising concern for health and the shifting attitudes around health.
Key Industry Players Analysis:
To increase their market position in the global corporate wellness business, top companies focus on tactics such as adopting new Services, mergers & acquisitions, product developments, collaborations, partnerships, joint ventures, etc.
ComPsych
Wellness Corporate Solutions
Privia Health
Vitality
Virgin Pulse
EXOS
Wellsource, Inc.
Central Corporate Wellness
Marino Wellness
Truworth Wellness
Latest Development:
In January 2022, Sayana, a mental health organization powered by AI, was introduced by Headspace Inc.
In February 2022, a health tech business called Quantum CorpHealth Pvt Ltd built three new offices in India in February 2022 to address the country's rapidly expanding need for health and wellness services for corporate employees and their dependents. These locations are located in Bengaluru, Pune, and Hyderabad.
Report Metrics
Report Attribute

Details

Study Period

2021-2029

Base year

2021

CAGR (%)

4.8%

Market Size

51.5 billion in 2021

Projection period

2022-2029

Projection unit

Value (USD)

Segments covered

By Service, By End-Use, By Category, and By Region.

Report Scope

Revenue Projection, competitive landscape, company ranking, growth factors, and trends

Companies covered

ComPsych, Wellness Corporate Solutions, Privia Health, Vitality, Virgin Pulse, EXOS, Wellsource, Inc., Central Corporate Wellness, Marino Wellness, and Truworth Wellness.

By Service

Health Risk Assessment
Stress Management
Health Screening
Others

By End-Use

Small Scale Organizations
Large Scale Organizations
Medium Scale Organizations

By Category

Fitness & Nutrition Consultants
Psychological Therapists
Organizations/Employers

Regional scope

North America
Europe
Asia-Pacific
South America
Middle East and Africa
Scope of the Report
Global Corporate Wellness Market by Service:
Health Risk Assessment
Stress Management
Health Screening
Others
Global Corporate wellness Market by End-Use:
Small Scale Organizations
Large Scale Organizations
Medium Scale Organizations
Global Corporate wellness Market by Category:
Fitness & Nutrition Consultants
Psychological Therapists
Organizations/Employers
Global Corporate wellness Market by Region:
North America
Europe

Germany
France
UK
Italy
Spain
Russia

Asia-Pacific

Japan
China
India
Korea
Southeast Asia

South America
Middle East and Africa

UAE
South Africa
Saudi Arabia
Frequently Asked Questions
What was the market size of the corporate wellness market in 2021?
Global corporate wellness market's size in 2021 was USD 51.5 billion.
What are some factors that cause a challenge to the corporate wellness market?
The lack of knowledge, the high cost of incorporation, and technical issues are some of the factors hampering the market growth.
What is the opportunity for the corporate wellness market?
The market is being driven as work stress is increasing which is impacting the health of people.
What End-Use segment is likely to expand at the fastest rate during the Projection period in the Corporate wellness market?
Fitness & nutrition consultants' end-use segment is likely to expand at the fastest rate during the Projection period in the corporate wellness market
Political Analysis- Political factors, broadly speaking, are those that are influenced by governmental acts and policies. They include but are not limited to, factors like corporate taxation, additional fiscal policy efforts, trade disputes, and antitrust and other anti-competitiveness issues. It is important to note that management teams may face significant risks and opportunities even from the shadow of future trade disputes or antitrust problems. A company's management team may find it particularly difficult during the run-up to elections due to the opposing parties' differing positions on important platform issues. This is because the range of potential outcomes depends greatly on election results. For instance, A multinational corporation shutters multiple locations in a country with a high tax burden to move operations to a place with lower tax burdens and/or more prospects for state funding and grants.
Economic Analysis- Economic considerations often have a financial focus and are related to the overall economy. They consist of Exchange rates, Inflation, Employment, and Interest rates. Since they can be quantified and modelled more readily than some of the other factors in this framework, economic factors are often given more weight in the analysis of financial services industry analysts. For instance, An equities research analyst may change the discount rate in their model assumptions depending on the stage of the economic cycle and the movement of Treasury yields; this can materially affect the valuations of the firms they cover.
Social Analysis- Economic aspects are typically easier to measure than social ones. They refer to changes or evolutions in stakeholders' perspectives on life and leisure, which might impact business operations. Demographic concerns, lifestyle trends, consumer perceptions, and attitudes regarding working conditions are a few examples of social influences. Compared to more concrete considerations like interest rates or corporation taxation, social issues may appear as a minor factor. However, they can still have a startlingly disproportionate impact on whole sectors of the economy. Consider the proliferation of connected fitness gadgets, as well as the many changes to the types of food products we consume and how these food products are packaged and sold, all driven by trends toward healthier and more active lifestyles. For instance, after the pandemic, management at a technology company was forced to rethink its hiring, onboarding, and training procedures because a sizable majority of staff members preferred a hybrid, work-from-home (WFH) model.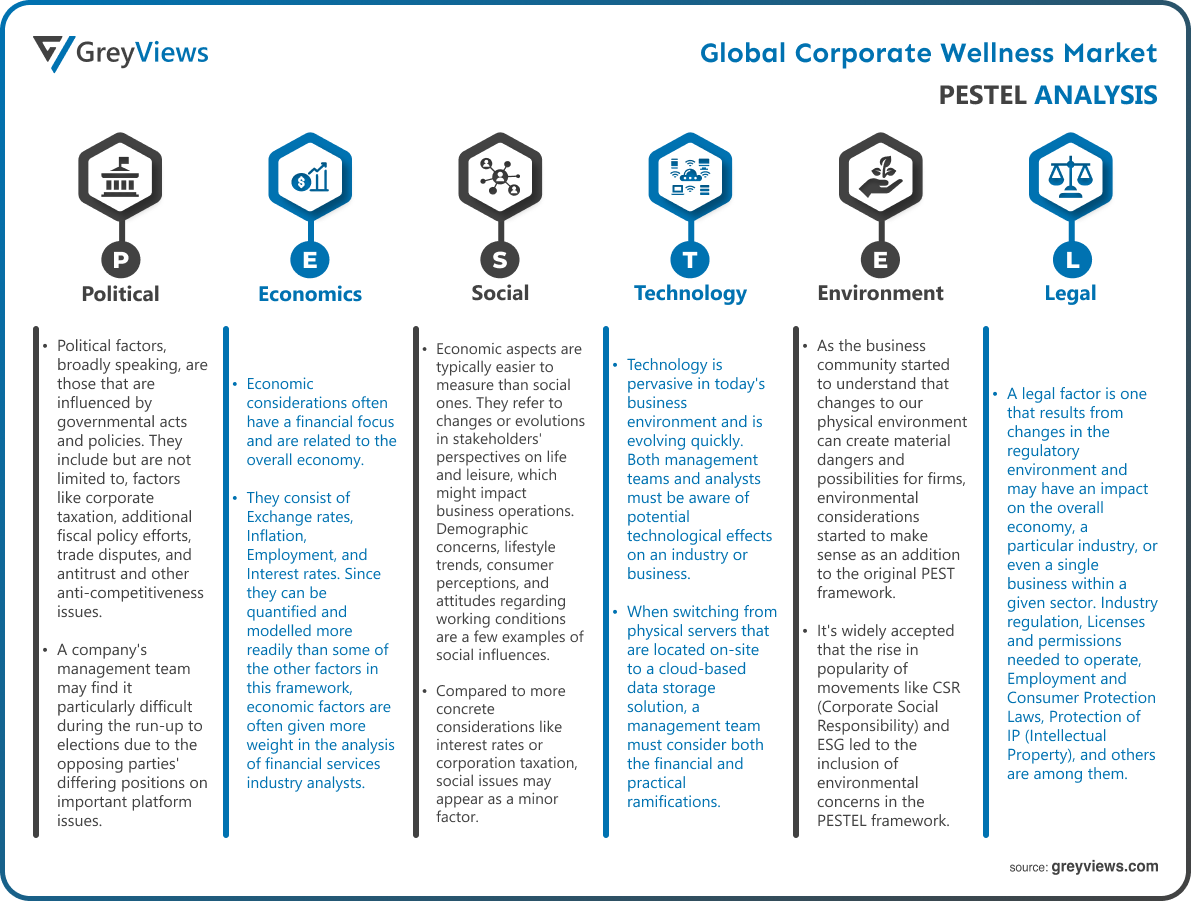 Technological Analysis- Technology is pervasive in today's business environment and is evolving quickly. Both management teams and analysts must be aware of potential technological effects on an industry or business. Automation, but not only, is one of them. The potential effects of research and development (R&D) on costs and competitive advantage, technological foundation (like 5G, IoT, etc.) cyberspace safety Think of how Uber upended the transportation sector or how the introduction of e-commerce revolutionised traditional retail trade to illustrate the pace and scope of technological disruption in today's economic climate, which has had a devastating effect on many established organisations and industries. For instance, When switching from physical servers that are located on-site to a cloud-based data storage solution, a management team must consider both the financial and practical ramifications.
Environmental Analysis- As the business community started to understand that changes to our physical environment can create material dangers and possibilities for firms, environmental considerations started to make sense as an addition to the original PEST framework. Carbon footprint, climate change impacts, physical and transition concerns, and environmental impact assessments are a few examples of environmental factors. severe weather occurrences are becoming more frequent, and conservation of natural resources, especially freshwater, Environmental aspects found in a PESTEL analysis will frequently overlap with those found in an ESG analysis (Environmental, Social, and Governance). It's widely accepted that the rise in popularity of movements like CSR (Corporate Social Responsibility) and ESG led to the inclusion of environmental concerns in the PESTEL framework. For instance, After the stock exchange mandated climate and ESG disclosure for all listed companies, management at a publicly traded corporation must review internal record-keeping and reporting procedures to measure greenhouse gas emissions.
Legal Analysis- A legal factor is one that results from changes in the regulatory environment and may have an impact on the overall economy, a particular industry, or even a single business within a given sector. Industry regulation, Licenses and permissions needed to operate, Employment and Consumer Protection Laws, Protection of IP (Intellectual Property), and others are among them. For operators, regulations can either be a headwind or a tailwind. An example of a headwind would be increasing capital requirements for financial institutions, whereas an example of a tailwind would be strong regulation in a certain industry, such food manufacturing, which might act as a protective moat for established players and erect extra barriers to entry. For instance, a technological company with significant development potential in emerging markets is currently the subject of a creditworthiness evaluation by a rating agency. The inherent risk of IP theft in some jurisdictions with insufficient legal infrastructure must be weighed against this growth trajectory. IP theft can significantly reduce a company's competitive advantage.