Global Craft Beer Market- Market Overview:
The Global Craft beer market is expected to grow from USD 103 billion in 2021 to USD 220.78 billion by 2029, at a CAGR of 10% during the Projection period 2022-2029. The growth of this market is mainly driven by it being manufactured in more unique flavors.
Craft beer is a category of alcoholic beverage created by a small, independent microbrewery using traditional or non-mechanized methods. Lagers, ales, wheat beers, wild/sour beers, stouts, hybrid beers, and other specialty beers are examples of popular craft beer varieties. It provides various health advantages because it is a high source of silicon, antioxidants, protein, and vitamin B complex. In addition, it has a more complex and distinctive flavor than the mass-made beer produced by big breweries. Craft beer has grown in popularity recently since it is produced with natural ingredients, has a higher alcohol by volume (ABV) level, and is less expensive. The phrase "craft brewing" refers to all changes in the industry that followed the late 20th-century microbrewing trend. Although the definition is not totally uniform, it often refers to commercial breweries that are relatively small, privately owned, use traditional brewing techniques, and place an emphasis on flavor and quality. breweries founded during the 1970s are typically included in the term, while older breweries with a similar focus may also be included. Craft brewers are defined as "small, independent, and traditional" by a trade organization in the United States called the Brewers Association, which is concerned with brand transparency. Brewmasters may view the lengthy craft brewing process as an art form. The Society of Independent Brewers (SIBA), which oversees the Assured Independent British Craft Brewer project in the United Kingdom, makes sure that any breweries using the Independent Craft Brewer badge are somewhat small, independent, and producing high-quality beer.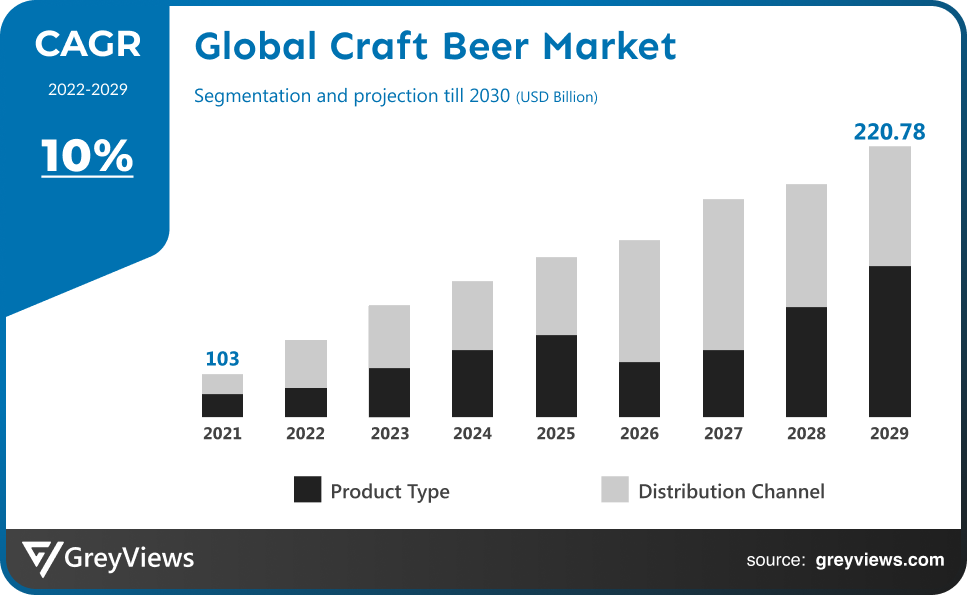 Sample Request: - Global Craft Beer Market
Market Dynamics:
Drivers:
Eco-friendly technology, shifting consumer tastes, and rising socialization
The number of millennials visiting taprooms and brewpubs has increased with the rise in sociability. This increase has also been aided by the proliferation of small and independent breweries. In order to expand the market and decrease waste, go-green technology, which is a result of recent advancements in craft beer production, is being included in beer product type Over the past few years, canning has played a significant role in the growth of craft beer. As restaurants, bars, and pubs proliferate in cities, demand for craft beer is rising. Craft brewers are in greater demand on the market as a result of the spread of millennial social trends.
Restraints:
Innovations in alcoholic beverages are impeding market expansion
Despite the fact that alcoholic beverages are used widely over the world, many other artisan alcoholic beverages, such as gin and whiskey, are impeding market expansion. There is a growing preference for such spirits as a result of customers' openness to trying new kinds of handmade spirits. The other alcoholic craft beverages are likewise more diverse than the alcoholic drink and go through many distillation processes to create premium liquor. The availability of numerous flavors in alcoholic craft drinks, like grapefruit and raspberry, lemon, and others, is another restriction on the market.
Opportunities:
Increasing health awareness
Craft beer, a natural product type manufactured with natural components sourced from local resources, is produced by small breweries. It also has a number of health advantages because it contains natural components. The market's expanding demand is due to beer's expanding variety of flavors and inventive styles. Go-green technology was implemented into the beer production process as a result of the recent implications of one of the key elements in the development of craft beer in order to boost market growth and develop new strategies for cutting waste and water usage. Canning's widespread use has also been primarily credited with the emergence of artisanal beers in recent years.
Challenges:
Campaigns discouraging alcohol consumption
Many governmental and social groups have launched campaigns against alcohol consumption and industry participants as a result of the rising frequency of alcohol abuse and accidents related to alcohol, particularly among the younger generation. As an illustration, various groups like Mothers Against Drunk Driving (MADD), Students Against Destructive Decisions (SADD), the American Medical Association, and the National Center on Addiction and Substance Abuse work to reduce alcohol use in the US. Long-term alcohol usage can lead to a number of health problems. Beer abuse can have negative effects on a person's physical and mental health. Blackouts, loss of coordination, seizures, sleepiness, hypothermia, low blood sugar, vomiting, diarrhea, bleeding, and irregular heartbeat are just a few of the side effects it might bring on. Long-term beer intake may result in mental health concerns, cardiovascular issues, and liver failure.
Segmentation Analysis:
The global craft beer market has been segmented based on product type, distribution channel, and others.
By Product type
The product type segment is lager, ale, stout, and others. The lager segment led the largest share of the craft beer market with a market share of around 28.3% in 2021. Expanded demand for lager over ale and increased supply of the product are two factors driving the lager market. The market is also anticipated to grow as a result of an increase in the manufacturing of beer in a variety of tastes. Regular lager is overtaking premium lager in popularity due to its high demand. In addition, customers flavor lager due to its malty flavor. Craft lager production has surged as brewers turn to products with longer shelf lives and less expensive ingredients.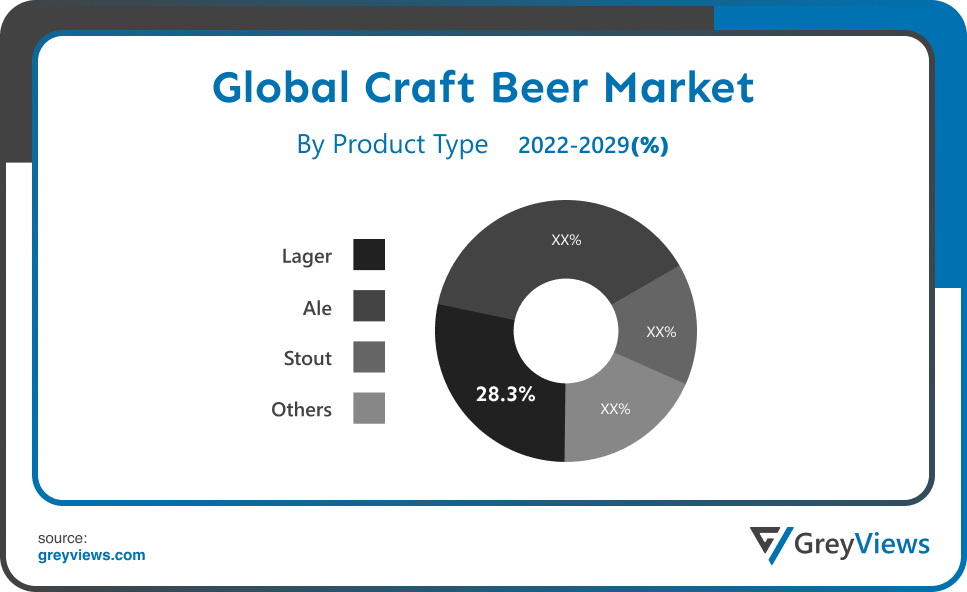 By Distribution channel
The distribution channel segment includes off-trade and on-trade. The off-trade segment led the craft beer market with a market share of around 68.08% in 2021. Craft beer sales have increased recently in off-trade channels as a result of the large diversity of beer styles and flavors available. Customers favor off-trade channels like supermarkets and convenience stores because they provide convenient cans or refrigerated bottles. Alcoholic beverages are more likely to be bought off-trade by consumers. Customers prefer drinking at home over in bars because it is cozier, more relaxing, and more economical. Additionally, it is anticipated that the rise over the next nine years would be complemented by the product's expanding penetration in nations like Brazil, China, India, and Mexico, where consumers have more purchasing power.
Global Craft Beer Market- Sales Analysis.
The sale of craft beer product types expanded at a CAGR of 8.9% from 2015 to 2021.
The improvement in the brewing process and the use of premium raw ingredients have enhanced the product's general features, capturing consumers' interest. Due to the rising demand for the beverage, the number of craft brewers worldwide is fast growing. The number of microbreweries in Europe increased by over 740 breweries between 2014 and 2015; this increase can be ascribed to the rising regional demand for the product, despite the fact that most of the region's countries are seeing a decline in overall beer consumption.
Among the several craft beer varieties, IPA, amber lager, and amber ale are the most popular. In affluent nations, these types are primarily consumed through various hospitality distribution channels. This is explained by the high cost of craft beer at pubs, restaurants, and other establishments, along with high consumer purchasing power. Due to the industry's favourable impact on economic growth and job creation, governments in nations including Australia, New Zealand, Belgium, Mexico, China, and the UK are encouraging the manufacture of craft beer and the integration of new breweries.
Thus, owing to the aforementioned factors, the global Craft Beer Market is expected to grow at a CAGR of 10% during the Projection period from 2022 to 2029.
By Regional Analysis:
The regions analyzed for the craft beer market include North America, Europe, South America, Asia Pacific, the Middle East, and Africa. The North American region dominated the craft beer market and held a 39% share of the market revenue in 2021.
The North America region witnessed a major share. The abundance of independent microbreweries and the mass production of craft beer have emerged as the main drivers of craft beer's success in the American market. Craft beer sales have increased thanks to independent breweries and the backing of small businesses. They have made significant contributions to the growth of this market. According to Brewers Association data, the states with the most economic impacts on craft beer consumption are Vermont and Colorado. Colorado tops the list of states with more than 21 adults in terms of economic impact per person with $764, followed by Vermont with $681. Based on the population of people aged 21 or older, these figures represent the total output of the craft beer business in each state.
Asia Pacific is anticipated to experience significant growth during the predicted period. Due to strong demand, which was supplanted by rising incomes, rapid urbanization, and the expansion of beer firms, the market has experienced tremendous growth in recent years. Sales will probably come primarily from China and India. The craft beer market in China has increased by almost 250%. China has more than a thousand craft breweries, which aids in the expansion of the country.
Global Craft Beer Market- Country Analysis:
Germany's craft beer market size was valued at USD 6 billion in 2021 and is expected to reach USD 11.10 billion by 2029, at a CAGR of 8% from 2022 to 2029. Over the past few years, Germany has seen a rise in the number of craft brewers, and the expansion of active breweries on the German market can be seen as a support for craft beer. The demand for craft beers in the region has grown significantly as a result of the substantial trend toward premium beers in Germany. Due to a huge rise in craft ale consumption over the past several years and the resulting growth in craft beer production, the future of craft beer is looking up.
China's craft beer' market size was valued at USD 9.27 billion in 2021 and is expected to reach USD 18.47 billion by 2029, at a CAGR of 9% from 2022 to 2029. The market has expanded dramatically in recent years due to a significant increase in demand that has been fueled by rising earnings among the populace, expanding urbanization, and the expansion of beer firms. Additionally, a significant factor in the company's recovery in the cutthroat market has been the increased demand for new variations of current craft brews. Additionally, numerous customers from the area have appreciated the beers' subtlety and smoothness of flavor.
India's craft beer market size was valued at USD 7.67 billion in 2021 and is expected to reach USD 14.73 billion by 2029, at a CAGR of 8.5% from 2022 to 2029. As a result of western culture's effect on the craft beer movement in the west, the market in the region is expanding. India has experienced the growth of western culture along with a craft. The patterns in developed nations like the United States and Europe have a stronger impact on developing nations like India. Additionally, the entitled millennial generation is highly adventurous and lives by the maxim you only live once. Among millennials, the culture of the party, evening hangouts, and nighttime hangouts is on the rise. According to some statistics, the majority of craft beer drinkers are between the ages of 20 and 29.
Key Industry Players Analysis:
To increase their market position in the global craft beer business, top companies focus on tactics such as adopting new technology, mergers & acquisitions, product type developments, collaborations, partnerships, joint ventures, etc.
G. Yuengling and Son
New Belgium Brewing Company
Constellation Brands, Inc
Heineken N.V.
The Boston Beer Company
Vagabund
The Gambrinus Company
Lagunitas Brewing Company
Bell's Brewery, Inc.
Chimay Beers and Cheeses
DuvelMoortgat NV
Stone & Wood Brewing Co.
Latest Development:
In August 2021, The Brazilian beer brand Therezopolis has been purchased by Coca-Cola FEMSA, a Mexican bottling corporation, in order to corner the Brazilian Craft Beer market.
In October 2020, The long-awaited acquisition of the Craft Brew Alliance by AB InBev, one of the biggest breweries in the world, was finally finalized. A further $220 million was spent by AB InBev to acquire the remaining 68.8% of the company's shares, giving them complete control.
Report Metrics
Report Attribute

Details

Study Period

2021-2029

Base year

2021

CAGR (%)

10%

Market Size

103 billion in 2021

Projection period

2022-2029

Projection unit

Value (USD)

Segments covered

By Product type, By Distribution Channel, and By Region.

Report Scope

Revenue Projection, competitive landscape, company ranking, growth factors, and trends

Companies covered

D.G. Yuengling and Son, New Belgium Brewing Company, Constellation Brands, Inc, Heineken N.V., The Boston Beer Company, Vagabund, The Gambrinus Company, Lagunitas Brewing Company, Bell's Brewery, Inc., Chimay Beers and Cheeses, DuvelMoortgat NV, and Stone & Wood Brewing Co.

By Product type

By Distribution Channel

Regional scope

North America
Europe
Asia-Pacific
South America
Middle East and Africa
Scope of the Report
Global Craft Beer Market by Product type:
Global Craft Beer Market by Distribution Channel:
Global Craft Beer Market by Region:
North America
Europe

Germany
France
UK
Italy
Spain
Russia

Asia-Pacific

Japan
China
India
Korea
Southeast Asia

South America
Middle East and Africa

UAE
South Africa
Saudi Arabia
Frequently Asked Questions
What is the impact of COVID-19 on the craft beer market?
Global craft beer market negatively impacted the craft beer market as owing to the implementation of curbs and closure of several breweries around the world.
What is the CAGR of the global craft beer market during the Projection period?
Global craft beer market's size in 2021 was USD 103 billion.
What are the distribution channel segments in the craft beer market?
The distribution channel segment includes off-trade and on-trade.
What are the key challenges for the craft beer market?
The market is being hindered by the increasing rules on the consumption of alcohol-based drinks, preference for traditional beer, and others.
Which distribution channel segment dominates the craft beer market in 2021?
Off-trade segment dominates the global craft beer distribution channel market in 2021.
Political Factors- Regulations governing taxes have a significant impact on the craft beer business. Raising taxes won't do anything because both the federal and state governments must approve the rates. For their products to be produced, distributed, and advertised in a lawful manner, the craft beer industry must abide by both federal and state laws. Before the product can be sold, every aspect of it, including the labels on the cans and the ingredients, must be approved. The impact on a brand might vary, though. Consider Heineken as an example. Heineken is subject to laws in every nation where it sells and distributes since it is available there. However, they might also notice a change in sales. A reduced tax burden in one nation may result in better profits. However, another might have more stringent regulations, forcing the brand to navigate bureaucratic red tape in order to sell its goods to consumers. In that case, the cost of distribution can be greater than the revenue.
Economical Factors- The enormous but oversaturated craft beer market. Big-name businesses that have been around for a while competing with one another for shelf space in liquor stores as well as for the attention of their customers. To reach new markets, these companies are expanding internationally. It's a wise strategic move to expand their customer base, and it also creates new jobs globally. The other guys are after that. Although they toil away to get a share of the earnings, the smaller or emerging craft beer businesses cannot compete with the large, global breweries. Instead, the market is divided into the national, regional, and microbrewery divisions.
Social Factor- Even though it doesn't seem like it, craft beer is continually advertised in the media. In his most recent film, your favourite actor can be seen carrying a can. Or the chorus of a song by your favourite singer will list off brands. In a fashion ad, you might even spot it poised. It is evident that craft beer is both praised and, in the same sentence, mocked and denigrated. Since the craft beer business frequently disagrees with the general public, sales are probably to decline. This brigade is led by moral or religious individuals and health-conscious individuals. As a sign of faith, many religions encourage abstinence from alcohol. But research indicates that alcohol can harm the body, particularly the liver. You might even pass away more quickly as a result of it. It's too simple to misuse craft beer. Many craft beer drinkers develop an addiction or dependence without realising it until it is too late. Addiction has the potential to result in death, suicide, and hopelessness.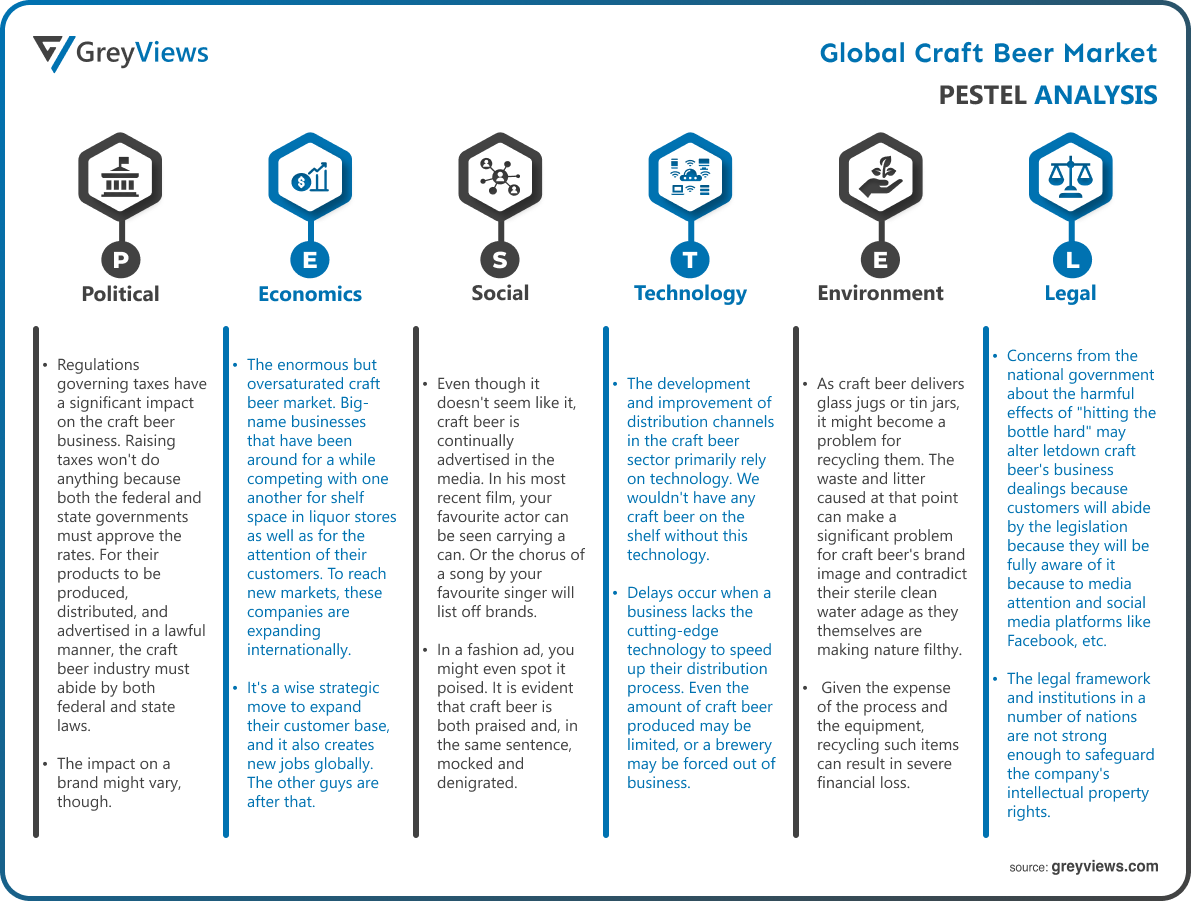 Technological Factors- The development and improvement of distribution channels in the craft beer sector primarily rely on technology. We wouldn't have any craft beer on the shelf without this technology. However, delays occur when a business lacks the cutting-edge technology to speed up their distribution process. Even the amount of craft beer produced may be limited, or a brewery may be forced out of business. A craft beer is only as excellent as its preparation, including the techniques required to grow and gather the components. Cost savings are attainable with a better process. Many companies are considering employing information technology (IT) to streamline operations while minimising errors. These IT solutions are necessary for national brands who manufacture and sell craft beer on a global scale to produce their products everywhere accurately.
Environmental Factors- As we are aware, every business has now put a small amount of thought into its social responsibility. As craft beer delivers glass jugs or tin jars, it might become a problem for recycling them. The waste and litter caused at that point can make a significant problem for craft beer's brand image and contradict their sterile clean water adage as they themselves are making nature filthy. Given the expense of the process and the equipment, recycling such items can result in severe financial loss. When trading and bringing in goods, the costs of transportation and conveyance might be a hassle because you have to pay a significant sum for the toll tax collection on all the heavingly packed goods. Different legal and environmental regulations may even exist between states in the same nation. Determining the environmental criteria of the market where a new firm will operate requires rigorous analysis and evaluation.
Legal Factors- Concerns from the national government about the harmful effects of "hitting the bottle hard" may alter letdown craft beer's business dealings because customers will abide by the legislation because they will be fully aware of it because to media attention and social media platforms like Facebook, etc. The legal framework and institutions in a number of nations are not strong enough to safeguard the company's intellectual property rights. An organisation should thoroughly research the market before entering it since doing so encourages internal stealing.