Global LPG Tanker Market: - Market Overview:
The Global LPG Tanker market is expected to grow from USD 183.2 billion in 2021 to USD 285.4 billion by 2029, at a CAGR of 5.7% during the Projection period 2022-2029. The growth of this market is mainly driven owing to the increase in the trading of LPG across countries.
Large volumes of petroleum gases are transported by liquefied petroleum gas (LPG) tankers, which are gas carriers. It consists of many reservoirs that are stacked in cargo holds. The most often used LPG tankers are small pressurized tanks, shielded or chilled seagoing tanks, and semi-pressurized tanks. They can be found in sizes that range from very large to big, big, medium, and tiny, and are propelled by a controllable propeller and geared-diesel system. Additionally, these tankers supply propylene, vinyl chloride, and ammonia. As a result, they are frequently utilized in numerous industries, including oil and gas, petrochemical, automobile, and refinery. Compared to coal, liquefied petroleum gas is a cleaner fuel. Consequently, a switch to LPG as a home fuel is anticipated to increase demand for LPG transportation. Concurrently, there is a growing demand for liquefied petroleum gas for HVAC and cooking applications, which raises the requirement for safe liquefied petroleum gas storage and transportation and consequently increases the demand for LPG tankers in the coming years. In the upcoming years, the market's growth is projected to be driven by a significant increase in shale gas production. Major firms turned their attention to producing oil and gas from shale rock as a result of the instability in crude oil prices, along with advancements in hydraulic fracturing and horizontal drilling techniques. It is also anticipated that shifting attention to shale gas production will accelerate market expansion during the predicted period.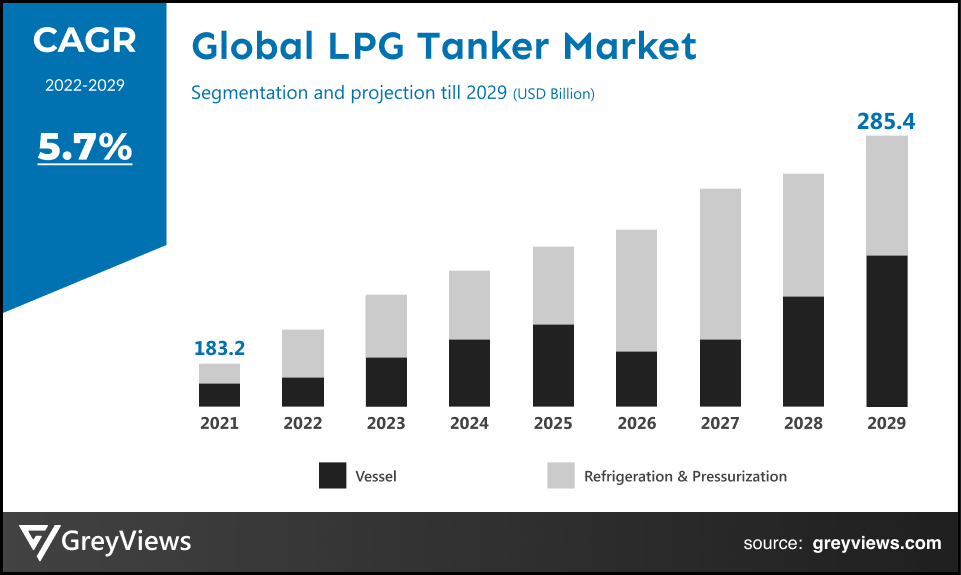 Sample Request:- Global LPG Tanker Market
Market Dynamics:
Drivers:
Growing Trade Relations & Increasing Shale Gas Extraction
Due to the rising trading of liquefied petroleum gas across numerous nations, the global market for liquefied petroleum gas tankers is anticipated to experience significant expansion. Due to fluctuating crude oil prices and advancements in horizontal drilling and hydraulic fracturing techniques, key players have shifted their attention to oil and gas extraction from shale rock. As a result of the shift in emphasis, the market is anticipated to expand at a CAGR of 6% during the projected period because increased shale gas production has boosted LPG commerce globally. By reducing the distance and changing the international trade routes, the inauguration of a new third set of locks on the Panama Canal in June 2016 is anticipated to increase LPG trading between the East and West. LPG is now more in demand for cooking and high ventilation air conditioning (HVAC) systems. The need for LPG tankers is projected to expand if trade links between the United States and Japan, India, and shale gas increase between 2020 and 2027.
Restraints:
Increasing Demand for Natural Gas‌ and CNG
Compared to LPG, CNG is more affordable, cleaner, and mostly made of methane. LPG burns hotter than CNG and might catch fire more quickly. It is used in autos as an alternative to gasoline and emits fewer greenhouse gases than LPG. It is also lighter than air. As a result, in the event of a spill, it disperses swiftly. It is typically less expensive than LPG and is frequently used in cars and locomotives, which is a barrier to the expansion of the LPG tanker industry. Many commercial vehicles, ranging from light-duty trucks to medium and heavy vehicles, are now available in the U.S. automobile market with CNG. Some nations that have used CNG as a car fuel include Iran, Argentina, China, Brazil, and Pakistan.
Opportunities:
Technological Advancements in LPG Tanker
Residential/commercial, industrial, motor fuel, chemical, and refinery are among the LPG's applications. LPG can also be used in refrigerants and agriculture. Particularly in the household and commercial sectors, LPG consumption is rising. The high growth and high penetration aspects apply to this application category. LPG is utilized in home and commercial settings for cooking and space heating. Numerous technological developments in LPG tankers are expanding the industry, including the integration of semi-membrane tanks and bow wave resistance devices on the tanker's hull. The latest pollution limits have led to the development of more efficient engines by LPG tanker manufacturers. The market is anticipated to increase and opportunities to grow will arise as a result of additional variables such as favorable government policies and significant infrastructure improvements, particularly in emerging markets.
Challenges:
Due to the closure of production facilities, particularly in the Asia-Pacific region, the distribution network of the LPG and auxiliary industries was severely impacted. The COVID-19 significantly slowed down the energy and manufacturing industries globally. Delivered supplies of LPG were additionally delayed by quarantine regulations, lockdowns, and limitations on domestic and foreign movement. In several places of the world, production interruptions in 2020 also caused prices to soar, albeit for a brief time. Even though the majority of the world's major economies that depend on LPG have government-regulated LPG prices, its unexpected and severe scarcity had a significant influence on them. However, the majority of governments moved quickly to lower LPG prices, prevent its black marketeering, and combat the illicit profiting brought on by the high LPG pricing.
Segmentation Analysis:
The global LPG tanker market has been segmented based on Vessel, application, and regions.
By Vessel
The vessel segment is a very large gas carrier, large gas carrier, medium gas carrier, and small gas carrier. The very large gas carrier segment led the largest share of the LPG tanker market with a market share of around 30.3% in 2021. LPG gas is frequently transported over greater distances across numerous nations using very big gas carriers. The main driver of the segment's growth is the expansion of trade ties for liquefied petroleum gas between nations, particularly those in the Middle East and Asia, Western Africa and Europe, and the United States. The LGC is expected to outperform the projected period, though narrowly. The global market is likewise heavily dominated by large gas carriers.
By Refrigeration & Pressurization
The refrigeration & Pressurization segment includes semi-refrigerated, full refrigerated, full pressurized, and ethylene. The fully pressurized pouches segment led the LPG tanker market with a market share of around 33.08% in 2021. Full-pressure ships are typically small vessels with cargo capacities under 4000 m3. With a maximum cargo volume of only 4,000m3, entirely pressurized ships are typically employed to transport LPG and ammonia. Furthermore, the recent introduction of fully pressurized LPG carrier sets on the international market is anticipated to fuel market expansion. For instance, the Japanese shipyard Kawasaki Heavy Industries received a contract from Kumiai Navigation in February 2020 to build an LPG carrier. Two VLGCs at Kawasaki, a Capesize bulk carrier, an Ultramax, and a fully pressurized LPG carrier with a 2020 delivery date, were all included in the order book.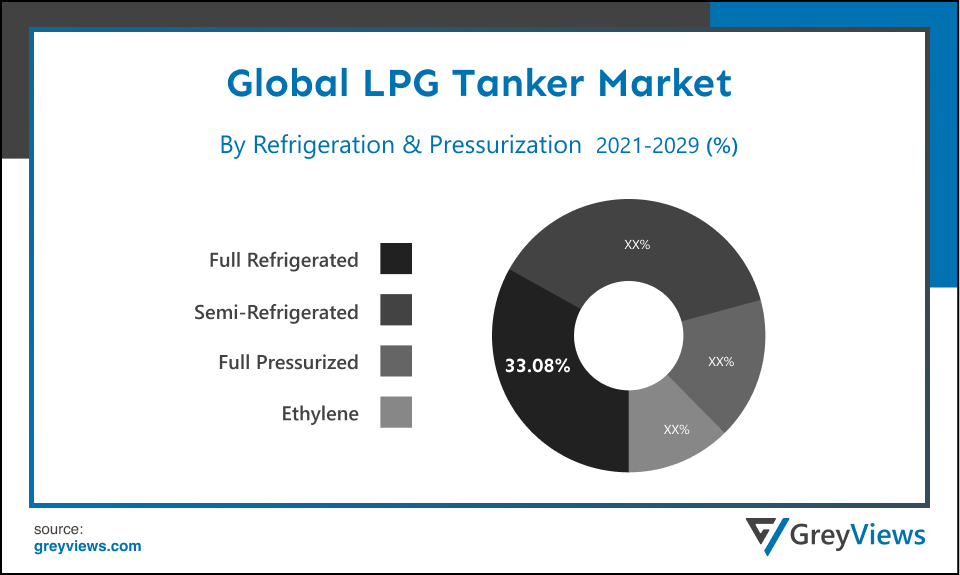 By Regional Analysis:
The regions analyzed for the LPG tanker market include North America, Europe, South America, Asia Pacific, the Middle East, and Africa. The Europe region dominated the LPG tanker market and held the 39.1% share of the market revenue in 2021.
The Europe region witnessed a major share. Due to government initiatives and poor domestic production, the European market is primarily driven by an increase in LPG demand, which raises the demand for LPG tankers to allow imports. The main regional markets for LPG tankers are North America, the Middle East, and Western Africa because of the rising exports of liquefied petroleum gas to areas like Europe and the Asia Pacific. After Qatar and Australia, North America is one of the main exporters of LPG globally. The market is driven by the region's substantial proven shale gas reserves.
North America is anticipated to experience significant growth during the predicted period. Due to its use as a cooking fuel, LPG demand is anticipated to rise in the United States, Canada, and Mexico. In these nations, LPG is used for heating purposes in residential structures throughout the winter.
Global LPG Tanker Market- Country Analysis:
Germany's LPG tanker market size was valued at USD 16.38 billion in 2021 and is expected to reach USD 24.29 billion by 2029, at a CAGR of 5.3% from 2022 to 2029.
The petrochemical industry in Germany is primarily responsible for expanding the LPG tanker business. While the country's Autogas industry has yet to reach its full potential, consumption of LPG for residential and commercial purposes has moderately increased in recent years.
China LPG tanker's market size was valued at USD 29.78 billion in 2021 and is expected to reach USD 43.50 billion by 2029, at a CAGR of 5.1% from 2022 to 2029. One of the biggest buyers of international LPG is China. The increase in measures by the top authorities to offer incentives, start-up subsidies, and distribution licenses to encourage increased consumption and usage of LPG fuels, particularly in the transportation sector, would speed up market expansion throughout the projection period.
India's LPG tanker market size was valued at USD 5.96 billion in 2021 and is expected to reach USD 9.32 billion by 2029, at a CAGR of 6.0% from 2022 to 2029. The primary driver for the projection period is a growth in demand for liquefied petroleum gas in the residential, industrial, and transportation sectors. Furthermore, the rapid industrialization in India propels the growth of the LPG Tanker in the region.
Key Industry Players Analysis:
To increase their market position in the global LPG tanker business, top companies focus on tactics such as adopting new technology, mergers & acquisitions, product developments, collaborations, partnerships, joint ventures, etc.
BW Group
Dorian LPG Ltd.
EXMAR
Hyundai Heavy Industries Co., Ltd
Kawasaki Heavy Industries, Ltd
Mitsubishi Heavy Industries, Ltd.
Namura Shipbuilding Co., Ltd.
PT Pertamina (Persero)
StealthGas Inc.
The Great Eastern Shipping Co. Ltd.
Teekay Corporation
Latest Development:
In January 2022, Crystal Trinity, an LPG carrier by Kawasaki Heavy Industries, was delivered to Kumiai Navigation. It was Kawasaki's second LPG carrier and had an 84,000 cbm capacity.
In May 2021, The Great Indian Shipping Co. Ltd. purchased a used mid-size LPG carrier with a 35,000 cbm capacity. This is the sixth LPG carrier for the corporation.
In May 2021, BW LPG acquired control of the Indian joint venture it had with Global United Shipping and now holds an 85% stake in the business.
Report Metrics
Report Attribute

Details

Study Period

2021-2029

Base year

2021

CAGR (%)

5.7%

Market Size

USD 183.2 billion in 2021

Projection period

2022-2029

Projection unit

Value (USD)

Segments covered

Vessel, Refrigeration & Pressurization, and Regions

Report Scope

Revenue Projection, competitive landscape, company ranking, growth factors, and trends

Companies covered

BW Group, Dorian LPG Ltd., EXMAR, Hyundai Heavy Industries Co., Ltd, Kawasaki Heavy Industries, Ltd, Mitsubishi Heavy Industries, Ltd., Namura Shipbuilding Co., Ltd., PT Pertamina (Persero), StealthGas Inc., The Great Eastern Shipping Co. Ltd., Teekay Corporation among others.

By Vessel

Very Large Gas Carrier
Large Gas Carrier
Medium Gas Carrier
Small Gas Carrier

By Refrigeration & Pressurization

Semi Refrigerated
Full Refrigerated
Full Pressurized
Ethylene

Regional scope

North America
Europe
Asia-Pacific
South America
Middle East and Africa
Scope of the Report
Global LPG Tanker Market by Vessel:
Very Large Gas Carriers (VLGC)
Large Gas Carriers (LGC)
Medium Gas Carriers (MGC)
Small Gas Carriers (SGC)
Global LPG Tanker Market by Refrigeration & Pressurization:
Ethylene
Full Refrigerated
Semi Refrigerated
Full Pressurized
Global LPG Tanker Market by Region:
North America
Europe

Germany
France
UK
Italy
Spain
Russia

Asia-Pacific

Japan
China
India
Korea
Southeast Asia

South America
Middle East and Africa

UAE
South Africa
Saudi Arabia
Frequently Asked Questions
What will be the expected market size of the LPG Tanker market in 2029?
Global LPG tanker market is expected to reach USD 285.4 billion by 2029, at a CAGR of 5.7% from 2022 to 2029.
Which region contribute the most in LPG Tanker Market?
Europe region dominated the LPG tanker market and held the 39.1% share of the market revenue in 2021.
What are the top 5 exporter countries of LPG Tanker?
United States, Germany, United Kingdom, China, and France.
Which are the leading market players active in the LPG Tanker market?
Leading market players active in the global LPG tanker market are BW Group, Dorian LPG Ltd., EXMAR, Hyundai Heavy Industries Co., Ltd, Kawasaki Heavy Industries, Ltd, Mitsubishi Heavy Industries, Ltd., Namura Shipbuilding Co., Ltd., PT Pertamina (Persero), StealthGas Inc., The Great Eastern Shipping Co. Ltd., Teekay Corporation among others.
Political Factors- The factors that can affect an LPG tanker's long-term profitability in a particular nation or market are heavily influenced by political issues. Dorian LPG Ltd. engages in the shipping business in more than a dozen nations, exposing it to various political systems and ecological concerns. Diversifying the systematic risks of the political environment is necessary to succeed in such a dynamic shipping business across several nations. LPG Tanker market players can closely analyze the political stability and the significance of the shipping industry to the national economy before entering or investing in the market.
Economical Factors- The aggregate demand and aggregate investment in an economy are determined by the macroenvironmental factors, such as the inflation rate, savings rate, interest rate, foreign exchange rate, and economic cycle. While microenvironmental elements like industry norms have an impact on the firm's competitive edge. LPG tanker market players may anticipate the growth trajectory of the sector and that of the organization by using national economic factors like growth rate, inflation, and industry-specific economic indicators like shipping industry growth rate, consumer spending, etc. Market players and shareholders must consider the government intervention in the free market and related Services and, exchange rates & stability of the host country's currency.
Social Factor- The manner of life and culture of the society affect the organizational culture in a given setting. Market players of the LPG Tanker market will study the customers of a given market. They will build the marketing message for consumers in the shipping sector based largely on the people's shared values and attitudes. Social factors that the leadership of LPG Tankers should analyze are demographics and skill level of the population, Class structure, hierarchy and power structure in the society, Leisure interests, and Education level as well as education standard in the industry.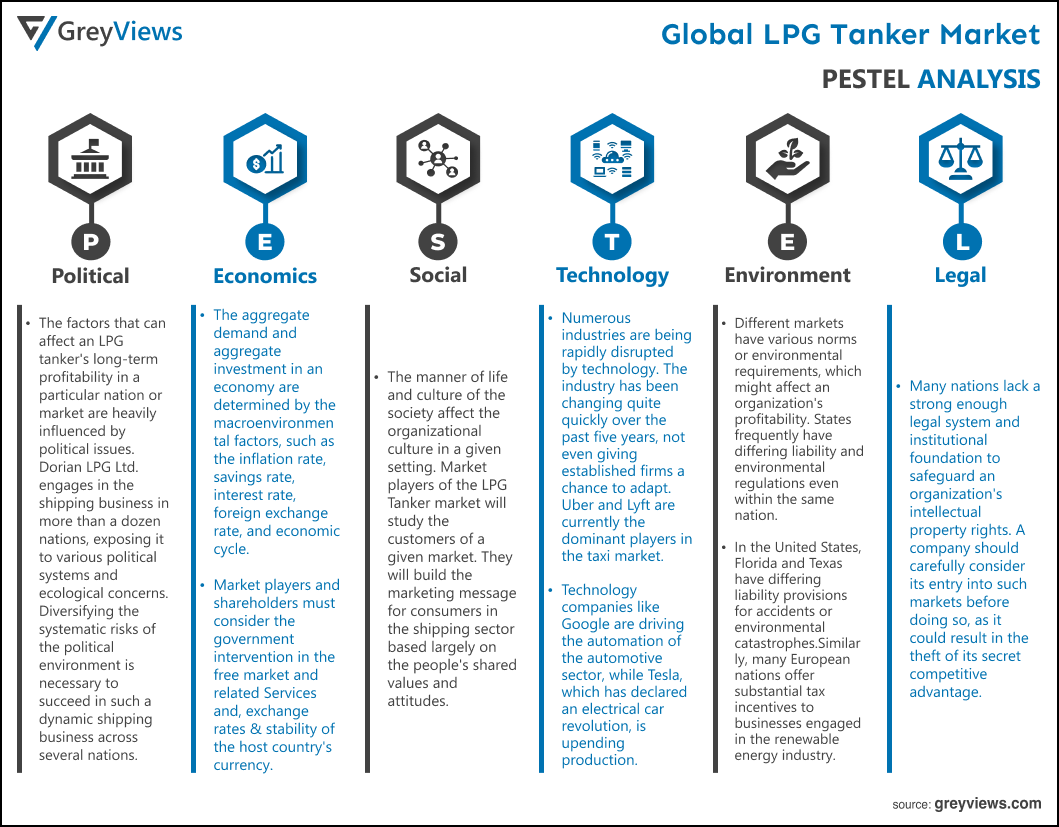 Technological Factors- Numerous industries are being rapidly disrupted by technology. The transportation sector is a wonderful example to demonstrate this idea. The industry has been changing quite quickly over the past five years, not even giving established firms a chance to adapt. Uber and Lyft are currently the dominant players in the taxi market. Technology companies like Google are driving the automation of the automotive sector, while Tesla, which has declared an electrical car revolution, is upending production. A company should analyze the industry's technological state as well as how quickly it is being disrupted by technology. Slow technological disruption will allow more time, whereas rapid disruption may give a firm little time to adapt and be profitable.
Environmental Factors- Different markets have various norms or environmental requirements, which might affect an organization's profitability. States frequently have differing liability and environmental regulations even within the same nation. For instance, in the United States, Florida and Texas have differing liability provisions for accidents or environmental catastrophes. Similarly, many European nations offer substantial tax incentives to businesses engaged in the renewable energy industry. The firm should thoroughly assess the environmental criteria necessary to operate in those areas before entering new markets or opening a new business in an existing market. Environmental factors such as weather, climate change, and environmental pollution laws must be considered.
Legal Factors- Many nations lack a strong enough legal system and institutional foundation to safeguard an organization's intellectual property rights. A company should carefully consider its entry into such markets before doing so, as it could result in the theft of its secret competitive advantage. Anti-trust law in the Shipping industry, Copyright, patents / Intellectual property law, employment law, health and safety law, data protection, and consumer protection and e-commerce must be considered by the LPG tanker market players.