Global Meat Testing Market- Market Overview:
The Global Meat Testing market is expected to grow from USD 8 billion in 2021 to USD 13.74 billion by 2029, at a CAGR of 7% during the Projection period 2022-2029. The growth of this market is mainly driven owing to the rising animal husbandry around the world.
For meat products to be of the highest quality and safety, testing is essential. Producers are also required to abide by meat food safety laws. A meat industry handbook is published for this purpose by the Food Standards Agency. Food producers must take into account every element of the food chain that may have an impact on meat quality when establishing quality assurance methods for meat products. Most essential, they need to make sure they rigorously and frequently test meat. Modern meat testing tools make it possible for producers to achieve this. The quality of meat is significantly influenced by a number of important factors, including fat, protein, texture, and moisture. The flavor and general quality of meat are influenced by these factors. Raw meat is different from meat products. They are regulated goods that come with connective tissue and fat by nature. However, only a specific quantity of fat and connective tissue, up to a particular limit, may be present in these items for them to be classified as meat. If a product goes over these restrictions, the manufacturer must disclose additional fat or connective tissue in the ingredients list. For instance, the combined fat and connective tissue content of beef and lamb cannot exceed 25%. Limits on fat are 25% for pork and 15% for poultry. The meat will have its fat content analyzed using near-infrared (NIR) spectroscopy instruments. These instruments are becoming more and more adaptable. The Perten DA NIR analyzer is one illustration. The protein and moisture content of meat products will also be examined by NIR.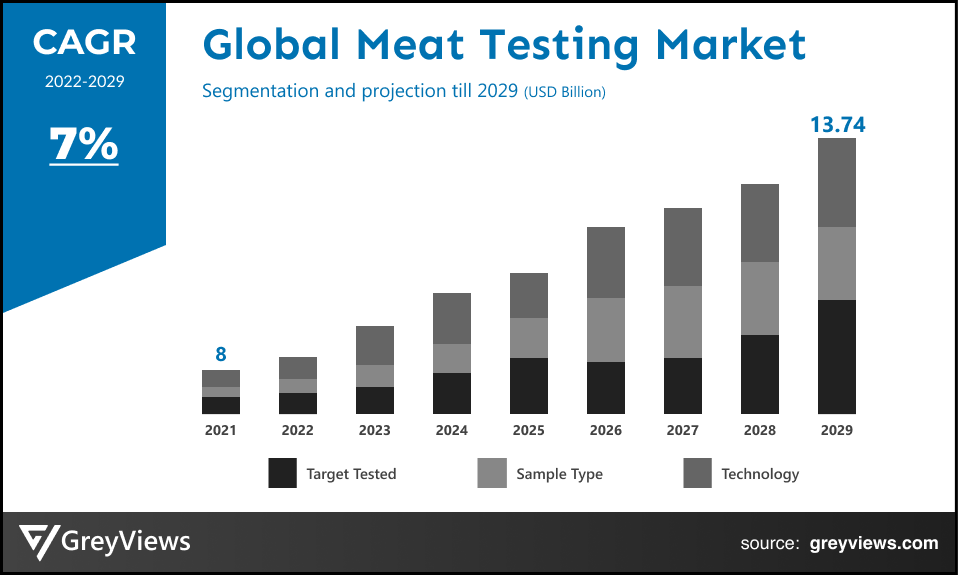 Sample Request: - Global Meat Testing Market
Market Dynamics:
Drivers:
rising rates of food-borne illnesses
The demand for meat testing is driven by the rising prevalence of food-borne illnesses. The majority of the meat is stored in the open, where it can be exposed to a variety of germs and bacteria and get infected with any pathogen. Additionally, improper cooking and storage practises, cross-contamination, animal waste, and insufficient processing controls all contribute to the contamination of meat. When swallowed, the bacteria and viruses they contain can be fatal or result in dangerous food-borne illnesses. Meat testing is now more necessary as a result. The market is expanding as a result of the rising number of occurrences of food poisoning and rising demand for meat testing.
Restraints:
Meat testing is a difficult process that costs a lot of money, which limits market expansion. The market's expansion is hampered by the lack of understanding of the laws governing meat testing. The complexity of testing meat technology is also increasing, which slows the market's expansion. Over the course of the projection period, challenges with sample collection, a lack of food resources and infrastructure for quality control, and growing consumer desire for meat alternatives are projected to have an impact on market growth.
Opportunities:
Developments in the market made recently
A potential for market expansion is anticipated as a result of recent developments in the meat testing industry. Pathogen testing methods have evolved to include nanobiotechnology, immunomagnetic separation, polymerase chain reaction, and other techniques to increase the sensitivity of pathogen identification and the turnaround time for test results. During the projected period, the market is also anticipated to benefit from implementing multi-containment detection systems and creating quick testing technologies.
Challenges
The Covid-19 pandemic outbreak
The Covid-19 pandemic outbreak hindered the market's expansion since some testing facilities had to be temporarily shut down in order to limit illness transmission through the meat. Additionally, because of the significant risk of contracting the coronavirus by eating meat and poultry items during the COVID-19 pandemic, less meat was consumed overall. The development of the market was hampered by this. In addition, there is a growing trend for individuals to stop eating meat and switch to vegetarian and vegan foods, which hinders the market's expansion.
Segmentation Analysis:
The global meat testing market has been segmented based on target tested, sample type, technology, and regions.
By Target Tested
The target tested segment is pathogens, meat, GMOs, allergens, and others. The pathogens segment led the largest share of the meat testing market with a market share of around 25% in 2021. Improper raw meat storage can cause pathogen contamination, and cross-contamination can cause foreign particles to contaminate meat and seafood, leading to food recalls. The convoluted procedure and supply chain are also raising worries about cross-contamination during storage, shipment, handling, and repacking. Food safety issues as well as general worries about pollutants and unreported species are brought up, which could put customers' lives in jeopardy.
By Sample Type
The sample type includes meat and seafood. The meat segment led the meat testing market with a market share of around 66% in 2021. The meat segment consists of poultry, sheep and goat, and more. The consumption of chicken, beef, eggs, quails, and others is growing around the world which fuels the segment. Moreover, meats are available as ready to eat which boosts the segment growth. Also, with the increasing consumption of meat, the concern regarding safety is also increasing.
By Technology
The technology includes rapid testing and traditional testing. The rapid testing segment led the meat testing market with a market share of around 57% in 2021. The advantage of rapid testing is that it automates testing and offers speedy results. As a result, it is commonly employed to detect unidentified species. Also, it provides quick results and helps the decision-making process for product recalls related to stakeholders' thus demand for rapid testing in increasing.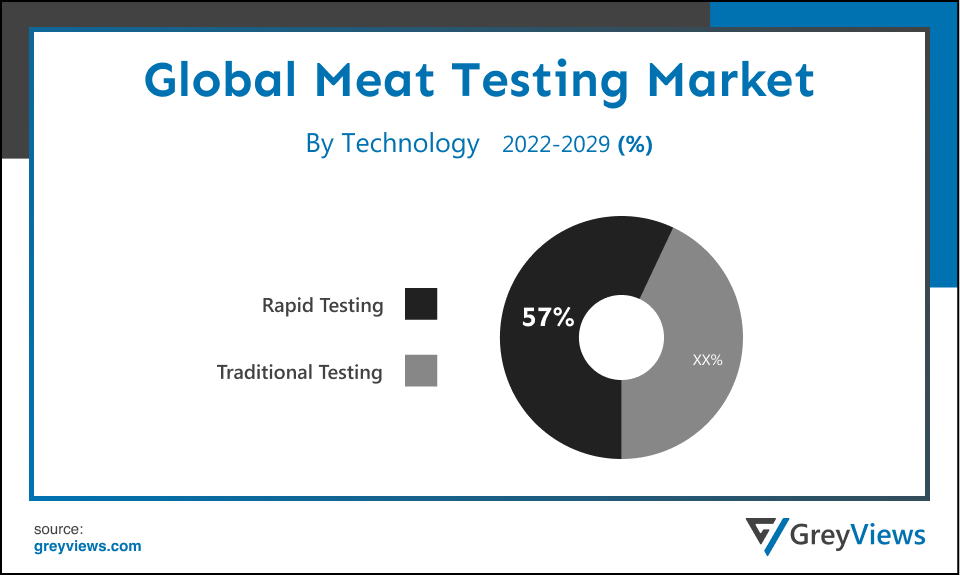 By Regional Analysis:
The regions analyzed for the Meat Testing market include North America, Europe, South America, Asia Pacific, the Middle East, and Africa. The Europe region dominated the Meat Testing market and held the 42% share of the market revenue in 2021.
Europe region witnessed a major share. The market for meat speciation testing in Europe is being driven by rising consumer awareness, more stringent food rules, and an increase in meat traffic. Additionally, heightened consumer awareness of safe food items stimulates regional expansion. Since more complex cutting and storage techniques have been developed over time, higher-quality products may now be exchanged, and more meat is now boned before being exported. As a result, there is now more demand in Europe for testing equipment.
Asia Pacific is anticipated to experience significant growth during the predicted period. It is getting more difficult to regulate food products for their quality as the number of retail establishments increases. Some Asian meat corporations stepped forward to address these issues, setting up testing facilities with cutting-edge machinery to look after the product distribution chain from production to consumption. The majority of businesses with significant market share, from producers to retailers, readily engage in having their products examined and acquiring reputable certifications. Testing of meat is sometimes done for moral and religious reasons. The companies in the meat testing industry are taking care to strictly address these concerns because there is a sizable audience who links their food consumption to their ethical and religious convictions. This fuels the demand for meat testing in the region.
Global Meat Testing Market- Country Analysis:
Germany's Meat Testing market size was valued at USD 1.2 billion in 2021 and is expected to reach USD 1.91 billion by 2029, at a CAGR of 6% from 2022 to 2029. Demand for meat testing in the region is rising as a result of increased health awareness, the prevalence of strict legislation in Germany to protect the safety of meat, the rise in food-borne illnesses like "mad cow" and others, and the frequency of disease outbreaks brought on by tainted meat. Additionally, meat product producers are investing in R&D to meet regulatory criteria. Macroeconomic factors like as rapid urbanization increased domestic income, and population growth is helping the German meat speciation testing business.
China Meat Testing's market size was valued at USD 0.85 billion in 2021 and is expected to reach USD 1.27 billion by 2029, at a CAGR of 5.2% from 2022 to 2029. The market is being driven by increased disposable incomes, particularly in urban regions. Additionally, China's enormous pool of affordable and competent employees allows the nation to sell its goods on the worldwide market at extremely competitive prices, which increases regional product demand.
India's Meat Testing market size was valued at USD 0.64 billion in 2021 and is expected to reach USD 0.93 billion by 2029, at a CAGR of 4.8% from 2022 to 2029. The desire for certified foodstuffs among customers and the rise in food fraud cases, compliance with labeling laws, religious convictions, and strict rules & regulations all contribute to the expansion of the meat testing business in India. Additionally, two other significant factors driving the meat testing market in India are the rise in health concerns and a diet high in protein. As consumers' disposable income and level of health consciousness increase, they are paying more attention to the food they consume.
Key Industry Players Analysis:
To increase their market position in the global Meat Testing business, top companies focus on tactics such as adopting new technology, mergers & acquisitions, product developments, collaborations, partnerships, joint ventures, etc.
SGS
Eurofins
Bureau Veritas
ALS
QIMA
Intertek
TUV SUD
Romer Labs
LGC Limited
Genetic ID
AsureQuality
Mérieux NutriSciences
Microbac Laboratories
Symbio Laboratories
Certified Laboratories
AB Sciex Pte. Ltd.
NEOGEN Corporation.
Thermo Fisher Scientific Inc.
FoodChain ID Group Inc.
Bio-Check (UK) Ltd.
Latest Development:
In January 2020, RapidChek, a Campylobacter test kit that offers quick and scalable detection for the poultry sector, was introduced by Romer Labs, Inc..
In January 2018, A renowned provider of food testing in Europe, SGS S.A., has announced the purchase of Vanguard Sciences, Inc. in the United States. The company will be able to increase its meat and other food safety testing capabilities in the United States thanks to the acquisition.
Report Metrics
Report Attribute

Details

Study Period

2021-2029

Base year

2021

CAGR (%)

7%

Market Size

8 billion in 2021

Projection period

2022-2029

Projection unit

Value (USD)

Segments covered

By Target Tested, By Sample Meat, By Technology, and Region.

Report Scope

Revenue Projection, competitive landscape, company ranking, growth factors, and trends

Companies covered

SGS, Eurofins, Bureau Veritas, ALS, QIMA, Intertek, TUV SUD, Romer Labs, LGC Limited, Genetic ID, AsureQuality, Mérieux NutriSciences, Microbac Laboratories, among others

By Target Tested

Pathogens
Meat
GMOs
Allergens
Others

By Sample Meat

By Technology

Rapid Testing
Traditional Testing

Regional scope

North America
Europe
Asia-Pacific
South America
Middle East and Africa
Scope of the Report
Global Meat Testing Market by Target Tested:
Pathogens
Meat
GMOs
Allergens
Others
Global Meat Testing Market by Sample Type:
Global Meat Testing Market by Technology:
Rapid Testing
Traditional Testing
Global Meat Testing Market by Region:
North America
Europe

Germany
France
UK
Italy
Spain
Russia

Asia-Pacific

Japan
China
India
Korea
Southeast Asia

South America
Middle East and Africa

UAE
South Africa
Saudi Arabia
Frequently Asked Questions
What is the growth rate of meat testing market in the upcoming years?
The growth rate of the meat testing market in the Projection year will be 7%.
What is the dominant region in the meat testing market?
Europe dominated the meat testing market.
What is the key opportunity of the meat testing market?
New product development and innovation by key players in meat testing is likely to create opportunities in the market.
What factor is limiting the global meat testing market?
The global meat testing market is being limited by the lack of investments in the field.
Who are the key market players in the global meat testing market?
Key market players in the global meat testing market are SGS, Eurofins, Bureau Veritas, ALS, QIMA, Intertek, TUV SUD, Romer Labs, LGC Limited, Genetic ID, AsureQuality, Mérieux NutriSciences, Microbac Laboratories, and Others.
Political Factors- Governments have a range of rules and regulations that affect the meat testing sector. Tax laws and food safety regulations that meat testing must follow vary per nation. While health and safety rules are strictly enforced and monitored in some countries, they are not as strictly enforced in others. Due to this, the meat testing sector is without a doubt one of the ones with the strictest regulations. On the plus side, this stops consumers from consuming low-quality food, but the industry's profit margins are surely impacted by the intricacy of regulation.
Economical Factors- Globally, wealth is generally increasing for the population. The lower, middle, and upper classes have more money to spend on luxuries like fine meals. The overall sales of meat testing are rising as a result of people cooking less and dining out more frequently. Everyone in the sector benefits from this, including restaurant owners, food wholesalers, and the specific staff members that work for these businesses. As wages increase for workers, disposable incomes also increase. The cost of hiring employees has generally increased across all industries. This is a result of increased employment demand as well as rising government demands for minimum salaries.
Social Factor- People are increasingly focusing on organic and home-cooked food as they become more aware of the dangers of habitually consuming untested foods. Surely, this will have an effect on the sector. According to Bailey (2021), food served at dine-in and fast food establishments has more cholesterol and trans fat than meals prepared at home. In actuality, the rise of diabetes and obesity in many nations is caused by diet. As a result, eateries must provide their patrons with healthier menu options. Additionally, as more people are aware of the quality of the food they are eating, there is an increase in the need for meat testing. Scientists now have a greater understanding than ever before of how food affects our bodies. Consumers are aware that there is a direct link between the food they eat and their personal health.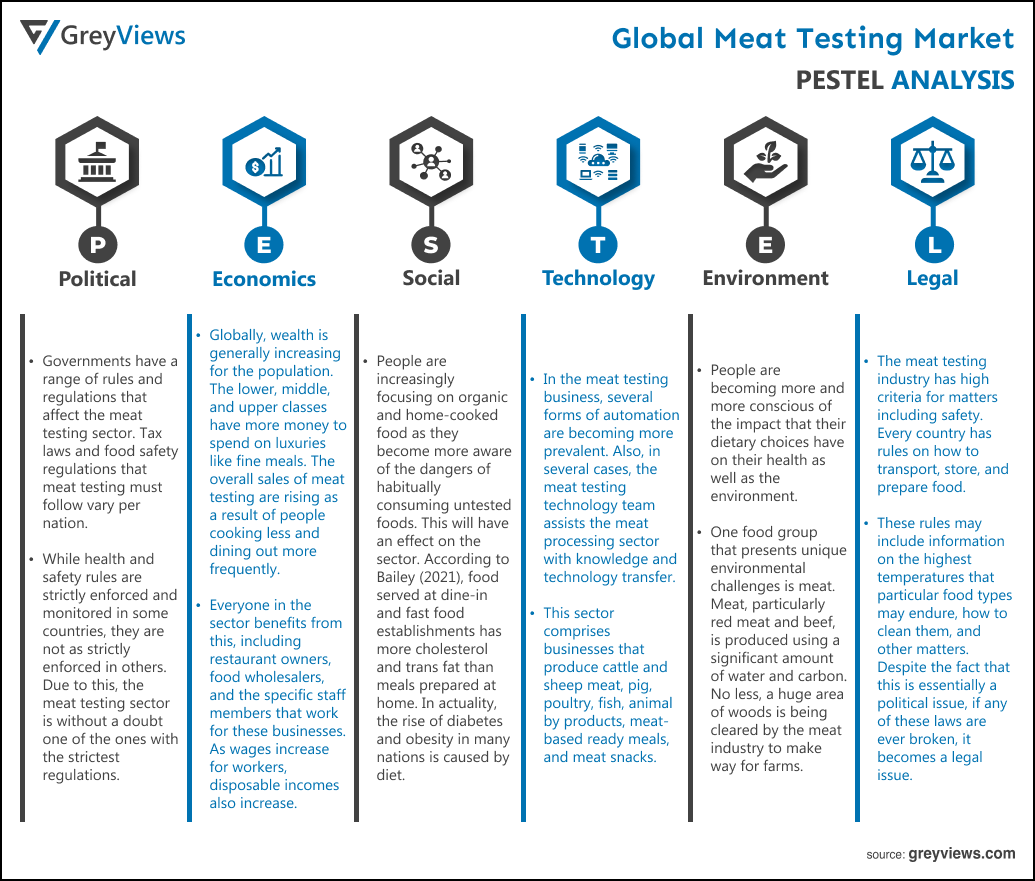 Technological Factors- In the meat testing business, several forms of automation are becoming more prevalent. Also, in several cases, the meat testing technology team assists the meat processing sector with knowledge and technology transfer. This sector comprises businesses that produce cattle and sheep meat, pig, poultry, fish, animal byproducts, meat-based ready meals, and meat snacks. There are many technological advancements in the field, for instance, it is possible to analyze meat that has begun to rot using an analytical kit based on HPTLC. This meat testing kit's intrinsic feature is the ability to detect metabolites created during various phases of meat decomposition. The test allows for the detection of meats with questionable quality, and it can be used on both fresh (unprocessed) and processed (cooked, tinned, and dried) meats. It takes between 1.5 and 2.0 hours to finish the entire test procedure. The test allows 5–6 samples to be analyzed.
Environmental Factors- People are becoming more and more conscious of the impact that their dietary choices have on their health as well as the environment. One food group that presents unique environmental challenges is meat. Meat, particularly red meat and beef, is produced using a significant amount of water and carbon. No less, a huge area of woods is being cleared by the meat industry to make way for farms. As a result, more individuals are switching to plant-based diets, and governments are starting to take notice of this development. Although meat testing firms may not necessarily suffer as a result of this change, they will need to take it into account in the long run.
Legal Factors- The meat testing industry has high criteria for matters including safety. Every country has rules on how to transport, store, and prepare food. These rules may include information on the highest temperatures that particular food types may endure, how to clean them, and other matters. Despite the fact that this is essentially a political issue, if any of these laws are ever broken, it becomes a legal issue. Therefore, those in the food sector must take great care to ensure they abide by these laws in order to prevent costly litigation.