Global Medical Plastic Market- Market Overview:
The Global Medical Plastic market is expected to grow from USD 47 billion in 2021 to USD 86.99 billion by 2029, at a CAGR of 8% during the Projection period 2022-2029. The growth of this market is mainly driven owing to increasing development in the healthcare sector.
Plastics made specifically for use in medical products are referred to as medical plastics. Additionally, it is employed in the production of in vitro diagnostic devices and main pharmaceutical packaging, which protects and contains medications to prevent tampering. Medical plastic does not exactly have a regulatory definition. The specifications for materials that can be used in medical devices are laid out in ISO 10993. So long as the overall gadget complies with those specifications, producers theoretically have the freedom to utilize any plastic when creating medical devices. As the global market for high-quality medical devices continues to grow, medical plastic goods have evolved. Such devices are now an essential part of the contemporary healthcare system. Devices made of medical plastic come in a huge variety. Plastics are employed more and more because of their superior performance, light weight, and low cost in everything from test equipment like vials and beakers to surgical instruments, catheters, and implants. Because medical plastic is shatterproof and impermeable, it is safe to transport biohazardous chemicals in it. This promotes the safe clearance of medical waste, which stops the transmission of harmful illnesses. Tamper-proof caps are used even in medications to guarantee that the contents are clean and pathogen-free. Patients who would often object to the use of traditional materials like latex in medical devices have showed little difficulty accepting plastic medical devices like implants. With hypoallergenic plastic, patients are less likely to experience pain, discomfort, immune system aggravation, and skin irritation.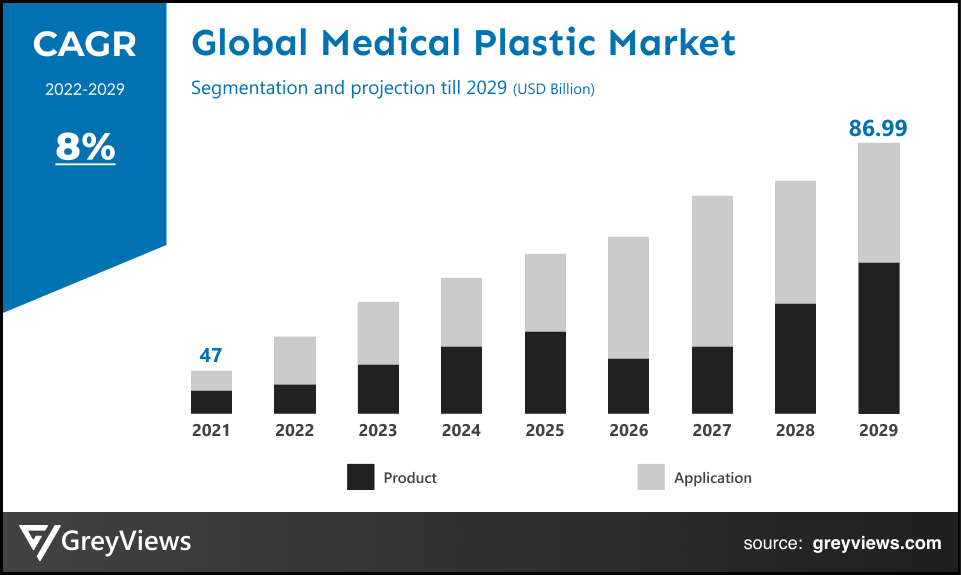 Sample Request: - Global Medical Plastic Market
Market Dynamics:
Drivers:
Rising Technological Progress
Technology breakthroughs such as device shrinking, multipurpose drug packaging, and point-of-care (POC) diagnostic devices have all contributed significantly to the medical plastics market's rapid rise. This is one of the facts driving market expansion. For instance, custom blow forming was developed as a technological solution to produce thinner pharmaceutical bottles, enhance moisture transmission performance, and fortify twist closures. Additionally, Easy Biocompatibility Testing is built into Unique Device Identification (UDI) and other device identification barcodes. Because of these technologies, a lot of plastic is being used in medical applications, which is boosting the market's growth pace. In the regions of POC diagnostics, medical device downsizing, and multipurpose packaging, businesses are collaborating to develop goods to fulfill emerging product demands for medical applications.
Restraints:
Environmental Degradation and the Management of Medical Waste
The demand for medical plastics has grown as a result of the continually rising human population. Due to the constant rise in plastic production and waste creation caused by these items, environmental pollution levels are rising, and the development of the medical plastics industry is being hampered. These are typically non-recyclable materials that receive separate treatments to prevent the spread of infection. The lack of medical waste management services is causing a variety of contamination, including land and water pollution. The COVID-19 epidemic has increased the use of plastic products, which is having an impact on the environment worldwide. Therefore, restrictions on their use due to environmental concerns could jeopardize the market for medical equipment.
Opportunities:
Growing Industry Player Competition and Significant R&D Investment
The market for medical plastics is expanding due to increased industry competition. Major variables influencing market expansion include cost competitiveness and product quality to draw customers. To meet customer demand, these plastics must be produced in large quantities, which will boost product availability and, ultimately, buyer power. Additionally, many important firms are spending a lot of money on research and development to create cutting-edge products like 3D-printed medical equipment. The global COVID-19 outbreak has increased demand for medical supplies such as gloves, masks, ventilators, and testing equipment. This in turn aids domestic and small-scale businesses in creating goods to satisfy consumer demand.
Challenges
Variations in the cost of raw materials
Oil price volatility has been a significant contributor to the fluctuation in the pricing of polyethylene (PE), polypropylene (PP), and polyphenylsulfone (PC). The market's price volatility has also been influenced by changes in capacity. This in turn hinders the expansion of the market.
Segmentation Analysis:
The global medical plastic market has been segmented based on product, application, and region.
By Product
The product includes polyethylene, polypropylene, polyphenylsulfone, liquid crystal polymer, and others. The polyphenylsulfone segment led the medical plastic market with a market share of around 28% in 2021. Due to its excellent heat and chemical resistance, polyphenylsulfone is a great alternative to metals in medical applications. These plastics are excellent for manufacturing single- and multiple-use surgical instruments due to their high flexural strength, impact resistance, and durability. Its tolerance to high temperatures makes it useful for medical instruments that must be frequently steam sterilized. Surgical robots and the manufacturing of biopharmaceuticals are two regions where these plastics are increasingly utilized.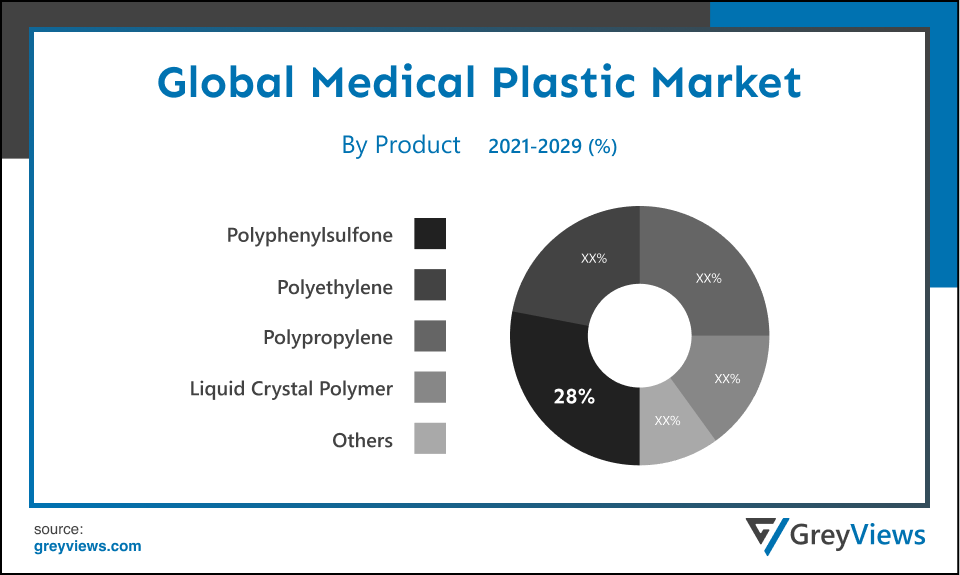 By Application
The application includes medical components, medical device packaging, orthopaedic soft goods, mobility aids, and others. The medical components segment led the medical plastic market with a market share of around 26% in 2021. The demand is anticipated to be driven by the expanding range of applications for PP in the production of diagnostic tools, trays, pans, containers, syringes, implant trials, and medical cover sheets. Because of its low weight, high microbiological and chemical resistance level, and low price, polypropylene is anticipated to experience significant expansion in its application for medical components. It can be used in the production of a variety of medical disposables. It also has a high demand in the syringe manufacturing industry since it is simple to mould into the required dimensions.
Global Medical Plastic Market- By Regional Analysis:
The regions analyzed for the Medical Plastic market include North America, Europe, South America, Asia Pacific, the Middle East, and Africa. The North American region dominated the Medical Plastic market and held a 38% share of the market revenue in 2021.
North American region witnessed a major share. The growing older population in the US and the rising need for home healthcare services are the main factors driving the market for medical plastics in North America. The regional market is also anticipated to be driven by increasing product demand for pharmaceutical packaging applications and the swift expansion of the pharmaceutical industries in Mexico and Canada. New pharmaceutical manufacturing facilities have been developed in Mexico by big corporations like Takeda and Astellas as a result of the removal of harsh rules by the Mexican government that had previously limited the formation of new manufacturing units. The local pharmaceutical industry has been significantly boosted by this strategy, and as a result, product demand is anticipated to increase in the Projection years.
Europe is anticipated to experience significant growth during the predicted period. Medical plastics are governed in Europe by a number of international organizations. Medical devices are covered by Regulation (EU) 2017/745 in Europe, which offers instructions for their use. One of the major elements expected to have a significant impact on the industry growth in the region is the restructuring of the European rules for such devices. The manufacturing of advanced plastics for use in the healthcare business is subject to a number of technological developments in the industry. Europe is home to some of the largest businesses, including Solvay S.A., Evonik Industries AG, and Röchling SE & Co. KG. One of the main techniques used by companies in the industry to grow the market is new product development. Additionally, major industry participants make large R&D investments to create cutting-edge
Global Medical Plastic Market- Country Analysis:
Germany's Medical Plastic market size was valued at USD 4.23 billion in 2021 and is expected to reach USD 7.37 billion by 2029, at a CAGR of 7.2% from 2022 to 2029. One of the key elements fueling the expansion of medical plastics in the region is the rising need for home healthcare in Germany due to the country's ageing geriatric population. Additionally, it is predicted that the market would rise during the Projection period due to the enforcement and upgrading of various infection prevention standards along with an increase in the number of surgical, inpatient, and outpatient operations.
China Medical Plastic's market size was valued at USD 3 billion in 2021 and is expected to reach USD 5 billion by 2029, at a CAGR of 6.6% from 2022 to 2029. In the Projection years, China's population is expected to grow. Diseases and illnesses are rapidly spreading through a variety of media due to the growing population. Additionally, the growing elderly population fosters the growth of the healthcare industry. Additionally, medical plastics are used in prostheses, which provides physically challenged persons with a life-altering answer. Each of these elements has an impact on the local market.
India's Medical Plastic market size was valued at USD 2.70 billion in 2021 and is expected to reach USD 4.30 billion by 2029, at a CAGR of 6% from 2022 to 2029. The market in India is being driven by a number of reasons, including as the expanding elderly population, unified government policies, and the rising incidence and prevalence of chronic diseases. India's medical device industry ranked fourth globally in 2019, according to the India Brand Equity Foundation (IBEF). Additionally, the country's expanding medical tourism industry contributes significantly to market expansion.
Key Industry Players Analysis:
To increase their market position in the global Medical Plastic business, top companies focus on tactics such as adopting new technology, mergers & acquisitions, product developments, collaborations, partnerships, joint ventures, etc.
Röchling SE & Co. KG
Eastman Chemical Company
Saint-Gobain Performance Plastics
Nolato AB
SABIC
Dow
Orthoplastics Ltd
Celanese Corporation
Tekni-Plex
Trelleborg AB
Solvay S.A.
HMC Polymers
Trinseo
ARAN BIOMEDICAL TEORANTA
Avantor Inc
Evonik Industries AG
Latest Development:
In March 2022, A novel osteoconductive PEEK (polyether ether ketone) filament that promotes better fusing between implants and bones was introduced by Evonik Industries AG as VESTAKEEP iC4800 3DF.
In July 2021, Pawling Engineered Products was acquired by Minnesota Rubber and Plastic. The addition of Pawling Engineered Products will expand Minnesota Rubber's current line of goods.
Report Metrics
Report Attribute

Details

Study Period

2021-2029

Base year

2021

CAGR (%)

8%

Market Size

47 billion in 2021

Projection period

2022-2029

Projection unit

Value (USD)

Segments covered

By Product, By Application, and Region.

Report Scope

Revenue Projection, competitive landscape, company ranking, growth factors, and trends

Companies covered

Röchling SE & Co. KG, Eastman Chemical Company, Saint-Gobain Performance Plastics, Nolato AB, SABIC, Dow, Orthoplastics Ltd, Celanese Corporation, Tekni-Plex, Trelleborg AB, Solvay S.A., HMC Polymers, Trinseo, ARAN BIOMEDICAL TEORANTA, Avantor Inc, Evonik Industries AG, among others

By Product

Polyethylene
Polypropylene
Polyphenylsulfone
Liquid Crystal Polymer
Others

By Application

Medical Components
Medical Device Packaging
Orthopedic Soft Goods Mobility Aids
Others

Regional scope

North America
Europe
Asia-Pacific
South America
Middle East and Africa
Scope of the Report
Global Medical Plastic Market by Product:
Polyethylene
Polypropylene
Polyphenylsulfone
Liquid Crystal Polymer
Others
Global Medical Plastic Market by Application:
Medical Components
Medical Device Packaging
Orthopedic Soft Goods Mobility Aids
Others
Global Medical Plastic Market by Region:
North America
Europe

Germany
France
UK
Italy
Spain
Russia

Asia-Pacific

Japan
China
India
Korea
Southeast Asia

South America
Middle East and Africa

UAE
South Africa
Saudi Arabia
Frequently Asked Questions
How big is the Medical Plastic market?
Global Medical Plastic market size was USD 47 billion in 2021 & it will reach to USD 86.99 billion by 2029
Which regional segment led the global Medical Plastic market?
North American region led the global medical plastic market.
Which are the leading market players active in the Medical Plastic market?
Leading market players active in the global Medical Plastic market are Röchling SE & Co. KG, Eastman Chemical Company, Saint-Gobain Performance Plastics, Nolato AB, SABIC, Dow, Orthoplastics Ltd, Celanese Corporation, Tekni-Plex, Trelleborg AB, Solvay S.A., HMC Polymers, Trinseo, ARAN BIOMEDICAL TEORANTA, Avantor Inc, Evonik Industries AG.
What are the opportunities in Medical Plastic market?
Major changes in the medical device industry around the globe are projected to influence the market in the Projection years.
What are the key threats to the Medical Plastic market?
Fluctuation in raw material price is primarily impeding the growth of the Medical Plastic market.
Political Factors- The global medical plastics industry's profitability is impacted by a number of factors. Plastic is widely used. It is a crucial component of modern societies' infrastructure. It has become the material of choice for a wide range of applications, from cellphones to food packaging and medical devices, thanks to its design versatility, low cost, formability, lightweight, and bioinertness. Different types of politics describe various stages of the life cycle (or "value chain") of plastics. Plastics are increasingly clearly debated in the scientific literature as they go from production (feedstocks, design) and consumption to waste management and contamination, making them more likely to be perceived as a societal issue. These measures impact the economy, consumer spending patterns, and international trade laws. The industry's regulatory framework (environment and procedures) is extremely complicated, including more than 4,000 raw materials and various opposing economic, consumer, environmental, national legislative agendas, etc., interests. Government laws have a significant influence on the medical sector, which affects the medical plastic market globally.
Economical Factors- The macroenvironmental factors impact a nation's economic growth and overall investment, such as the inflation rate, savings rate, interest rate, foreign exchange rate, and economic cycle. The price of raw materials, export and import, the growth of a region's healthcare system, and other factors impact the medical plastics business. These expenditures likewise impact the end-users who have presented estimates for each plan. Suppliers of raw materials, processors, manufacturers of tools and moulds, owners of trademarks, and recyclers make up this sector. The men and women who work for these businesses collectively contribute significantly to the economy. Medical plastic has numerous immediate economic advantages and can improve resource efficiency. Extending shelf life decreases wastage, and because of its comparatively low weight, it uses less fuel when items are transported.
Social Factor- Modern society benefits significantly from the medical plastic industry. The need for healthcare and medical equipment grows along with the population, which affects the medical plastics sector. The elderly population is growing, which impacts the healthcare industry, and the age distribution also affects the medical plastics sector. Additionally, the business of medical plastics is impacted by the rising number of surgical, hospital, and outpatient operations. As end users rise, so does the demand for medical plastic products.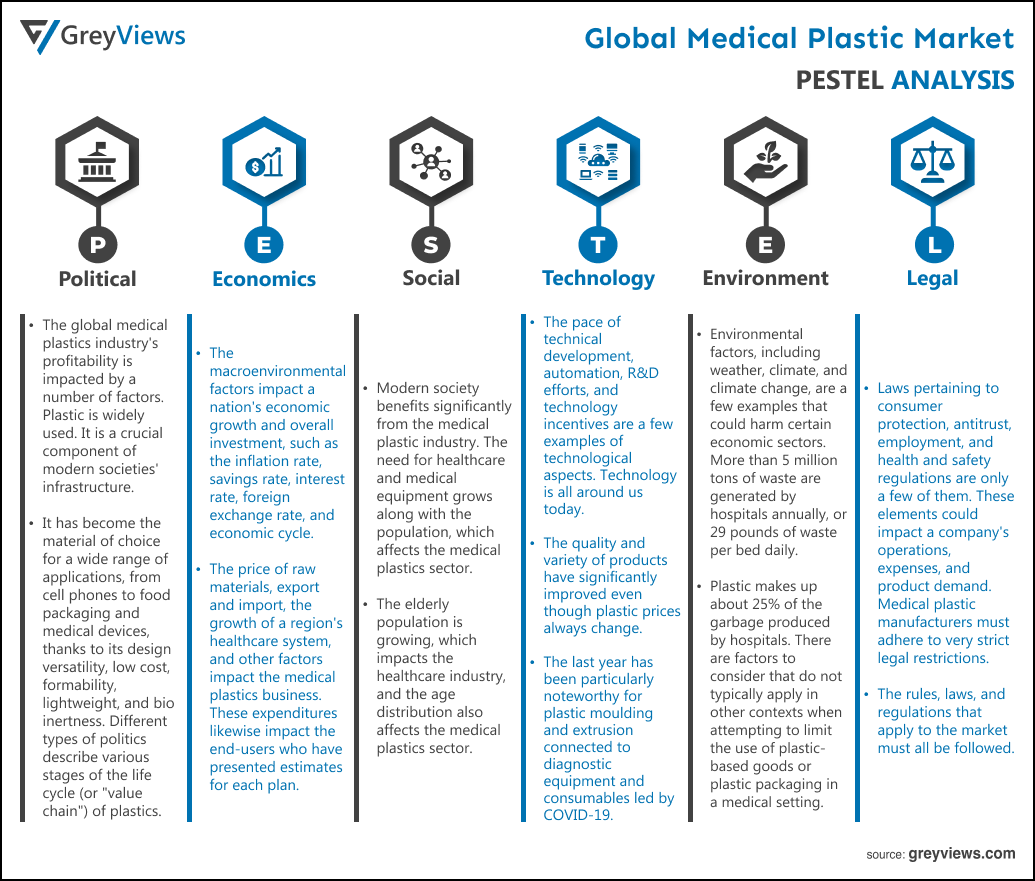 Technological Factors- The pace of technical development, automation, R&D efforts, and technology incentives are a few examples of technological aspects. Technology is all around us today. Without question, the introduction of new technologies has significantly affected the industry. The quality and variety of products have significantly improved even though plastic prices always change. The last year has been particularly noteworthy for plastic moulding and extrusion connected to diagnostic equipment and consumables led by COVID-19. Major market players have made numerous technological advancements, such as SABIC, which created and sold a PolyCarbonate (PC)-based anti-fog film for personal protection equipment such as face shields and goggles for use in medical settings.
Environmental Factors- Environmental factors, including weather, climate, and climate change, are a few examples that could harm certain economic sectors. More than 5 million tons of waste are generated by hospitals annually, or 29 pounds of waste per bed daily. Plastic makes up about 25% of the garbage produced by hospitals. There are factors to consider that do not typically apply in other contexts when attempting to limit the use of plastic-based goods or plastic packaging in a medical setting. Of course, patient and employee safety is one concern. Whatever is used in place of plastic must give the same protection for the employees, patients, and the environment. One such area to think about is operating rooms. More than 30% of a facility's garbage and two-thirds of its regulated medical waste are generated in an operating room. When considering the usage of single-use plastic in hospitals and the healthcare industry, regulated medical waste management is one of the most difficult areas to manage.
Legal Factors- Laws pertaining to consumer protection, antitrust, employment, and health and safety regulations are only a few of them. These elements could impact a company's operations, expenses, and product demand. Medical plastic manufacturers must adhere to very strict legal restrictions. The rules, laws, and regulations that apply to the market must all be followed. As a result, it becomes crucial for this company to conduct itself morally and legally in order to avoid facing charges, fines, or other legal implications. In hospitals, sterile single-use plastic is everywhere. Environmentalists are seeking for less wasteful methods of maintaining medical hygiene. The business world's unscrupulous and greedy behavior will damage the medical profession's standing in society.