Global Team Collaboration Tools Market- Market Overview:
The Global Team Collaboration Tools market is expected to grow from USD 22.3 billion in 2021 to USD 44.4 billion by 2029, at a CAGR of 9% during the Projection period 2022-2029. The growth of this market is mainly driven owing to increasing development in the end-user industry around the world.
Team collaboration tools, commonly referred to as team collaboration software, are the various software programs and online services that allow people and businesses to effectively collaborate on shared projects, independent of their physical locations. The tools can be as basic as email or as complicated as an advanced project management platform. A team collaboration tool's main mission is to align workers by supporting a group of two or more people and aiding them in the achievement of a shared goal. A subclass of collaboration platforms are team collaboration tools. While they have some similar features, the main distinction is that team collaboration tools concentrate on providing real-time messaging and can take the place of email among teams. Software for team collaboration also has phone calling and video conferencing features. Overall, these solutions create a uniform platform for file sharing, online storage, team discussion, job assignments, and real-time collaboration, enabling more coordinated workflow. The need for team collaboration tools grows as the modern workplace moves further away from having a physical location, making them a crucial component of an enterprise's workflow. The correct solution can improve productivity and build the team by facilitating effective remote team member communication. Additionally, team collaboration technologies can store work history, allowing users to draw lessons from the past.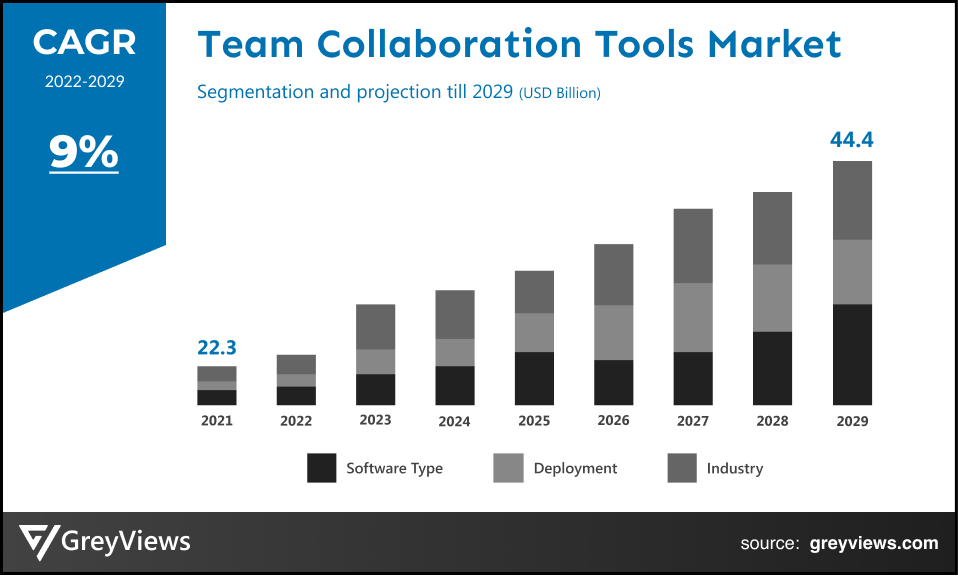 Sample Request:- Global Team Collaboration Tools Market
Market Dynamics:
Drivers:
Use of Collaboration Software by Businesses to Promote Growth
Modern technologies are playing a critical role in enabling organizations to create an atmosphere that would inspire workers to achieve corporate objectives while using their creativity to create long-term economic values. By achieving advanced performance, digital transformation creates unique product and service potentials that would enable firms to increase revenues greatly and cut expenses.
Restraints:
The government enforced strict rules
The General Data Protection Regulations (GDPR), which first came into effect on May 25, 2018, must be understood by businesses. The importance of GDPR compliance is highlighted by the fact that team collaboration tools programs are the most effective way to acquire consumer data. The primary aspects of the GDPR that are affected include the definition of personal data, permission, communications between partners and enterprises, and information withdrawal. As a result, compliance with appropriate data protection regulations is essential given the possibility of severe penalties to firms' bottom lines.
Opportunities:
The use of team collaboration tools is anticipated to increase as a result of the COVID-19 outbreak
Due to the effects of COVID-19, millions of individuals are now working from home, and demand for team collaboration tools has increased significantly. Microsoft Teams, a collaboration tool, has witnessed a 775% surge in monthly users in Italy, where social-distancing laws or directives to remain in one's home have been in effect. Additionally, businesses with a combined workforce of over 440,000 people, including Continental AG, Ernst & Young, Accenture, and SAP, use Microsoft Teams.
Challenges
Privacy and security issues
A threat to client financial data may put the market's growth pace in jeopardy. It will be difficult for the market to experience a steady increase in market value due to a shortage of expert knowledge and technical expertise, particularly in developed and developing economies as well as among management level people. Furthermore, the market growth rate will once again be hampered by the lack of a sophisticated IT infrastructure.
Segmentation Analysis:
The global team collaboration tools market has been segmented based on software type, deployment, industry, and region.
By Software Type
The software type segment is conferencing software and communication & coordination software. The conferencing software segment led the team collaboration tools market with a market share of around 53% in 2021. This is due to online conferencing being used more frequently as the main method of communication between enterprises. Over the past few years, a number of platforms—including Microsoft Teams and Google Workspace—have become widely used as the preferred tools for holding virtual meetings. Through the facilitation of enterprise-wide, real-time, and online communication, these technologies have made it possible for workplaces to undergo a digital transformation. Enterprises may easily install conferencing solutions thanks to the introduction of the Software as a Service (SaaS) model, which encourages ongoing innovation and improves collaboration capacities. Team collaboration software has been dramatically transformed into standalone applications thanks to the SaaS delivery model, which mitigates slower response times and results in fewer system failures.
By Deployment
The deployment includes on-premise and cloud. The cloud segment led the team collaboration tools market with a market share of around 69% in 2021. In light of the increased number of employees working remotely, this can be ascribed to the rising demand for cloud-based platforms for efficient team collaboration across companies. Additionally, these cloud solutions give users the freedom to access teamwork tools via cellphones. Additionally, they include improved features, such as the ability to record occurrences for later review.
By Industry
The industry includes BFSI, healthcare, retail, transportation, and others. The healthcare segment led the team collaboration tools market with a market share of around 29% in 2021. Clinicians are increasingly using cutting-edge communication and collaboration solutions to securely manage workflows from remote locations and share real-time data between departments. The development of the segment is being aided by numerous government efforts in this area. For instance, the Department of Health and Human Services (HHS) declared in February 2022 that it would allot nearly USD 55 million to deliver healthcare to the underserved population through virtual care technologies like remote patient monitoring, telehealth, and digital patient tools and health information tools.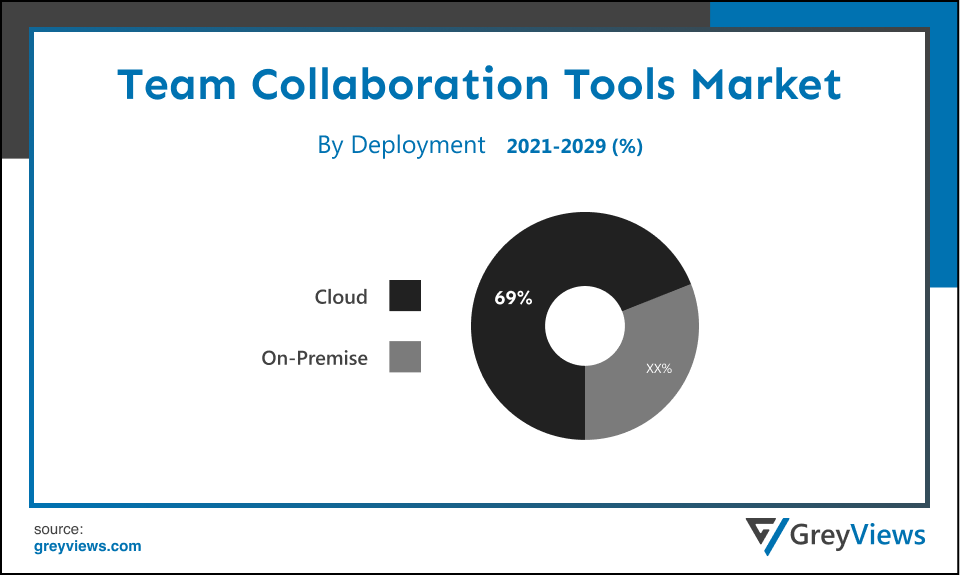 By Regional Analysis:
The regions analyzed for the team collaboration tools market include North America, Europe, South America, Asia Pacific, the Middle East, and Africa. The North America region dominated the team collaboration tools market and held a 38% share of the market revenue in 2021.
North America region witnessed a major share. North America is home to developed nations like the United States and Canada. Due to the swift adoption of web conferencing systems and collaboration portals by regional businesses, the industry is growing. Additionally, it is anticipated that convenient access to high-speed internet—which is required for using remote work models—will assist the regional market's expansion prospects. Asana, Cisco Systems, Inc., Microsoft, and other prominent industry participants are all likely to contribute to the market's attractive growth potential.
Asia Pacific is anticipated to experience significant growth during the predicted period. The Asia Pacific region include developing nations with growing economies like China and India. The market is growing as a result of the region's continued high-speed internet infrastructure development and company digitization. These advancements are pushing businesses to use team collaboration software to maximize their workforce and enable efficient staff communication. Microsoft introduced Teams Essentials in India in December 2021. This solution is intended to provide a professional and economical collaboration solution, particularly for small businesses.
Global Team Collaboration Tools Market- Country Analysis:
Germany's Team Collaboration Tools market size was valued at USD 1.37 billion in 2021 and is expected to reach USD 2.35 billion by 2029, at a CAGR of 7% from 2022 to 2029. In The high demand for cloud-based solutions in Germany raises the need for team collaboration tools. The nation's industrial and auto industries are prospering. Manufacturing companies are more likely to use automated solutions like automated material handling equipment as a result of the growing demand for increased productivity and efficiency in these sectors. Such elements are what the German market is demanding.
China Team Collaboration Tools' market size was valued at USD 1.98 billion in 2021 and is expected to reach USD 3.83 billion by 2029, at a CAGR of 8.6% from 2022 to 2029. China is the world's largest market for the production of automobiles. Additionally, Chinese consumers now have a lot more disposable income. In the upcoming years, the country's logistics market is probably going to progressively grow. Improvements in infrastructure, increased domestic consumption, and rising demand for third-party logistics companies that provide low-cost services are all factors contributing to this expansion.
India's Team Collaboration Tools market size was valued at USD 1.72 billion in 2021 and is expected to reach USD 3.18 billion by 2029, at a CAGR of 8% from 2022 to 2029. India's e-commerce market has undergone significant development in recent years. There has been considerable rivalry in the nation's e-commerce market between Flipkart, Amazon, and other players. In addition, there is a sizable urban population, which offers tremendous potential for the development of the e-commerce business. It is projected that the e-commerce industry's increased use of collaborative tools would help drive the expansion of the nation's team collaboration software market.
Key Industry Players Analysis:
To increase their market position in the global team collaboration tools business, top companies focus on tactics such as adopting new technology, mergers & acquisitions, product developments, collaborations, partnerships, joint ventures, etc.
Cisco Systems, Inc.
Avaya Inc.
AT&T, Inc.
Slack Technologies, LLC
IBM Corporation
Asana, Inc.
Blackboard, Inc.
Microsoft
OpenText Corporation
Citrix Systems, Inc.
Adobe
Google LLC
Oracle
Zoom Video Communications, Inc.
Latest Development:
In February 2022, Asana, a provider of work management platforms, recently unveiled Asana Flow, a comprehensive set of tools that companies can use to create, manage, and improve their workflows.
In December 2020, the web-based job management software provider Workfront was acquired by Adobe Inc., a multinational technology business. The businesses hope to provide a variety of team management, merging, and planning support solutions through this procurement.
Report Metrics
Report Attribute

Details

Study Period

2021-2029

Base year

2021

CAGR (%)

9%

Market Size

22 billion in 2021

Projection period

2022-2029

Projection unit

Value (USD)

Segments covered

By Software Type, Deployment, Industry, and Region.

Report Scope

Revenue Projection, competitive landscape, company ranking, growth factors, and trends

Companies covered

Cisco Systems, Inc., Avaya Inc., AT&T, Inc., Slack Technologies, LLC, IBM Corporation, Asana, Inc., Blackboard, Inc., Microsoft, OpenText Corporation, Citrix Systems, Inc., Adobe, Google LLC, Oracle, Zoom Video Communications, Inc., among others

By Software Type

By Deployment

By Industry

BFSI
Healthcare
Retail
Transportation
Others

Regional scope

North America
Europe
Asia-Pacific
South America
Middle East and Africa
Scope of the Report
Global Team Collaboration Tools Market by Software Type:
Global Team Collaboration Tools Market by Deployment:
Global Team Collaboration Tools Market by Industry:
BFSI
Healthcare
Retail
Transportation
Others
Global Team Collaboration Tools Market by Region:
North America
Europe

Germany
France
UK
Italy
Spain
Russia

Asia-Pacific

Japan
China
India
Korea
Southeast Asia

South America
Middle East and Africa

UAE
South Africa
Saudi Arabia
Frequently Asked Questions
What will be the market size of the team collaboration tools market?
Global team collaboration tools market is expected to reach USD 44.4 billion by 2029, at a CAGR of 9% from 2022 to 2029.
What are the steps taken by prominent market players for leading the market?
Mergers, acquisitions, partnership, investment, product launches, etc. are the steps taken by prominent market players for leading the market.
Which are the leading market players active in the team collaboration tools market?
Leading market players active in the global team collaboration tools market are Cisco Systems, Inc., Avaya Inc., AT&T, Inc., Slack Technologies, LLC, IBM Corporation, Asana, Inc., Blackboard, Inc., Microsoft, OpenText Corporation, Citrix Systems, Inc., Adobe, Google LLC, Oracle, Zoom Video Communications, Inc.
What are the opportunities in the Team Collaboration Tools Market?
Introduction of advanced technologies around the globe is projected to influence the market in the Projection years.
What are the key threats to the team collaboration tools market?
The possibility of data theft is primarily impeding the growth of the team collaboration tools market.
Political Factors- With elections that are regarded as fair and transparent, for instance USA has a robust democratic system and an efficient rule of law. In a presidential democracy like that of the USA, the people elect a single person to serve as both the head of state and the head of government. Numerous tech behemoths, including Microsoft, Amazon, Google, Apple, and others, call the USA home, which supports a robust economy. As a result, the government works to develop more business-friendly regulations. Numerous concerns are associated with the nation's political climate. Risks can include monetary controls, currency restrictions, and trade restrictions. To reduce political risks, the businesses should take specific actions. Companies can avoid investments where this type of risk is greater, for example. Large potential losses may be offset by political risk insurance. Therefore, the political environment has a direct impact on the success and income of each operating business.
Economical Factors- The software and information technology (IT) sector around the world is the most developed and expanding. And evidence of this may be found in the growth of the developed and developing nations GDP for example, the sector generates 11.8 million jobs and $1.6 trillion of the US value-added GDP, or more than 8% of the US economy. With a per capita income of more than $65,112, the USA is a high-income nation. The American economy is capitalist, or you might say market-based. The global economy exposes the US economy to more external shocks. A slowdown in the economies of Europe or Asia has a greater impact on the overall economy. For instance, the Indian IT industry depends heavily on foreign clients, particularly the USA, for more than 70% of its revenue; therefore, changes in the exchange rate can have a significant impact on the performance of the IT industry as well as other sectors. The USA's inflation rate in 2019 was 2.3%, which is 0.4% higher than the inflation rate in 2018, which was 1.9%. Infrastructure refers to all of the hardware and networking tools required to maintain an IT operation. The majority of empirical investigations have come to the conclusion that greater use of information and technology can boost GDP, productivity, and employment.
Social Factor- A social environment is made up of a group of people's values, beliefs, habits, and activities. A company is impacted by both its own internal social environment and the external social environment. There are other social issues that also have a strong impact on business. For instance, there is no official language in the United States. However, English is spoken by the majority of Americans, or close to 30 million people. English has been designated as an official language in 31 US states. There are 350 languages spoken in the USA besides English, some of which are Spanish, Chinese, French, etc. Given the variety of languages spoken there, communication in the nation is made simple. Additionally, the fact that English is a universal language makes it easier for IT companies to interact and collaborate with global businesses. For international corporations and businesses operating there, the task is fairly simple due to the high level of education in economies like India, China, Japan, France, and the United States. There are plenty of qualified workers readily available for IT organisations.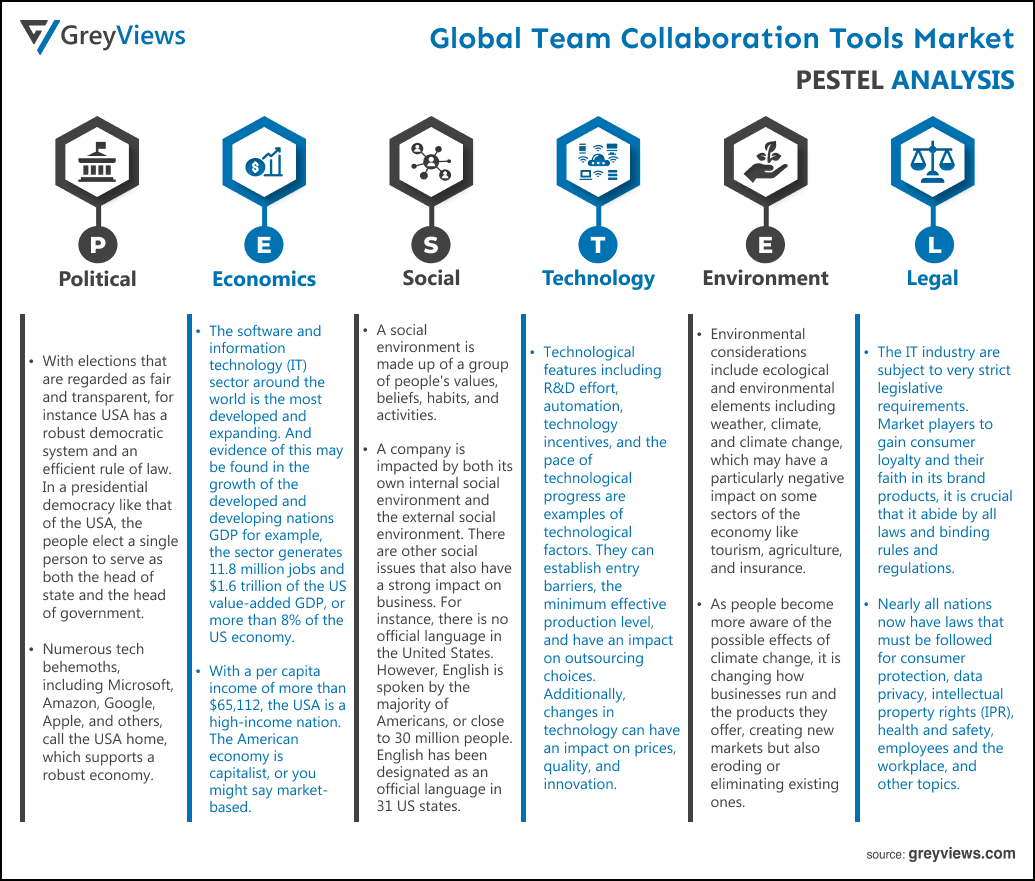 Technological Factors- Technological features including R&D effort, automation, technology incentives, and the pace of technological progress are examples of technological factors. They can establish entry barriers, the minimum effective production level, and have an impact on outsourcing choices. Additionally, changes in technology can have an impact on prices, quality, and innovation. A company should analyse the industry's technological state as well as how quickly it is being disrupted by technology. Slow technological disruption will allow more time, whereas rapid disruption may give a firm little time to adapt and be profitable.
Environmental Factors- Environmental considerations include ecological and environmental elements including weather, climate, and climate change, which may have a particularly negative impact on some sectors of the economy like tourism, agriculture, and insurance. Additionally, as people become more aware of the possible effects of climate change, it is changing how businesses run and the products they offer, creating new markets but also eroding or eliminating existing ones. Climate changes such as climate change, greenhouse gas emissions, and growing pollution, effectively by prominent market players. It should put more emphasis on waste management, recycling, renewable energy sources, and wastage that decomposes naturally or artifically. It should also be aware of how its resources and waste are being used up, as this could have a detrimental effect on its brand reputation and consumer loyalty.
Legal Factors- The IT industry are subject to very strict legislative requirements. Market players to gain consumer loyalty and their faith in its brand products, it is crucial that it abide by all laws and binding rules and regulations. Nearly all nations now have laws that must be followed for consumer protection, data privacy, intellectual property rights (IPR), health and safety, employees and the workplace, and other topics. Therefore, it becomes essential for this business to conduct itself in a lawful and ethical manner in order to prevent any legal proceedings or penalties or punishments from a court of law. The law is derived from five sources, similar to the United States, including common law, treaties, statutory law, and administrative regulations (which includes case law). Information technology law is a transaction-based discipline that deals with problems that come up when businesses create, licence, buy, or sell products and services related to information technology and computers.