Global Vegan Snacks Market- Market Overview:
The Global Vegan Snacks market is expected to grow from USD 47.2 billion in 2021 to USD 82.3 billion by 2029, at a CAGR of 7.2% during the Projection period 2022-2029. The growth of this market is mainly driven owing to the increasing shift toward a healthy lifestyle.
A vegetarian and a vegan are not the same. Vegetarians abstain from consuming animal products like meat, poultry, or fish. Vegans are more stringent vegetarians who additionally abstain from eating dairy, eggs, and any other products with animal byproducts. The strictest type of vegetarianism might be characterized as a vegan diet. The Vegan Society now describes veganism as a way of life that makes every effort to avoid animal exploitation and cruelty. This includes being exploited for food or any other reason. Therefore, a vegan diet forgoes not only eating animal meat but also products like dairy, eggs, and eggs. According to projections, the market will experience significant development because of the rising trend of veganism among athletes and celebrities worldwide. Many organizations asserted that the number of vegans had increased globally. For instance, a survey by the Vegan Society and Vegan Life magazine found that the vegan population in the U.K. had increased by almost 360%. According to poll results, there are now about 850,000 vegans in Canada, a 250% rise from the previous year.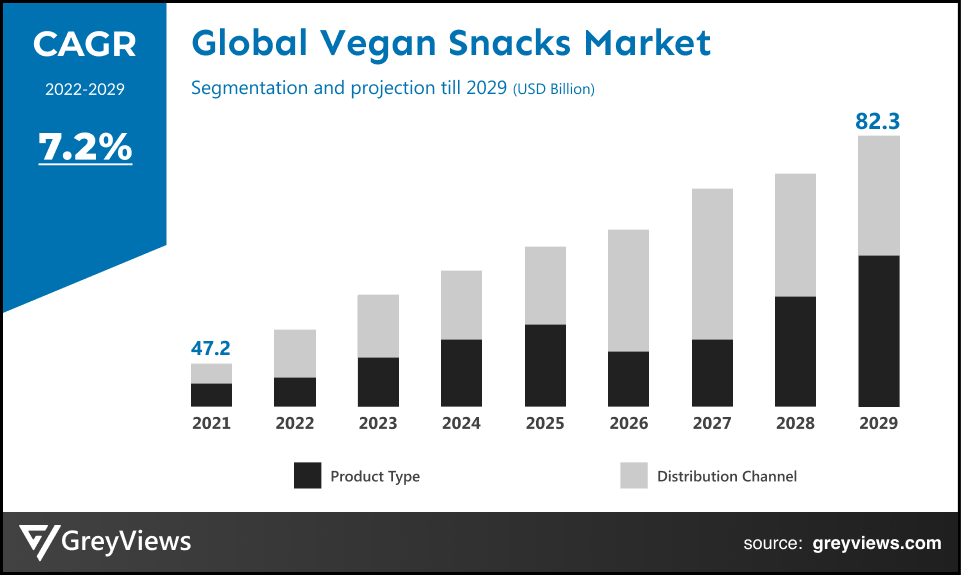 Sample Request: - Global Vegan Snacks Market
Market Dynamics:
Drivers:
Growing consumer awareness of health and wellness is driving market expansion for vegan snacks. The modernization and urbanization of society have increased consumer knowledge. They are adjusting their preferences toward healthy diets to combat the widespread health concerns. Vegan snacks are healthy, light, immune system-boosting, and low in sugar and cholesterol. This makes it a better option for those who care about their health. Public awareness of animal rights is crucial in their transition to vegan products.
Restraints:
Availability of Substitutes & High Processing Cost
Throughout the Projection period, the expansion of the industry is anticipated to be constrained by the availability of numerous vegan snack replacements. Vegan snacks would have difficulty competing with other readily accessible vegetarian snacks due to their price advantage. Besides those on a tight diet, surveys indicate that consumers are hesitant to spend extra money on snacks. Additionally, vegan snacks are more expensive than conventional snacks due to high processing costs, limiting this sector's expansion. For example, plant-based meat substitutes cost four times as much as traditional chicken, three times as much as conventional hog, and twice as much as conventional beef. This price disparity will discourage most consumers from switching to plant-based meat substitutes.
Opportunities:
Growing Trend of Veganism
Huge plant-based or vegan snack sales are anticipated to be boosted by rising veganism and the demand for packaged snack foods. As vegan consumers spread globally, the need for vegan snacks is rising. Manufacturers are attempting to produce a variety of plant-based snacks, such as processed snacking meals and snacks that substitute meat, to suit the needs of consumers who are vegan. Numerous chances for manufacturers may arise due to this expanding veganism trend. Vegan snacks are few compared to traditional snacks, although the food and beverage business embraces a wide variety of goods. As a result, there is the unrealized growth potential for various vegan snacks.
Challenges
Shift to a vegan diet from vegetarian and non-vegetarian diets
People are apprehensive about switching to a vegan diet. According to the results of the NFHS-5 study, 16.6% of men between the ages of 15 and 49 had never eaten any non-vegetarian food, which was defined as "fish, poultry, or meat" in the survey. Thus, a staggering 83.4% of males and 70.6% of women in the 15-to-49 age range consume non-vegetarian cuisine daily, weekly, or irregularly.
Segmentation Analysis:
The global Vegan Snacks market has been segmented based on product type, distribution channel, and regions.
By Product Type
The product segment includes nuts & seeds, bakery, savory, confectionery, and others. The savory segment led the largest share of the vegan snacks market, with a market share of around 23.3% in 2021. In industrialized economies like the US, the UK, and others, there is a considerable demand for plant-based savory snacks among the working-class and college-going population. Additionally, savory snack foods let people satisfy their appetites while preventing overeating. Manufacturers are releasing a range of nutritious vegan savory snack products, including crackers, baked chips, and others. As a result, the availability of various flavorful and healthful items also helped explain why this segment had the biggest share.
By Distribution Channel
The distribution channel segment includes offline and online. The offline segment led the Vegan Snacks market with a market share of around 63.08% in 2021. The offline distribution channel segment includes convenience stores, specialty shops, hypermarkets, and supermarkets. The overall sales of vegan snacks have surged due to notable growth in the number of supermarkets and hypermarkets. Consumers prefer to buy groceries from brick-and-mortar stores because they are more readily available and easy to obtain. Additionally, offline retailers promote category growth by providing various options and the ability to scan product specifications before any transaction.
By Regional Analysis:
The regions analyzed for the Vegan Snacks market include North America, Europe, South America, Asia Pacific, the Middle East, and Africa. The North American region dominated the Vegan Snacks market and held a 42.1% share of the market revenue in 2021.
North America region witnessed a major share. The growing awareness of animal cruelty in the food business and its detrimental effects on the environment is the key factor driving the regional market. As a result, the U.S.'s considerable increase in plant-based retail sales also helped the business expand. The overall retail sales of plant-based foods in the United States climbed by 6.2% to reach about 7.4 billion in 2021, according to the Plant-based Foods Association and The Good Food Institute, based on SPINS data. The strong consumer tendency toward obtaining foods that taste wonderful and bring about health advantages was a major factor in expanding plant-based food sales in the U.S.
Asia-Pacific is anticipated to experience significant growth during the predicted period. The industry is primarily driven by the growing understanding of the advantages of vegan diets for health. In important nations like India and China, the demand for plant-based foods is expanding due to the rising concern over animal cruelty. Additionally, the large expansion of the snack business in these nations offers the market profitable expansion prospects.
Global Vegan Snacks Market- Country Analysis:
Germany's Vegan Snacks market size was valued at USD 2.2 billion in 2021 and is expected to reach USD 3.3 billion by 2029, at a CAGR of 5.3% from 2022 to 2029.
Germany has one of the leading vegan snack industries in Europe. In Germany, the number of vegans doubled between 2016 and 2020, reaching 2.6 million, or 3.2 percent of the population. The rising demand for plant-based protein intake in Germany also propels the market's growth in the region.
China Vegan Snacks' market size was valued at USD 3.3 billion in 2021 and is expected to reach USD 5.5 billion by 2029, at a CAGR of 6.7% from 2022 to 2029. China's meat and plant-based substitute market have proliferated in recent years, and COVID-19 is expected to add to this rising trend. The Chinese government intends to reduce the country's meat consumption by 50% by 2030 to reduce carbon emissions and prevent obesity. China is the largest consumer market in the world, making it increasingly important for international players in the plant-based and cultured meat industries. Along with growing safety concerns, changing dietary views, and the sheer scale of the business.
India's Vegan Snacks market size was valued at USD 2.4 billion in 2021 and is expected to reach USD 3.8 billion by 2029, at a CAGR of 6.0% from 2022 to 2029. The need for vegan fast-food alternatives, such as soymilk ice cream and shakes, bakery goods, chips, biscuits, muffins, chocolates, and bakery items, is likely to drive industry expansion. Vegan food goods, such as plant-based vegan foods, can grow further within the market if customer awareness of healthy lifestyles, such as how to eat a healthier diet, reduce weight, and lower cholesterol and fat, increases.
Key Industry Players Analysis:
To increase their market position in the global Vegan Snacks business, top companies focus on tactics such as adopting new technology, mergers & acquisitions, product developments, collaborations, partnerships, joint ventures, etc.
Amy's Kitchen
Danone S.A.
The Archer Daniels Midland Company
Daiya Foods, Inc.
Tofutti Brands, Inc.
Eden Foods, Inc.
Sun Opta, Inc.
Hain Celestial Group, Inc.
Organic Valley Corporative
Primal Spirit Foods, Inc.
Upton's Naturals
Green Pack Food, Inc.
Allplants Ltd.
Follow Your Heart
Latest Development:
In August 2022, Tofutti Brands, Inc., the business that pioneered the dairy-free food sector, will introduce its new packaging. Tofutti, which was plant-based before it was trendy, has a new appearance that strengthens its branding and puts it in a better position to compete in a field that is always expanding and competitive.
In September 2021, Mondelēz International launched the Fuse Fit snack bar in the Indian market.
Report Metrics
Report Attribute

Details

Study Period

2021-2029

Base year

2021

CAGR (%)

7.2%

Market Size

USD 47.2 billion in 2021

Projection period

2022-2029

Projection unit

Value (USD)

Segments covered

Product Type, Distribution Channel, and Regions

Report Scope

Revenue Projection, competitive landscape, company ranking, growth factors, and trends

Companies covered

Amy's Kitchen, Danone S.A., The Archer Daniels Midland Company, Daiya Foods, Inc., Tofutti Brands, Inc., Eden Foods, Inc., Sun Opta, Inc., Hain Celestial Group, Inc., Organic Valley Corporative, Primal Spirit Foods, Inc., Upton's Naturals, Green Pack Food, Inc., Allplants Ltd.,Follow Your Heart, among others.

By Product Type

Nuts & Seeds
Bakery
Savory

By Distribution Channel

Regional scope

North America
Europe
Asia-Pacific
South America
Middle East and Africa
Scope of the Report
Global Vegan Snacks Market By Product Type:
Nuts & Seeds
Bakery
Savory
Global Vegan Snacks Market by Distribution Channel:
Global Vegan Snacks Market by Region:
North America
Europe

Germany
France
UK
Italy
Spain
Russia

Asia-Pacific

Japan
China
India
Korea
Southeast Asia

South America
Middle East and Africa

UAE
South Africa
Saudi Arabia
Frequently Asked Questions
What was the market size of Vegan Snacks Market in 2021?
Global Vegan Snacks market size was USD 47.2 billion in 2021
What will be the market size of the Vegan Snacks market?
Global Vegan Snacks market is expected to reach USD 82.3 billion by 2029, at a CAGR of 7.2% from 2022 to 2029.
What is the key driver of the Vegan Snacks market?
Growing awareness about health is primarily driving the growth of the Vegan Snacks market.
What is the most significant distribution channel of Vegan Snacks?
Offline segment witnessed a significant share in the Vegan Snacks market with a market share of around 35.1% in 2021
Political Factors- Every component of the food sector is subject to extensive regulatory frameworks from governments worldwide. This encompasses the criteria for produce storage and transportation, commercial kitchen cleanliness, and even the qualifications for workers in the food industry. This unquestionably makes the food industry one of the most strictly regulated industries. On the good side, this prevents customers from receiving low-quality nourishment, but the complexity of regulation undoubtedly reduces the margins of the food industry.
Economical Factors- The population of the world is rising continuously in income. As a result, people from all social levels, including the lower, middle, and upper classes, have more money to spend on luxuries like dining out. As a result of people cooking less and eating out more frequently, the food industry's overall revenue is increasing. This benefits everyone in the area, including restaurant owners, food wholesalers, and the specific employees that work for these establishments. All industries are experiencing an overall rise in the cost of acquiring personnel. In addition to an increase in the need for workers, this is brought on by rising government expectations for minimum salaries. The result of rising labor expenses, like in many other sectors, is straightforward: less profit for the company's owner.
Social Factor- Scientists now have a greater understanding than ever before of how food affects our bodies. Consumers know that there is a direct link between our food and our health. Many people are searching for better ways to feed their bodies as a result. This doesn't necessarily have a good or bad impact on the food industry, but it does mean that companies will need to change to remain competitive. For instance, fast food outlets would probably need to switch from serving typical, high-calorie fried dishes to healthier options like salads.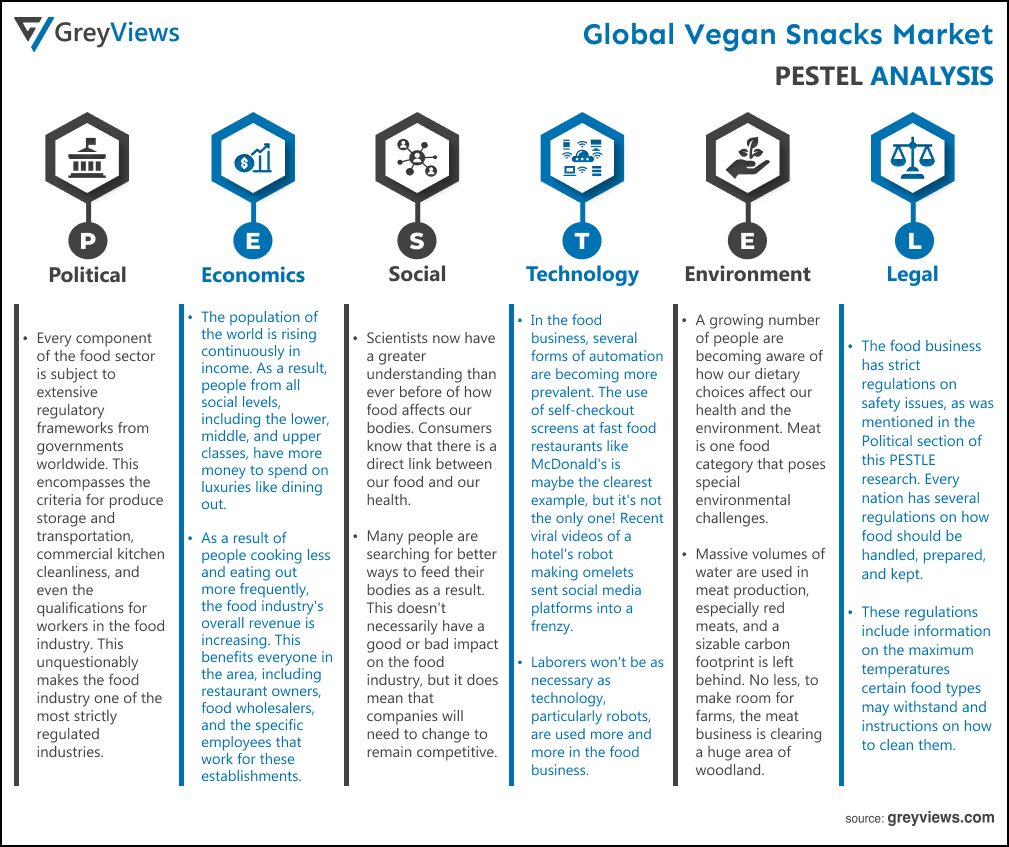 Technological Factors- In the food business, several forms of automation are becoming more prevalent. The use of self-checkout screens at fast food restaurants like McDonald's is maybe the clearest example, but it's not the only one! Recent viral videos of a hotel's robot making omelets sent social media platforms into a frenzy. Laborers won't be as necessary as technology, particularly robots, are used more and more in the food business. Overall, this is favorable for the sector.
Environmental Factors- A growing number of people are becoming aware of how our dietary choices affect our health and the environment. Meat is one food category that poses special environmental challenges. Massive volumes of water are used in meat production, especially red meats, and a sizable carbon footprint is left behind. No less, to make room for farms, the meat business is clearing a huge area of woodland. As a result, many people are adopting plant-based diets, and governments are gradually becoming more interested in this trend. Again, this doesn't necessarily mean ill for the food industry, but they will need to consider the long-term effects of this change.
Legal Factors- The food business has strict regulations on safety issues, as was mentioned in the Political section of this PESTLE research. Every nation has several regulations on how food should be handled, prepared, and kept. These regulations include information on the maximum temperatures certain food types may withstand and instructions on how to clean them. Although this is primarily a political issue, it becomes a legal matter if any of these rules are ever broken. As a result, to avoid expensive litigation, those in the food industry must exercise considerable caution to ensure they adhere to these regulations.