Global Digital Health Market - Market Overview:
The Global Digital health market is expected to grow from USD 176 billion in 2021 to USD 1268.21 billion by 2029, at a CAGR of 28% during the Projection period 2022-2029. The growth of this market is mainly driven owing to the rising population of diseases.
The broad definition of digital health encompasses fields like wearable technology, telehealth and telemedicine, personalized medicine, and mobile health (mHealth). Digital technology has been driving a revolution in health care, from artificial intelligence and machine learning to mobile medical apps and software that assist the clinical decisions clinicians make every day. The use of digital health tools has the potential to significantly improve individual patient care by enhancing the accurate diagnosis and treatment of disease. For healthcare and associated purposes, digital health technologies use computing platforms, networking, software, and sensors. These technologies have a wide range of applications, including those for medical devices and applications for general well-being. They consist of innovations created to be used as medical products, in medical products, as auxiliary diagnostics, or as companions to other medical products (devices, drugs, and biologics). They could also be used to research or develop medicinal items. Through data access, digital tools are giving healthcare professionals a more comprehensive picture of patient health while also allowing patients greater control over their own health. Real opportunities to increase productivity and improve medical outcomes are presented by digital health. These technologies offer new opportunities for assisting prevention, early identification of life-threatening diseases, and managing chronic ailments outside traditional health care settings. They can also enable consumers to make better-informed decisions about their own health.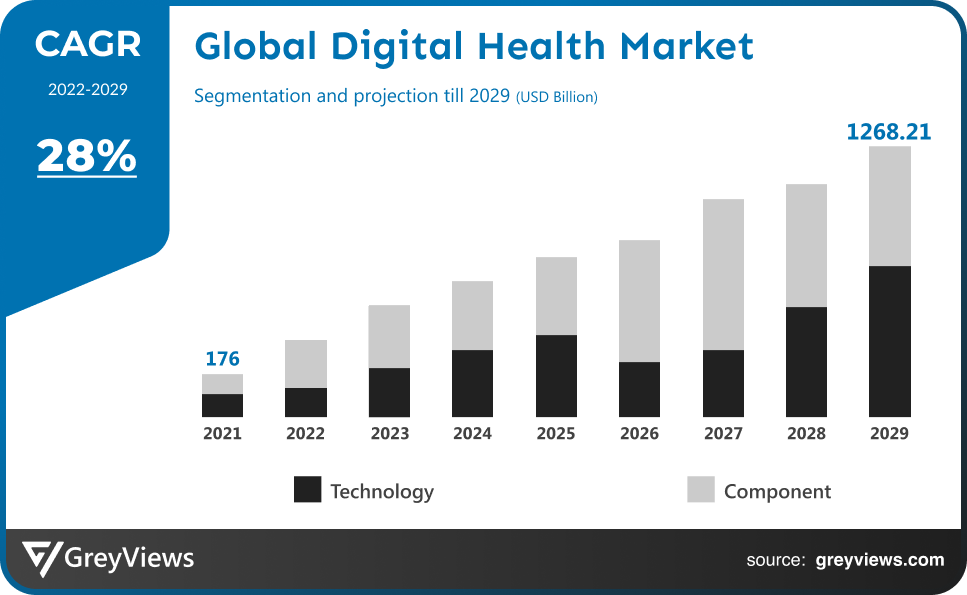 Sample Request: - Global Digital Health Market
Market Dynamics:
Drivers:
Rising mHealth technology uptake
Globally, the healthcare industry has undergone a rapid digital transformation, greatly enhancing diagnosis, treatment, care delivery methods, and operational efficiency. Mobile technology, including wearables and health-tracking apps, is used to monitor and share health information. Enhanced medication adherence, better data management, improved doctor-patient communication, fewer hospital admissions and associated costs, and remote patient monitoring are all made possible by mHealth technology. Additionally, the growing consumer trend toward self-health monitoring in the convenience of one's own home is opening up potential for biopharmaceutical firms to advance the development of mHealth applications. The market is anticipated to be driven by a number of mHealth efforts taken by governments throughout the world to promote the effectiveness and usability of using mobile devices to deliver better care more affordably.
Restraints:
Worries regarding data security
Stringent security is needed for digital health solutions like medical applications, Electronic Health Records (EHRs), and e-prescriptions in order to prevent data breaches and guarantee the safety, privacy, and security of patient data. Since patient healthcare data includes a variety of confidential information, including medical and health-related details, insurance information, social security information, and demographic data, among other things, the growing number of cyber security threats has raised major concerns about patient data safety. An increase in cyberattacks on hospitals and other medical facilities, as well as data security breaches, can result in the loss of vital data and serious penalties, as well as harm the reputation of the hospital or medical facility. The use of digital health technologies will be constrained by this unless appropriate remedial and data control mechanisms are put in place.
Opportunities:
Technological advancement
Rapid technical advancements and innovations in healthcare-based services have affected the telehealth sector. The creation of the newest and upgraded healthcare-related apps and services, such as payment process integration, video conferencing, co-pay, digital appointment scheduling, etc., is due to an increase in the use of smartphones for daily tasks. These technological advancements are now features of every telehealth product on the market. According to the Commonwealth Fund, the proportion of medical practises that offered the four online features—asking appointments, requesting prescription refills, accessing test results, and checking visit summaries—was highest in the United States (50%) and Sweden (58%) in 2019.
Challenges:
Bad bandwidth quality in several nations
Many doctors are worried about telemedicine's technological problems, like poor broadband connectivity, which could lead to poor patient management. As the number and capabilities of connected medical devices increase, new risks to data security have emerged, raising broad worries about cybersecurity. Since there is a chance that healthcare monitoring systems could be broken or compromised, security and privacy issues will continue to be a major barrier for patients to using telehealth services, which will impede the market's expansion. Additionally, power outages and hardware bugs might have an impact on patient health management and diagnosis, endangering healthcare operations.
Segmentation Analysis:
The global digital health market has been segmented based on technology, component, and regions.
By Technology
The technology segment is healthcare analytics, tele-healthcare, and mHealth. The tele-healthcare segment led the largest share of the digital health market with a market share of around 40% in 2021. due to the healthcare industry's digital transition and favorable government backing for integrating new technologies. Due to the widespread use of smartphones and the internet, as well as the abundance of health-related apps on the market, this area has experienced significant development. In addition, the market for tele-health is growing due to the rising prevalence of chronic diseases and developments in wearable technology.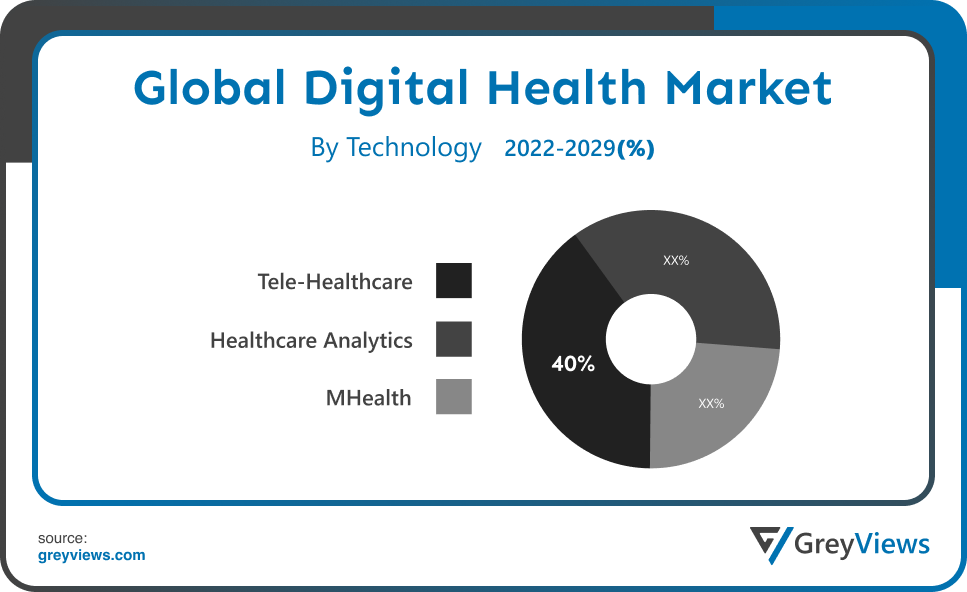 By Component
The component segment includes software, hardware, and services. The services segment led the digital health market with a market share of around 35% in 2021. This is primarily due to the large increase in software upgrades as well as the quick improvements in different software and hardware. These services include installation, upgrade, and training & integration. Additionally, the many businesses are concentrating on service-based operations including training & integration, installation, and up-gradation, which have accelerated market growth during the course of the study. The need for services in the next years will be driven by rising investments in digital healthcare infrastructure, particularly in developing nations. The demand for services is further fueled by the rising popularity of platforms like Electronic Health Records (EHR), as many businesses are placing a strong emphasis on procuring post-installation services including staffing, optimization, training, and a variety of other services.
Global Digital health Market- Sales Analysis.
The sale of digital health expanded at a CAGR of 25% from 2015 to 2021.
Companies are spending money on R&D to create improved solutions for the digital health industry.
IT companies are using a range of implementation strategies to increase the adoption of eHealth solutions that increase productivity in healthcare institutions, such as telemedicine, laboratory management systems, and clinical decision support systems. Businesses that educate healthcare professionals and payers about the need for follow-up following clinical treatments are seeing success with implementation. Deep medical learning is being improved by businesses in the digital health sector to predict a person's risk for dementia and Parkinson's disease. Some companies are getting better at utilising artificial medical intelligence to identify possible sickness trends in people (AI). Most players in the digital health sector develop technology that directly impacts patient care.
Healthcare industry leaders and businesses intending to develop more capital-intensive goods and services may be interested in the value pools in two categories that are most likely to reward successful entrants with significant transaction sizes. Despite the fact that other digital health companies are the most frequent acquirers of digital health companies, mergers and acquisitions (M&A), joint ventures (JVs), alliances, and partnerships should still play a significant role in healthcare players' strategies to have a greater impact more quickly. The growing involvement of established healthcare players and technology firms is demonstrated by Google's 2019 acquisition of Fitbit for $2.1 billion.
Thus, owing to the aforementioned factors, the global Digital Health Market is expected to grow at a CAGR of 28% during the Projection period from 2022 to 2029.
By Regional Analysis:
The regions analyzed for the digital health market include North America, Europe, South America, Asia Pacific, the Middle East, and Africa. The North American region dominated the digital health market and held a 39.1% share of the market revenue in 2021.
The North American region witnessed a major share. Due to increased adoption of healthcare IT products and services, rising demand for online medical consultation or remote monitoring services, growing public awareness of the different fitness applications on the market, and other cutting-edge medical technology, the market is growing in the region. Additionally, the region's healthcare industry is anticipated to experience revenue growth due to the quick shift from volume-based care to value-based care, increased emphasis on preventative healthcare, and expanding adoption of blockchain and cloud computing technologies. Additionally, the region's market is anticipated to experience faster revenue growth as a result of the growing emphasis on healthcare analytics, the presence of significant corporations, increased government support for the adoption of wireless healthcare technologies, and increased funding for enhancing the functionality and efficiency of healthcare delivery systems.
Asia Pacific is anticipated to experience significant growth during the predicted period. The market is growing in the area as a result of factors such as the increased prevalence of chronic and lifestyle-related diseases and disorders, rising healthcare costs, rising disposable income, and rising demand for home-based care and remote patient monitoring. Additionally, the market is anticipated to develop as a result of linked devices' quick uptake, rising EHR and EMR use, and rising demand for wearable technology. The region's digital health market is anticipated to grow in revenue as a result of an increasing number of e-health initiatives being carried out by governments in India, China, and Japan to encourage the adoption of digital technologies and personalized medicine in hospitals, clinics, and diagnostic facilities.
Global Digital health Market- Country Analysis:
Germany's digital health market size was valued at USD 16 billion in 2021 and is expected to reach USD 89.43 billion by 2029, at a CAGR of 24% from 2022 to 2029. The key trends and opportunities in the digital health market as well as future trends are growing as a result of factors like rising smartphone adoption, improved internet connectivity, improved healthcare IT infrastructure, rising healthcare costs, rising prevalence of chronic diseases, rising demand for remote patient monitoring services, and increasing accessibility of virtual care which fuels the market in the region.
China's digital health' market size was valued at USD 19 billion in 2021 and is expected to reach USD 120.70 billion by 2029, at a CAGR of 26% from 2022 to 2029. The market is developing as a result of increasing smartphone adoption, rising government spending on healthcare industry upgrades, and rising public awareness of digital health.
India's digital health market size was valued at USD 17.6 billion in 2021 and is expected to reach USD 104.90 billion by 2029, at a CAGR of 25% from 2022 to 2029. The region's market is growing as a result of improvements in IT infrastructure and the emergence of entrepreneurial endeavors, both of which have a substantial impact on the market's growth. The Indian market is expanding as a result of increasing smartphone adoption, rising wearables and activity tracker use, and the rising need for healthcare analytics.
Key Industry Players Analysis:
To increase their market position in the global digital health business, top companies focus on tactics such as adopting new technology, mergers & acquisitions, technology developments, collaborations, partnerships, joint ventures, etc.
Apple, Inc.
Telefónica S.A.
Mckesson Corporation
Cerner Corporation
Allscripts
Epic Systems Corporation
AT&T
Vodafone Group
QSI Management, LLC
AirStrip Technologies
Google, Inc.
HiMS
Orange
Qualcomm Technologies, Inc.
Samsung Electronics Co., Ltd.
Softserve
Latest Development:
In June 2021, At DMEA, a significant trade show for digital healthcare in Europe, Siemens Healthineers AG announced the launch of new digital products on their healthcare platform named Teamplay Digital Health Platform Connect. The newly added services include patient support, wound treatment, discharge management, and AI-based decision support. The platform encourages Europe's healthcare industry to go fully digital. In addition, five new partners—RAMP, Recare, Patient Journey App, and imitoWound—will provide their digital health services on this platform.
In April 2022, With its strategic partners U.S. Bioservices Corporation, UpScriptHealth, and Asembia LLC, Emmaus Life Sciences, Inc., a commercial-stage biopharmaceutical pioneer in the treatment of sickle cell disease, introduced a unique and novel full-service telehealth service.
Report Metrics
Report Attribute

Details

Study Period

2021-2029

Base year

2021

CAGR (%)

28%

Market Size

176 billion in 2021

Projection period

2022-2029

Projection unit

Value (USD)

Segments covered

By Technology, By Component and By Region.

Report Scope

Revenue Projection, competitive landscape, company ranking, growth factors, and trends

Companies covered

Apple, Inc., Telefónica S.A., Mckesson Corporation, Cerner Corporation, Allscripts, Epic Systems Corporation, AT&T, Vodafone Group, QSI Management, LLC, AirStrip Technologies, Google, Inc., HiMS, Orange, Qualcomm Technologies, Inc., Samsung Electronics Co., Ltd., and Softserve.

By Technology

Healthcare Analytics
Tele-healthcare
MHealth

By Component

Software
Hardware
Services

Regional scope

North America
Europe
Asia-Pacific
South America
Middle East and Africa
Scope of the Report
Global Digital health Market by Technology:
Healthcare Analytics
Tele-healthcare
MHealth
Global Digital health Market by Component:
Software
Hardware
Services
Global Digital health Market by Region:
North America
Europe

Germany
France
UK
Italy
Spain
Russia

Asia-Pacific

Japan
China
India
Korea
Southeast Asia

South America
Middle East and Africa

UAE
South Africa
Saudi Arabia
Frequently Asked Questions
How big is the digital health market?
The global market for digital health was more than USD 176 billion in 2021 and is set to depict a CAGR of over 16% through 2022-2030, due to the rising acceptance of remote patient monitoring services.
Which region accounted for the highest digital health market share?
The North America region accounted for the highest digital health market share.
Why is the digital health market growing?
Global digital health market is growing owing to rise in diseases around the world.
Which segment in technology accounted for the largest digital health market share?
Tele-healthcare dominated the digital health market in technology.
Political Factors- The market is expanding due to elements such as the rising prevalence of chronic diseases, technological improvements, rising public awareness of health issues, and government initiatives. The rising number of research papers is another factor promoting industry expansion. As an illustration, in October 2020, a research study with the topic "Can mHealth and eHealth help a population that is difficult to reach manage their diabetes and hypertension? Using the RE-AIM framework, lessons were learned from a process evaluation of digital health to support a peer educator model in Cambodia "declared that non-communicable diseases (NCDs) are becoming more prevalent in low- and middle-income countries (LMICs), where they account for 4 out of every 5 fatalities, disproportionately affect the poorer population, and are a significant economic burden.
Economical Factors- Numerous economic issues, including inflation, unemployment, and interest rates, will have an impact on healthcare companies. Any of these modifications may alter the public's ability to spend its money, which may have an effect on policy expenditures. If the unemployment rate rises, medical equipment manufacturers won't have as many workers who can afford their prices. Similarly, if fewer people are able to work, they will not be eligible for employment benefits, such as healthcare. Without these advantages, it's possible that those individuals won't be able to cover the whole cost of any hospital or ER visit. When they get sick, they are less likely to seek medical attention. The public will only have access to a small number of affordable health services.
Social Factor- Understanding the shifts in public views and demography is essential to providing healthcare. There are some communities that have common cultural norms, beliefs, and anxieties. It may be problematic if a doctor, nurse, or hospital treating the public is not aware of certain illnesses. Medical personnel must also remain current on emerging trends. For instance, the usage of essential oils as a treatment for numerous diseases, such as the flu, fevers, and even terminal disorders like autism, is growing. Healthcare practitioners can talk with these consumers and discuss problems or treatments by having a better understanding of the reasons why people are using these natural therapies.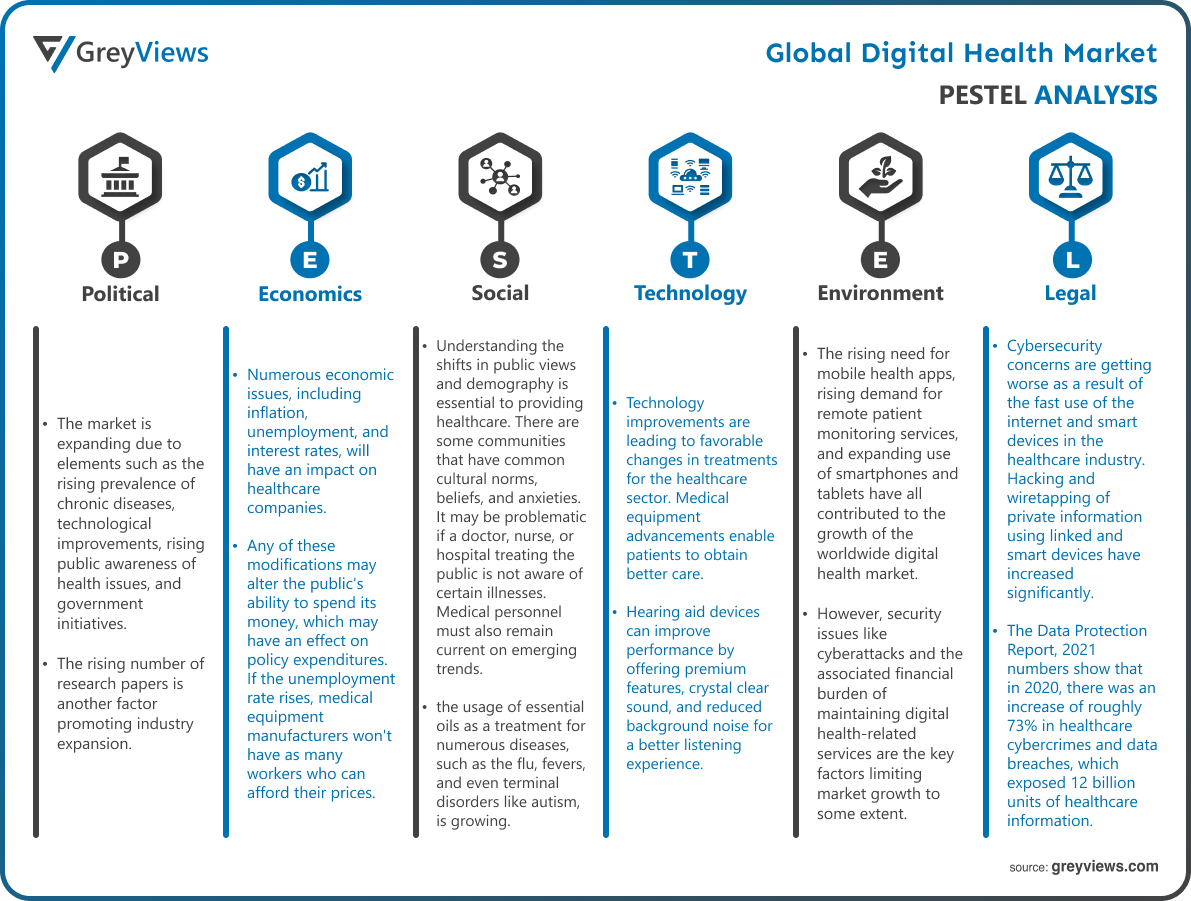 Technological Factors- Technology improvements are leading to favorable changes in treatments for the healthcare sector. Medical equipment advancements enable patients to obtain better care. For instance, hearing aid devices can improve performance by offering premium features, crystal clear sound, and reduced background noise for a better listening experience. The global increase in internet penetration, along with the sharp rise in smartphones and related healthcare apps, the rise of healthcare technology startups working to create effective healthcare delivery systems, and the emergence of mHealth technologies are the main drivers of the growth of the digital health market.
Environmental Factors- The rising need for mobile health apps, rising demand for remote patient monitoring services, and expanding use of smartphones and tablets have all contributed to the growth of the worldwide digital health market. However, security issues like cyberattacks and the associated financial burden of maintaining digital health-related services are the key factors limiting market growth to some extent. Nevertheless, the COVID-19 epidemic has accelerated the development of digital health, transforming healthcare through, among other things, patient portals, telemedicine, remote patient monitoring tools, online symptom checks, and patient-facing tools. Therefore, it is anticipated that such innovative breakthroughs in the field of digital health would open up attractive business opportunities.
Legal Factors- Cybersecurity concerns are getting worse as a result of the fast use of the internet and smart devices in the healthcare industry. Hacking and wiretapping of private information using linked and smart devices have increased significantly. Governments from different nations, healthcare organizations, and experts are reluctant to adopt digital health solutions on a broad and national scale due to data security issues regarding healthcare information. For instance, the Data Protection Report, 2021 numbers show that in 2020, there was an increase of roughly 73% in healthcare cybercrimes and data breaches, which exposed 12 billion units of healthcare information. Furthermore, laws governing digital health are hazy and differences between nations and regions. These factors are impeding market expansion.