Global Industrial Automation Market- Market Overview:
The Global Industrial Automation market is expected to grow from USD 196 billion in 2021 to USD 329.28 billion by 2029, at a CAGR of 6.7% during the Projection period 2022-2029. The growth of this market is mainly driven by increasing implementation of artificial intelligence and industrial IoT.
Industrial automation is the use of tools like computer software and robots to operate equipment and procedures that take the place of people in carrying out particular tasks. Manufacturing, quality control, and material handling procedures are the main foci of the functions. Industrial automation was first intended to increase productivity by lengthening workdays and lower the expenses associated with maintaining a sizable human workforce. These objectives have steadily changed, and now place a stronger emphasis on increasing quality and adaptability. The "fourth industrial revolution," often known as Industry 4.0, which also includes the development of the Industrial Internet of Things, is frequently linked to industrial automation (IIoT). The goal of Industry 4.0 is to enhance production processes through the use of internet-enabled devices, and in doing so, to produce a platform for manufacturing that is more dependable, consistent, and effective. Since robots can be taught to perform a new activity faster than humans can be trained to do it, automated manufacturing processes can be more adaptable. Robotic deployment in the most dangerous environments may make production lines safer for employees. The primary drawbacks of industrial automation are the high initial cost of switching to automated production lines and the expense of training staff to operate the machinery. The possible social impact of automation is another drawback. Many people worry about their job security since it may make their qualifications, education, and experience obsolete.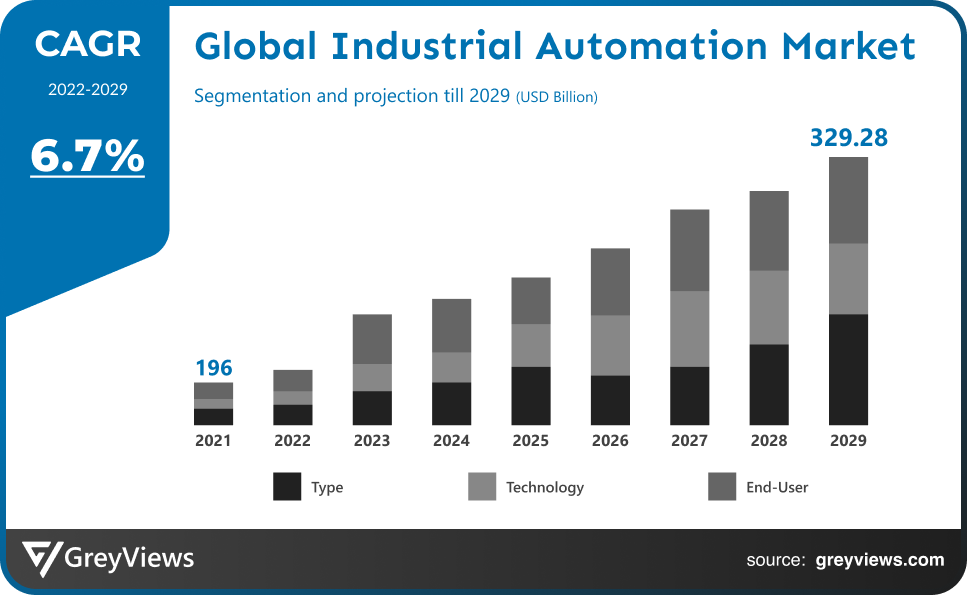 Sample Request: - Global Industrial Automation Market

Market Dynamics:
Drivers:
The facility still has to be shut down for maintenance and major holidays even though many businesses recruit hundreds of manufacturing workers for up to three shifts. Industrial automation helps a corporation achieve its goal by enabling it to operate a production facility around-the-clock, every day of the week, all year long. As a result, the company's productivity significantly increases.
Restraints:
Making the changeover from a manual production line to an automation manufacturing line requires a sizable initial expenditure. Additionally, there are significant expenditures associated with training staff to use this new, advanced technology.
Opportunities:
Demand for Factory Automation
With a rise in local manufacturing and a focus on improving process efficiency, the demand for factory automation solutions in India is predicted to soar. India's automation industry has expanded dramatically over the past ten years as a result of the country's growing demand for efficient and dependable production methods.
Challenges:
Lack of standardised Procedures
Lack of protocols for interacting with devices, technologies, and systems built into them, as well as management practises that are more complex and the use of proprietary methods, could limit market expansion throughout the Projectioned period. Lack of communication with other devices is the effect of this. Furthermore, lack of knowledge of recently developed industrial automation systems. The task involves in-depth expertise and more complete information due to improved tools, equipment, and software systems technologies. Lack of training could impede the market's expansion for industrial automation.
Segmentation Analysis:
The global Industrial Automation market has been segmented based on Type, Technology, End user and Regions.
By Type
The type segment includes Fixed Automation and Programmable Automation. The Fixed Automation segment led the largest share of the Industrial Automation market with a market share of around 30% in 2021. The market's fixed automation sector is anticipated to grow significantly. Fixed automation, often known as hard automation, refers to a computerised production facility where the machinery arrangement determines the sequence of processing procedures. Additionally, implementing a fixed automation system, like robotic conveyor systems, and incorporating value-added initiatives to reduce both time and labour costs in their installation relieves the business of competitive forces, increases profit margins, and keeps users one step ahead of its rivals.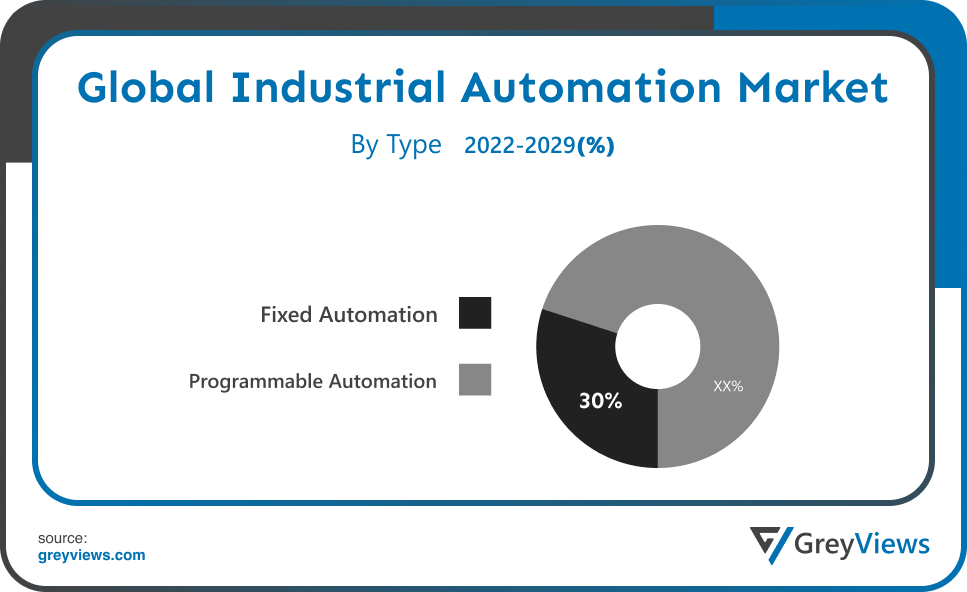 By Technology
The technology segment includes SCADA, PAC, PLC, DCS and HMI. The DCS segment led the Industrial Automation market with a market share of around 52% in 2021. Because chemical and petrochemical facilities are increasingly using DCS. This is because they can regulate and keep an eye on production-related factors including temperature, pressure, and flow rate.
By End-user
The end user segment includes Machine Manufacturing, Oil & Gas, Aerospace & Defence, Electronics, Automotive, Pharmaceuticals and Others. The Machine Manufacturing segment led the Industrial Automation market with a market share of around 28.08% in 2021. Small American enterprises may now go head-to-head with established international rivals because to automation. These businesses may continue to provide high-quality products at competitive prices with more technological know-how and a more solid strategy. In comparison to factories that utilise only a few automation systems, end-to-end automation will increase output by a ratio of two or even three. Additionally, equipment may frequently be maintained running for longer periods of time with just a minor influence on the prognosis for maintenance. This enables businesses to outperform rivals that produce a large volume of simpler or inferior items.
Global Industrial Automation Market- Sales Analysis
The sale of Industrial Automation types expanded at a CAGR of 4.2% from 2015 to 2021.

Manufacturers in end-user sectors including oil & gas, food & beverage, automotive, and aerospace & defence are searching for solutions that may aid them in proactive maintenance, real-time data analysis, and greater visibility of the manufacturing plant in order to increase the plant's efficiency. Additionally, manufacturers can carefully monitor production processes and quickly adjust to shifting needs thanks to industrial automation technologies like HMI, which leads to better operational efficiency and less unscheduled downtime.
Predictive maintenance and asset management systems allow customers improved visibility into the condition of the equipment by monitoring attributes like temperature, current, voltage, speed, vibration, and location. Additionally, it predicts when parts are most likely to fail, enabling much early intervention and boosting efficiency. As a result, industrial automation will eventually become more effective. Several commercial production procedures can be dangerous for people. Human or mechanical mistakes that occur throughout the production process may have fatal consequences. In order to prevent workplace accidents, the industrial sector must implement safety measures.

Thus, owing to the aforementioned factors, the global Industrial Automation Market is expected to grow at a CAGR of 6.7% during the Projection period from 2022 to 2029.
By Regional Analysis:
The regions analysed for the Industrial Automation market include North America, Europe, South America, Asia Pacific, the Middle East, and Africa. The Asia Pacific region dominated the Industrial Automation market and held a 39% share of the market revenue in 2021.
The Asia Pacific region witnessed a major share. because these areas are home to large-scale industry. China and Japan are among the top producers and consumers of industrial robots, sensors, and machine vision systems in Asia. In addition, the manufacturing sectors for automobiles, consumer products, electronics, and pharmaceuticals are strong in India, China, and South Korea. Government programmes and laws that encourage the digitalization of manufacturing facilities and investments in the IIoT are also significant drivers of the adoption of industrial automation systems in these nations.
Europe is anticipated to experience significant growth during the predicted period. Due to a sharp rise in competition and rising end-user demands, the manufacturing facilities in the area have been compelled to adopt the newest technical advancements and digital transformation capabilities to optimise their business operations. This has resulted in a considerable expansion. For instance, the automotive sector is able to adapt to market needs more quickly, cut down on manufacturing downtime, increase supply chain efficiency, and increase productivity thanks to field devices like motors, sensors, and others. Significant corporations are putting industrial automation goods on the market, and it is also being used in many regional industries, including the automobile, healthcare, manufacturing, and others.
Global Industrial Automation Market- Country Analysis:
Germany Industrial Automation market size was valued at USD 9.17 billion in 2021 and is expected to reach USD 22.70 billion by 2029, at a CAGR of 12% from 2022 to 2029. Long-term increase in Japan's need for Factory Automation goods is predicted, particularly in digital industries like semiconductors, electronic components, data centres, and carbon-related industries like lithium-ion batteries. Manufacturing process automation provides various advantages, including easy monitoring, reduced waste, and accelerated output. Customers may now get trustworthy items of higher quality with uniformity, quicker turnaround times, and lower prices thanks to this technology.
China's Industrial Automation' market size was valued at USD 8.40 billion in 2021 and is expected to reach USD 19.35 billion by 2029, at a CAGR of 11% from 2022 to 2029. By requiring increasingly advanced and automated technologies, such robots and control systems, to enhance production processes, China has considerably accelerated the expansion of automation across sectors. Due to its industrial prowess and the government's investments in infrastructure, machines, and industries, China's economy grew at an astonishing rate.
India's Industrial Automation market size was valued at USD 7.64 billion in 2021 and is expected to reach USD 16.37 billion by 2029, at a CAGR of 10% from 2022 to 2029. Optimal performance has been achieved by fusing the digital and physical parts of manufacturing in India's industrial automation industry. The industry's growth has also been aided by the emphasis on attaining zero waste manufacturing and a quicker time to market.
Key Industry Players Analysis:
To increase their market position in the global Industrial Automation business, top companies focus on tactics such as adopting new technology, mergers & acquisitions, type developments, collaborations, partnerships, joint ventures, etc.
ABB Ltd.
Emerson Electric Co.
Honeywell International, Inc.
Kawasaki Heavy Industries, Ltd.
Mitsubishi Electric Corporation
OMRON Corporation
Rockwell Automation, Inc.
Schneider Electric
Siemens AG
Yokogawa Electric Corporation
Latest Development:
In June 2021, In order to provide robotics and industrial automation solutions with dtac connection throughout Thailand, ABB Ltd. worked with dtac Trinet, a wireless telecommunications service provider with headquarters in Thailand. The collaboration intends to develop Thailand's manufacturing capacity and speed up industry 4.0 there.
In June 2021, In order to modernise plastic recycling, Emerson worked with PureCycle Technology, Inc. to provide digital technologies and automation for PureCycle plants. Emerson's Planet web digital ecosystem speeds up project completion by integrating digital automation technologies throughout all PureCycle plants.
Report Metrics
Report Attribute

Details

Study Period

2021-2029

Base year

2021

CAGR (%)

6.7%

Market Size

196 billion in 2021

Projection period

2022-2029

Projection unit

Value (USD)

Segments covered

By Type, By Technology, By End-user and By Region.

Report Scope

Revenue Projection, competitive landscape, company ranking, growth factors, and trends

Companies covered

ABB Ltd., Emerson Electric Co., Honeywell International, Inc., Kawasaki Heavy Industries, Ltd., Mitsubishi Electric Corporation, OMRON Corporation, Rockwell Automation, Inc., Schneider Electric, Siemens AG, and Yokogawa Electric Corporation.

By Type

Fixed Automation
Programmable Automation

By Technology

By End-user

Machine Manufacturing
Oil & Gas
Aerospace & Defense
Electronics
Automotive
Pharmaceuticals
Others

Regional scope

North America
Europe
Asia-Pacific
South America
Middle East and Africa
Scope of the Report
Global Industrial Automation Market by Type:
Fixed Automation
Programmable Automation
Global Industrial Automation Market by Technology:
Global Industrial Automation Market By End-user:
Machine Manufacturing
Oil & Gas
Aerospace & Defense
Electronics
Automotive
Pharmaceuticals
Others
Global Industrial Automation Market by Region:
North America
Europe

Germany
France
UK
Italy
Spain
Russia

Asia-Pacific

Japan
China
India
Korea
Southeast Asia

South America
Middle East and Africa

UAE
South Africa
Saudi Arabia
Frequently Asked Questions
What will be the growth rate of the global Industrial Automation market during the Projection period?
The global Industrial Automation market is expected to grow with a 6.7% CAGR during the Projection period.
How is the North American Industrial Automation market projected to grow?
The North American Industrial Automation market was projected to gain a global market share of 39% in 2021.
What are the biomolecule segments in the Industrial Automation market?
The biomolecule segment includes genetic, metabolic, proteomic, epigenetic, and others.
What was the market size of global Industrial Automation market in 2021?
Global Industrial Automation market's size in 2021 was USD 196 Billion.
What is the major driving factor of the Industrial Automation market?
Global Industrial Automation key market players are Abbott Laboratories, Thermo Fisher Scientific Inc., Bio Rad Laboratories Inc., Roche Holding AG, GE Healthcare, Illumina, Inc., Siemens AG, Bristol-Myers Squibb, Toshiba Medical Systems Corporation, Koninklijke Philips N.V., and Agilent Technologies Inc.
Political Factors- The majority of incidents demonstrate how industrial automation could endanger democratic systems. These dangers can include, among many others, election hacking, data spying, and privacy violations. It is no secret that lobbyists and zealots have both used Facebook as a forum for propaganda thanks to its machine learning and intelligent algorithms. The proliferation of false accounts and fake news on Facebook following the 2016 Philippine elections that elected President Rodrigo Duterte to his current position serves as a prime illustration of this. Another illustration is Facebook advertising efforts, which, given the wealth of data collected on Facebook's platform, are almost aggressively personalized to "fit" the personalities of the people they are targeting.
Economical Factors- Industrial automation is essential for combining aggregate data in economics. Although it is not currently thought to be exacting, industrial automation has the potential to empower predictive analytics in economic Projectioning. It can be used in portfolio optimization on a lesser scale. There is speculation that on a bigger scale, corporations and organizations will be able to use AI approaches to understand customer behaviour and have it down to a science. Already, industrial automation systems are monitoring the impact of media headlines on the financial market. There have been rumours about how JPMorgan uses an algorithm to predict how President Donald Trump's tweets would affect the economy.
Social Factor- In the past ten years, research and development spending has increased, and the adoption of industrial automation into systems will soon have more profound social effects. As industrial automation propels internet juggernauts like Google, Alibaba, and Amazon to offer more specialised experiences to its consumers, more personalisation is on the horizon. In a way they have never been able to before, it will enable providers to get to know clients, repeat customers, and even prospects. Some of the capabilities that industrial automation can offer already exist, but they will likely be improved as technological innovation progresses.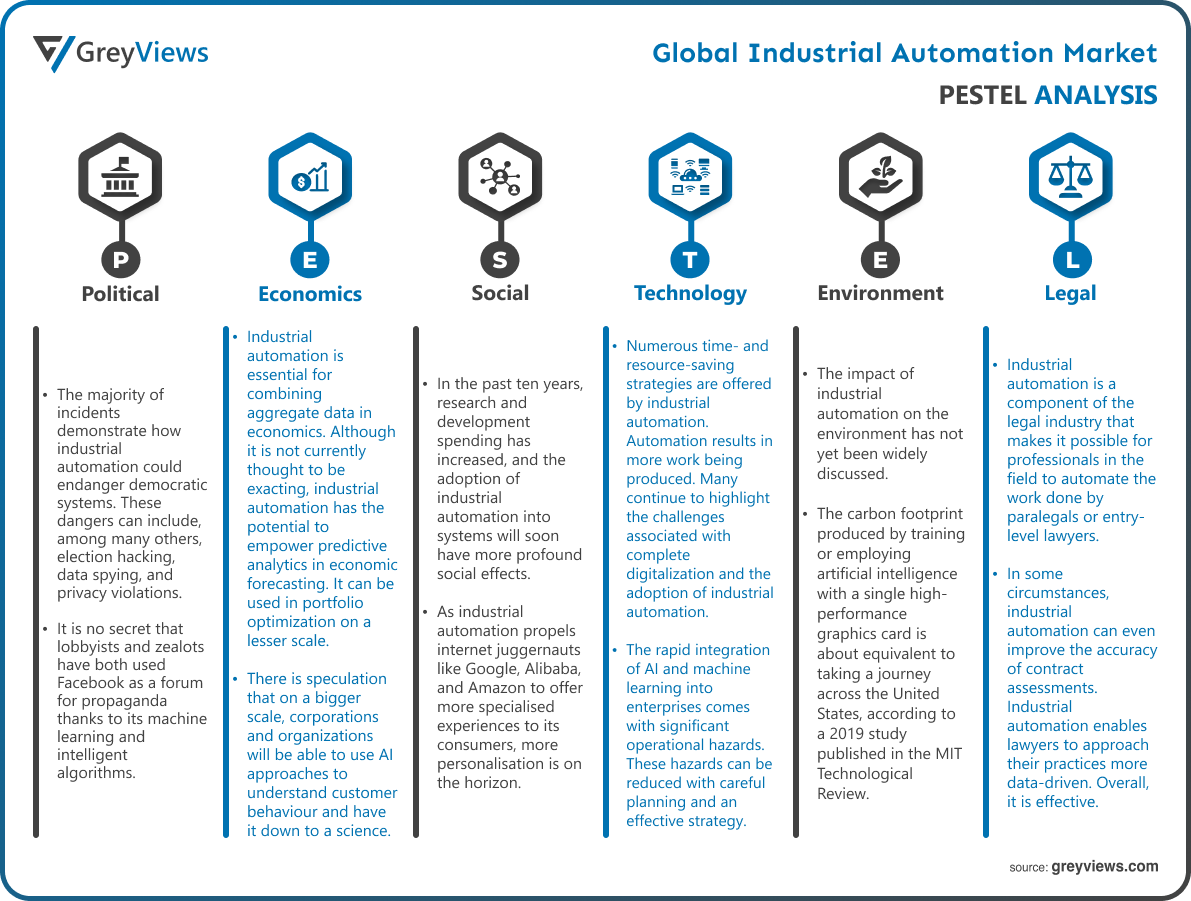 Technological Factors- Numerous time- and resource-saving strategies are offered by industrial automation. Automation results in more work being produced. Many continue to highlight the challenges associated with complete digitalization and the adoption of industrial automation. The rapid integration of AI and machine learning into enterprises comes with significant operational hazards. These hazards can be reduced with careful planning and an effective strategy. Technology disruption does not always result in issues. It might even encourage creativity. By using artificial intelligence, it is very likely to save expenses while enhancing customer outreach if done with strategic goals in mind.
Environmental Factors- The impact of industrial automation on the environment has not yet been widely discussed. The carbon footprint produced by training or employing artificial intelligence with a single high-performance graphics card is about equivalent to taking a journey across the United States, according to a 2019 study published in the MIT Technological Review. It also demonstrated that more CO2 emissions could result from working on industrial automation technology that is more advanced. It is difficult to deal with the environmental cost of using automation, and the systems that enable it must strive toward achieving these improvements as quickly as possible. The demands of the current climate crisis have made it more difficult to mitigate the environmental implications of industrial automation.
Legal Factors- Industrial automation is a component of the legal industry that makes it possible for professionals in the field to automate the work done by paralegals or entry-level lawyers. In some circumstances, industrial automation can even improve the accuracy of contract assessments. Industrial automation enables lawyers to approach their practices more data-driven. Overall, it is effective. Finding terms in big quantities of data and documents is one of the lesser chores it may help with. When properly developed, it can also fill out some forms. Additionally, automated lawyer services and legal chatbots already exist. They take the place of more administrative and customer service-centred jobs like gathering preliminary data for subsequent submission or noting potential clients' information.