Global Pharmaceutical Packaging Market- Market Overview:
The Global Pharmaceutical packaging market is expected to grow from USD 118 billion in 2021 to USD 252.94 billion by 2029, at a CAGR of 10% during the Projection period 2022-2029. The growth of this market is mainly driven owing to the rising population of diseases.
The packages and packing procedures for pharmaceutical preparations are referred to as pharmaceutical packaging (or medication packaging). It involves every stage of the process, from drug production to final consumer via the various distribution routes. Depending on the country of origin or the region, there may be some variations in the specific regulations governing pharmaceutical packaging. It is possible to control the following common factors: control of potential packaging component migration into the drug, control of drug degradation by oxygen, moisture, heat, etc., control of microbial contamination, sterility, assurance of patient safety, assurance of the efficacy of the drug through the intended shelf life, uniformity of the drug through different production lots, thorough documentation of all materials and processes, etc. Dispensing, dosage, and use of the pharmaceutical medication sometimes require packaging. Regulations also apply to the distribution of instructions for use and warning labels. A pharmaceutical product's packaging is an essential component. Pharmaceutical packaging is frequently conceived of in terms of the distribution system segment faced as well as the functionalities required by the package's intended user. There are many requirements for packaging. Bulk pharmaceuticals can be delivered to customers overseas, to a contract packager for assembling unit packs, to another pharmaceutical business for additional processing, etc. Bulk shipments can be made in a variety of shipping containers, including intermediate bulk containers, bulk boxes, corrugated boxes with liners, fibre drums (with plastic liners), and bulk boxes. To pharmacies, especially compounding pharmacies, smaller bulk shipments can be supplied.
Sample Request: - Global Pharmaceutical Packaging Market
Market Dynamics:
Drivers:
Rising adoption of flexible packaging
Flexible packaging is taking the place of traditional pharmaceutical packaging, which includes rigid packaging. The preference for flexible packaging is expanding more quickly, which presents new market growth opportunities for the companies who manufacture pharmaceutical packaging. This creates a new market for pharmaceutical packaging and increases its sales. Due to its high-performance uses, blister films will have a market potential as flexible packaging becomes more popular. The blister sheets are also thin, flexible, and strong. Flexible packaging does not have the same concerns about breakage or corrosion as rigid packaging types have.
Restraints:
High Price of Pharmaceutical packaging
Pharmaceutical packaging is quite expensive due to the escalating price of its production. This is taking place as a result of government bodies, such as the Heads of Medicine Agencies (HMA), European Medicines Agency (EMA), and United States Food and Drug Administration, increasingly enforcing severe safety standards (FDA). Additionally, businesses are using pricey raw ingredients to make these topical medications in order to give them extended shelf life. Because of the strict restrictions, these businesses are required to produce pharmaceutical packaging that is error-free. These elements are anticipated to limit the market's expansion for pharmaceutical packaging in the years to come.
Opportunities:
Growing adoption of easy-to-use packaging
Individual consumers desire consumable packaging that is simple to carry wherever they go. Other than glass and recycled plastic, the makers also use a variety of simple-to-use and simple-to-dispose-of materials. The development of thermoformable materials has made it possible to adopt a variety of different packaging strategies that are tailored to the needs of specific customers, including thermoformable trays, blister packaging, and others. Additionally, pharmaceutical packaging makers are developing superior film lamination to meet the demand for high-quality lidding materials, which was made possible by the development of thermoplastic polymers. The advancements in healthcare around the globe and the rising demand for novel pharmaceutical packaging solutions are expected to help the worldwide pharmaceutical packaging industry.
Challenges:
The supply of goods to the black market has an impact on both the direct and indirect market value of pharmaceutical packaging. The amount and value invested in trademarks, packaging designs, intellectual property rights, and other things are lost as a result of the predominance of counterfeit goods. Players involved in pharmaceutical packaging are suffering from this loss. Most often, counterfeiters mimic real products by using identical packaging techniques and designs. Secondary packaging like cartons, boxes, pouches, and others are the main targets of counterfeiting. Therefore, the value of related market segments, such as the market for pharmaceutical packaging, is significantly impacted by counterfeit items that exist in the pharmaceutical industry of developed areas.
Segmentation Analysis:
The global surgical robot market has been segmented based on product, material, end-user, and regions.
By Product
The product segment is primary, secondary, and tertiary. The primary segment led the largest share of the pharmaceutical packaging market with a market share of around 40% in 2021. Primary packaging that directly contacts the medicine, like bottles, tubes, or blister packs, envelops it and guards it against contamination. Additionally, it frequently handles the dosage and distribution of medication ingredients. In order to help the senior population with drug dosing, packaging companies are concentrating on easy-to-open closures and the incorporation of dispensing technologies that give the proper dose at the right time.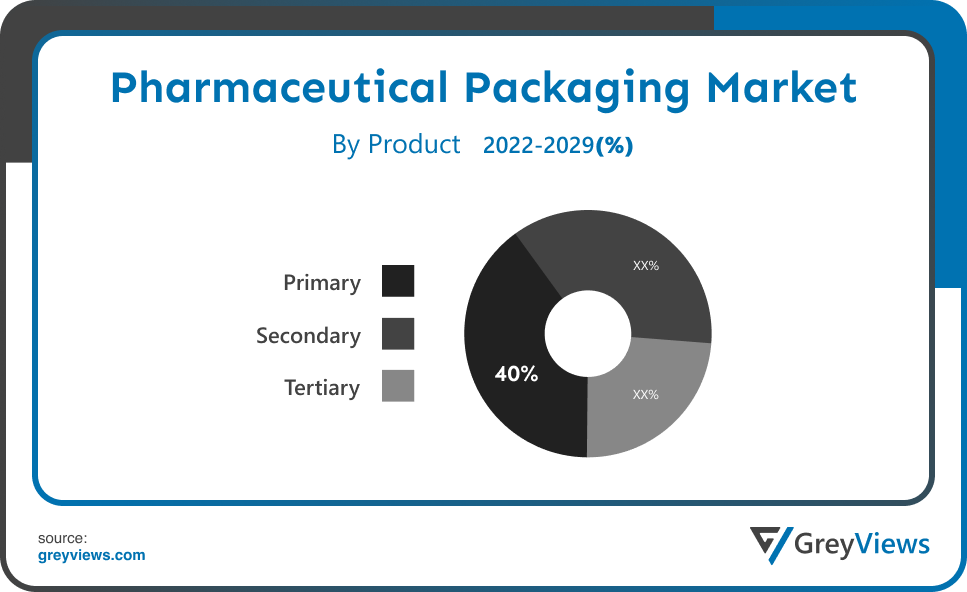 By Material
The material segment includes plastics & polymers, glass, paper & paperboard, aluminum foil, and others. The plastics & polymers segment led the pharmaceutical packaging market with a market share of around 25.08% in 2021. Pharmaceutical vials, bottles, closures, syringes, pouches, sachets, cartridges, tubes, and blister packs are frequently made from a variety of plastic resins, including as PE, PET, PP, PVC, PS, and bioplastic. Polypropylene (PP), which combines useful qualities including mechanical, physical, electrical, and thermal features, accounted for the greatest revenue share in the plastic and polymers material sector in 2021.
By End-User
The end-user segment is pharma manufacturing, contract packaging, institutional pharmacy, and retail pharmacy. The pharma manufacturing segment led the largest share of the pharmaceutical packaging market with a market share of around 33.3% in 2021. The rising demand for medications is the reason for this. According to the World Health Organization (WHO), the percentage of people over 60 in the world's population will nearly double from 12% to 22% between 2015 and 2050. The aging population requires more medical care, which supports the industry that makes pharmaceuticals. This will probably lead to an increase in demand for pharmaceutical packaging.
Global Pharmaceutical packaging Market- Sales Analysis.
The sale of synthetic biology products expanded at a CAGR of 5% from 2015 to 2021.
The main variable that affects is sustainability. The producers of pharmaceutical packaging are making significant investments in in-depth research to address the issues around environmentally friendly and sustainable packaging solutions. Today's healthcare professionals and individual customers need products and packaging that are both convenient and sustainable. By reducing the environmental impact of packaging and raising the rate of recycling, manufacturers are working to provide sustainable pharmaceutical packaging solutions. To address the environmental issues, the players are using glass or recycled plastic as a material for pharmaceutical packaging.
Manufacturers are concentrating on thermoformed packaging that can be recycled and is appropriate for pharmaceutical products in addition to glass and recycled plastic. Given that multi-layer flexible packaging is made of plastic and barrier material, the major players in the pharmaceutical packaging sector are also attempting to find a solution to the issue of recycling or separating it. As a result, the market for pharmaceutical packaging will develop due to the manufacturer's increasing efforts to meet the demand for sustainable packaging.
As the need for sustainable packaging solutions grows, pharmaceutical packaging manufacturers are also making investments in the construction of recycling and recovery facilities.
Thus, owing to the aforementioned factors, the global pharmaceutical packaging Market is expected to grow at a CAGR of 10% during the Projection period from 2022 to 2029.
By Regional Analysis:
The regions analyzed for the pharmaceutical packaging market include North America, Europe, South America, Asia Pacific, the Middle East, and Africa. The North American region dominated the pharmaceutical packaging market and held a 39.1% share of the market revenue in 2021.
The North American region witnessed a major share. The main end-use sector in the region in 2021 was pharmaceutical manufacture, which also includes internal production. To hasten the development of medical products, the 21st Century Cures Act (Cures Act) was signed into law in the United States on December 13, 2016. The law is anticipated to spur product advancements in the pharmaceutical sector, which will in turn stimulate North American demand for pharmaceutical packaging.
Asia Pacific is anticipated to experience significant growth during the predicted period. Over the projection period, it is anticipated that rising disposable income levels and rising health awareness among consumers in Asia Pacific, particularly in developing nations like China and India, will promote the expansion of the pharmaceutical sector. It is anticipated that this will increase demand for pharmaceutical packaging. Due to expanding government initiatives like Healthy China 2020, expanding contract manufacturing activities, and a rapidly ageing population, China topped the Asia Pacific market in 2021 and will continue to hold the top spot in the years to come.
Global Pharmaceutical packaging Market- Country Analysis:
Germany's pharmaceutical packaging market size was valued at USD 6 billion in 2021 and is expected to reach USD 11.10 billion by 2029, at a CAGR of 8% from 2022 to 2029. According to the European Child Safety Alliance, acute poisoning brought on by access to pharmaceutical items kills 3,000 children under the age of 14 every year in Europe. The manufacturers of pharmaceutical packaging in Germany are forced to concentrate on providing childproof, child-safe packaging as a result which boost the demand in the region.
China's pharmaceutical packaging' market size was valued at USD 9 billion in 2021 and is expected to reach USD 19.54 billion by 2029, at a CAGR of 9% from 2022 to 2029. Since the previous few years, the Chinese pharmaceutical market has been expanding quickly. The majority of APIs, a raw material used in pharmaceutical products, come from China. The top manufacturers of pharmaceutical ingredients are responsible for opening up new markets for the pharmaceutical sector in China. Low production costs are also added as an advantage by the market, saving money on manufacturing expenses.
India's pharmaceutical packaging market size was valued at USD 7.6 billion in 2021 and is expected to reach USD 14.70 billion by 2029, at a CAGR of 8.6% from 2022 to 2029. The world's largest supplier of generic medications, according to the India Brand Equity Foundation (IBEF), is located in India. Up till January 2021, India exported pharmaceuticals worth over $20.14 billion. Additionally, the pharmaceutical market in India has a value of about US$ 130 billion in 2020. The government invests a significant amount of money in the healthcare industry. Government spending on healthcare in 2020 was close to US$ 46 billion. This demonstrates how the Indian pharmaceutical business is expanding, which will increase demand for the pharmaceutical packaging industry.
Key Industry Players Analysis:
To increase their market position in the global pharmaceutical packaging business, top companies focus on tactics such as adopting new technology, mergers & acquisitions, product developments, collaborations, partnerships, joint ventures, etc.
Amcor plc
Gerresheimer AG
Becton, Dickinson, and Company
AptarGroup, Inc.
West Pharmaceutical Services, Inc.
Drug Plastics Group
Schott AG
WestRock Company
Owens Illinois, Inc.
Comar, LLC
Berry Global, Inc.
SGD Pharma
International Paper
CCL Industries, Inc.
Vetter Pharma International
Latest Development:
In October 2022, London-based Meadow Tec Research Ltd. is researching the widespread use of biodegradable packaging for all of its upcoming products. This will, to the extent that is practical, signal a radical departure from the traditional methods of pharmaceutical packaging in favour of the consideration and use of eco-friendly alternatives, including paper, plastic, recycled cardboard, corn starch gelatine, pectin, and wheat bran, among others.
In June 2020, Tri State Distribution, Inc., a producer of retail pharmaceutical packaging solutions, was acquired by CCC Packaging in June 2019. The goal of the acquisition was to increase both the company's client base and array of pharmaceutical products.
Report Metrics
Report Attribute

Details

Study Period

2021-2029

Base year

2021

CAGR (%)

10%

Market Size

118 billion in 2021

Forecast period

2022-2029

Forecast unit

Value (USD)

Segments covered

By Product, By Material, By End-user, and By Region.

Report Scope

Revenue forecast, competitive landscape, company ranking, growth factors, and trends

Companies covered

Amcor plc, Gerresheimer AG, Becton, Dickinson, and Company, AptarGroup, Inc., West Pharmaceutical Services, Inc., Drug Plastics Group, Schott AG, WestRock Company, Owens Illinois, Inc., Comar, LLC, Berry Global, Inc., SGD Pharma, International Paper, CCL Industries, Inc., Vetter Pharma International among others.

By Product

Primary
Secondary
Tertiary

By Material

Plastics & Polymers
Glass
Paper & Paperboard
Aluminum Foil
Others

By End-User

Pharma Manufacturing
Contract Packaging
Institutional Pharmacy
Retail Pharmacy

Regional scope

North America
Europe
Asia-Pacific
South America
Middle East and Africa
Scope of the Report
Global Pharmaceutical packaging Market by Product:
Primary
Secondary
Tertiary
Global Pharmaceutical packaging Market by Material:
Plastics & Polymers
Glass
Paper & Paperboard
Aluminum Foil
Others
Global Pharmaceutical packaging Market by End-User:
Pharma Manufacturing
Contract Packaging
Institutional Pharmacy
Retail Pharmacy
Global Pharmaceutical Packaging Market by Region:
North America
Europe

Germany
France
UK
Italy
Spain
Russia

Asia-Pacific

Japan
China
India
Korea
Southeast Asia

South America
Middle East and Africa

UAE
South Africa
Saudi Arabia
Frequently Asked Questions
What was the market size of the pharmaceutical packaging market in 2021?
Global pharmaceutical packaging market's size in 2021 was USD 118 billion.
What is the CAGR value for the Pharmaceutical packaging market during the Projection period?
The CAGR value for the pharmaceutical packaging market during the Projection period is 10%.
What are some factors that cause a threat to the pharmaceutical packaging market?
The high price of packaging, lack of knowledge, and lack of skilled professionals are some of the factors hampering the market growth.
What is the key driving factor for the pharmaceutical packaging market?
The market is being driven as the geriatric population is increasing owing to which chronic illness that requires medicines is also increasing.
Political Factors- The majority of nations maintain frameworks that contain rules about certification requirements, safety standards, etc. They also identify the substances that are prohibited and may be harmful to your health. A pharmaceutical packaging company's business can suffer significantly if it disregards those rules. The majority of governments strive to keep drug prices under control so that consumers can afford them. It might have an impact on the expansion of businesses that package drugs. To maintain the cost of basic medications affordable for the general public, various governments provide subsidies to pharmaceutical packaging businesses. It aids businesses in surviving in a cutthroat marketplace.
Economical Factors- The average household income is rising together with the improvement in the economies of the various nations. They could get access to some necessary medications. They could feel compelled to purchase more expensive medications previously out of reach for many people. The manufacture of more advantageous and potentially useful drugs is the consequence of the researchers' ongoing work on medication modification. As more people purchase those medications, the pharmaceutical packaging sector is likewise booming. Families are spending more on healthcare on average. A family is more likely to incur large healthcare costs if there are elderly members. It also covers the price of prescription drugs. Even after adhering to government pricing restrictions, it allows pharmaceutical packaging companies to make a higher profit.
Social Factor- People today live extremely quick yet unchanging lives. As a result, obesity is becoming increasingly prevalent. resulting in diseases like diabetes, thyroid, and hypertension. To manage this, the patients need constant medicine. As a result, pharmaceutical packaging businesses' sales are also rising. The elderly population is increasing at the same time that the healthcare system nationwide has improved. As a result, they require more medications than children of younger age do. It increases demand, which causes pharmaceutical packaging businesses to expand. Many people are focusing on leading healthy lives while engaging in exercise and eating well. It might lead to a future decline in the demand for medications.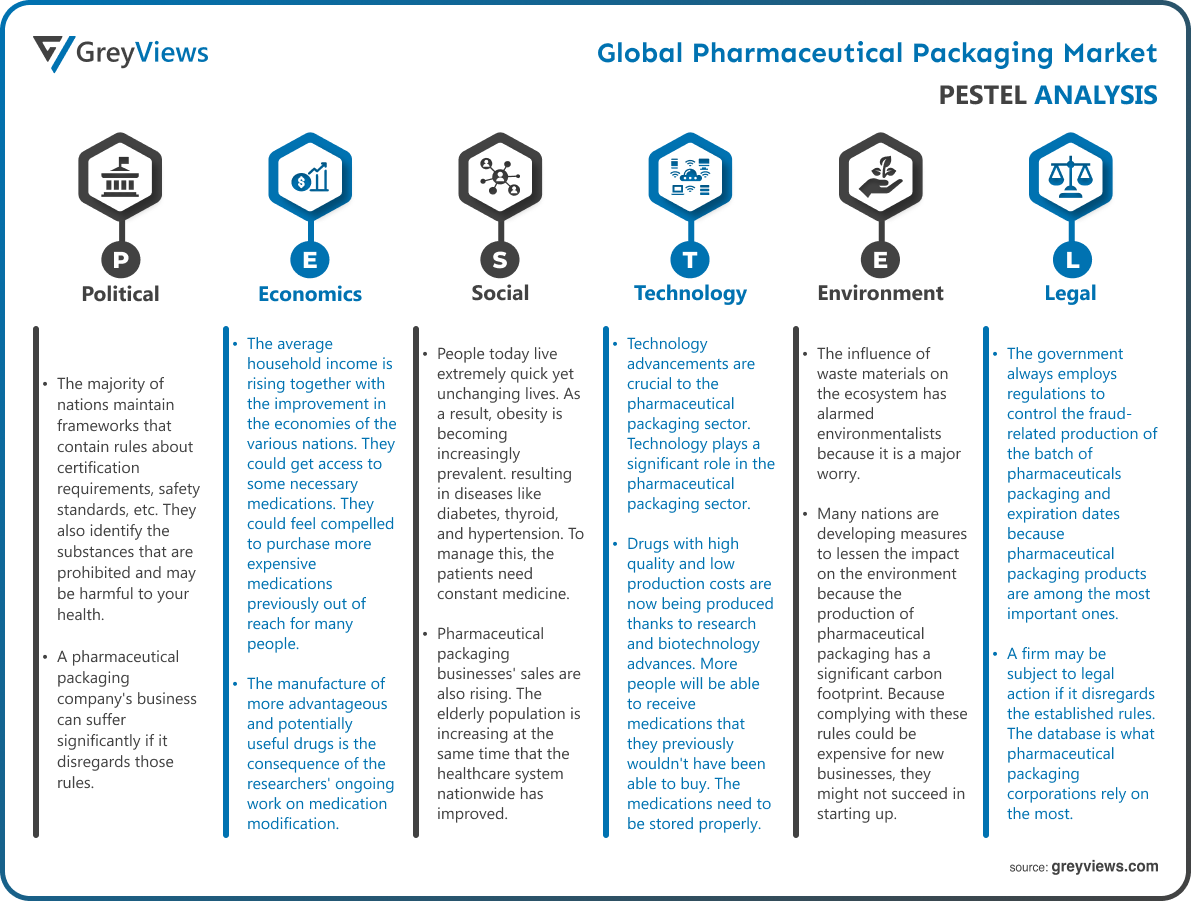 Technological Factors- Technology advancements are crucial to the pharmaceutical packaging sector. Technology plays a significant role in the pharmaceutical packaging sector. Drugs with high quality and low production costs are now being produced thanks to research and biotechnology advances. More people will be able to receive medications that they previously wouldn't have been able to buy. The medications need to be stored properly. The advancement of technology has made it simpler to store medicines and transfer them without risking damage from unfavourable circumstances. Pharmaceutical packaging companies can now advertise to more businesses thanks to technology. The companies' reach has expanded because they can now bring medicine to the door. Additionally, it may boost pharmaceutical packaging companies' earnings.
Environmental Factors- The influence of waste materials on the ecosystem has alarmed environmentalists because it is a major worry. Many nations are developing measures to lessen the impact on the environment because the production of pharmaceutical packaging has a significant carbon footprint. Because complying with these rules could be expensive for new businesses, they might not succeed in starting up. Different biotechnology contaminants are produced as a result of medication synthesis. They could endanger the health of humans. To keep people safe, the business must manage this trash.
Pharmaceutical packaging firms may adopt some corporate environmental responsibility, much as other businesses. They can improve their reputation by making financial donations or running campaigns for certain environmental concerns.
Legal Factors- The government always employs regulations to control the fraud-related production of the batch of pharmaceuticals packaging and expiration dates because pharmaceutical packaging products are among the most important ones. A firm may be subject to legal action if it disregards the established rules. The database is what pharmaceutical packaging corporations rely on the most. Customer may lose trust in them if they are victimised by cyber threats. It may also have an impact on their business. When creating the foundation for their operations and research, pharmaceutical businesses should adhere to severe legal requirements. They guarantee the product's safety. They benefit from avoiding legal problems. Consequently, they were able to avoid the steep costs of the procedures.